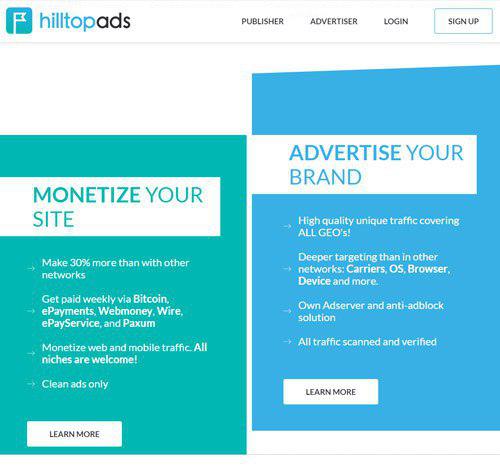 Network details
Payment Method
Wire, Epayments, Paxum, Bitcoin, Credit Card
Top GEOs
BR, FR, IN, IT, RU, US, UK
Ad Format
Mobile, Native, Popunder, Popup, Interstitial, Banner, Direct links, Push
Pay In System
Wire, Epayments, Paxum, Bitcoin, Credit Card
Pricing Model
CPM, CPA, CPC
Optimization details
Description
HilltopAds is a self-service platform designed for advertisers that serves more than 100 million impressions a day. HilltopAds promises to monetize your website and get higher eCPMs.
With this platform, you can hit high numbers of impressions, as they work with all screen formats and provide multiple types of ads.
The main features HilltopAds are:
CPM, CPA

Optimized targeting tools

Solutions for ad-blocking

Real-time stats and analytics

No hidden fees and no transaction costs
HilltopAds provides clean ads only and will bring you audiences from all around the world.
Check the reviews on Affbank about HilltopAds and for any details regarding their Target Audience, Pricing Models and Advertising Formats, reach the Information section.
If you choose to join the HilltopAds Network, you can do that by clicking on - Join Now!
Network Manager
Yo trabajo con ellos tanto por CPC como por CPM con 2 páginas web. En CPC yo recibo pagos cada 2 o 3 semanas, Para CPM yo usaba taboola, ellos pagan después de 3 meses, Adnow siempre me paga por CPM por adelantado :)
Read more
Anastasiia_Affbank
2016-06-15
Bons site de pub et avec de très bons GAINS.
Read more