New marketing technologies and tools appear every day, and the sector of affiliate marketing is currently one of the fastest-growing there. So, if you really want to make some money in an affiliate marketing environment and be up to the time, you'll need to think about optimization of your efforts.

We have one solution for you! Thanks to Smartlink, it has never been easier for affiliates to monetize traffic and gain high revenue. Let's dive deeper and see why Smartlink could help minimize your efforts, make your life easier, and maximize profit.
What is a Smartlink and how does it work?
Smartlink is a type of link that automatically redirect users to relevant offer, so it is one/single URL that contains various offers. Usually, webmasters select one offer from a list of offers to promote, but thanks to Smartlink affiliates could promote a set of offers in one click. 

Let's see the main advantages of using the Smartlink for affiliate marketers:
Time-saving: just one single URL containing various offers and allows you to launch new campaigns quickly;
Perfect match of the needs and preferences of your audience: Smartlink route traffic to the relevant offer according to targeting on Geo, device, operating system, etc.;
The highest conversion rates, that will bring you maximum profit;

How to get more with Smartlink?
With Datify.Link Dating Network affiliates could run worldwide traffic with the Smartlink and get gifts from Apple for this. This promo opportunity is available from 10.08.21 till 10.10.21.

Conditions are very simple: earn bonuses and get gifts!
How to get your bonuses?
Click to the "DatifyGifts" button on the dashboard and after click Activate DatifyGifts to start to earn bonuses;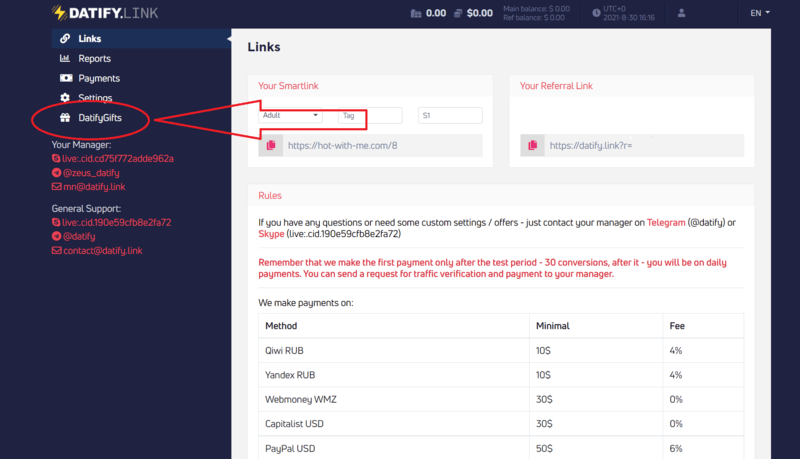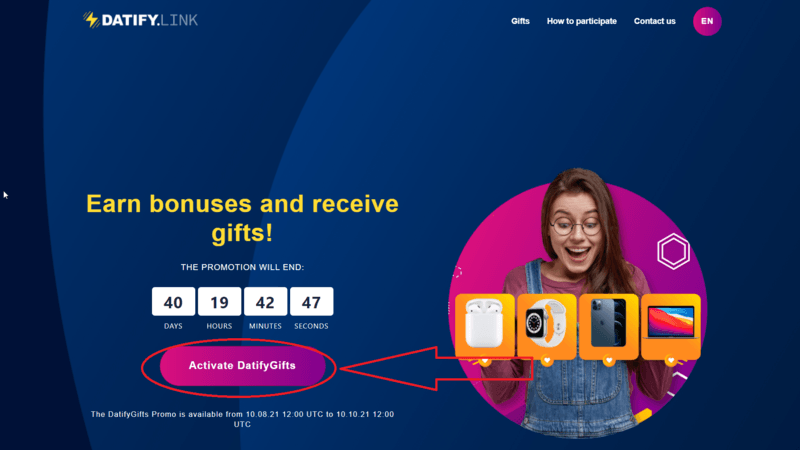 Start running traffic;

Contact your Personal Manager and exchange bonuses for gifts.



How to calculate bonuses: 1 bonus = $10 of profit
Gift Market: 
Apple AirPods = 250 bonuses
Apple Watch = 550 bonuses
Apple iPhone 12 = 1150 bonuses
Apple MacBook Air 13" M1 = 1500 bonuses
Refer a friend and get more!
Invite your friends to Datify.Link and we'll give you a 5% RevShare Bonus for each one who joins! This will definitely increase your bonuses.
If you have any questions, please do not hesitate to contact the support team:
Telegram @datify
Email: [email protected]'t wait till this promo expires.
Grab DatifyGifts while you can!