This is our Second lesson of the Affbank Training.
[Read our Lesson 1 here: "How to become an Online Advertiser?" ]
What the proper way to choose an offer?
The product may act as an offer, as well as an online game, an information course, apps, a service, or a subscription presented in the Network. Here you are main niches on the market now:
Nutra & Beauty
Mobile Apps
Dating
Finance
Sweepstakes / Surveys
Loans
Games
Gambling
You can browse what Offers Networks have in all niches in our Affbank filters pannel in the  Offers Search :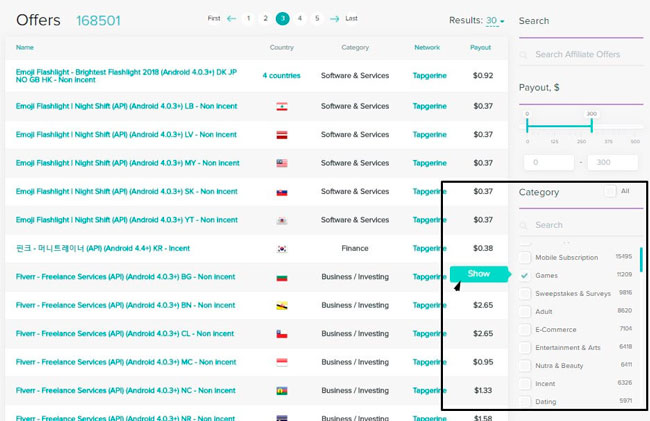 In general, anything that can be sold and received for payment from the advertiser itself.
The Offer and Traffic are closely connected and if you ask the question of which should be tailored to which, it all depends on the situation:

The choice of an offer depending on the source. Such a method is chosen by narrowly focused specialists and it's recommended for newbies to use. In this case, the offer will be tailored to the source of the traffic in which the specialist works or a newbie has certain skills in.

Traffic determined based on the offer. This method is used by experienced hacks that know well how to deal with different sources. They choose the offer they like and then decide where to get traffic from.
Offers can be divided among certain groups of common verticals: goods, online games, dating, gambling, etc. It's important to understand that each vertical has its own preferable traffic channels.
If it is social network Facebook -online games and certain product offers will have a better time making headway.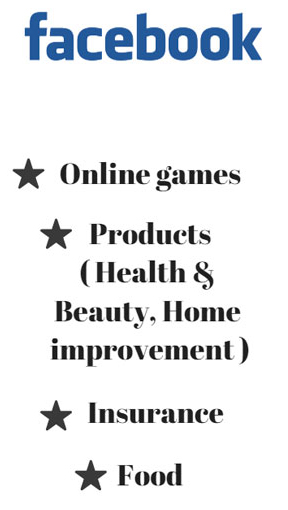 If it's Instagram - goods, dating etc. will convert great.
When selecting an offer, the arbitrage understood what is the target action that it wants to get payment for. Depending on this will be the traffic attracting strategy.
Today on the market, 3 types of offer payments are most widespread:
CPA (cost per action) -- payment for an action, usually a contact from a client to acquire a product or registration on the site. The advertiser sets the target action that is an effective figure for him and pays the Marketer when it's performed.
CPI (cost per install) -- payment for an installation. All of this is extremely clear. The advertiser pays in the case that an installation is produced.
CPC (cost per call) -- is related to the recent payment form segment for the CIS. The advertiser pays the Marketer for a target call. As a rule, this conversation lasts at least 1 minute with a warm client.
Certain Marketers believe that inspiring people to register or make a target call is easier than convincing a person to leave a request to purchase a product, since the registration does not entail financial expenditures. Exactly the same as an app installation. So they turn away from offers including payment for the contact.
How do you properly choose an offer then?
Before choosing an offer and launching traffic for it, think how well you know this topic and how interested you are in it. As they say -- "nice guys finish last". You know that when you're talking about making money, you can set aside your personal preferences, but you will achieve much more success if you attract traffic to the product that you feel the most interest in yourself or at least have an idea of. This will give you more ideas for quality creatives, on which a lot will depend.

Check the activity of your competitors and the number of creatives online. Use parsing advertising services like Adplexity (we provide 25% OFF on Adplexity tool on our Discount page , there are different spy tools which will serve you best), Adespresso (will help you best with managing Ads from Facebook)

Look for information concerning the offer online. The offer might have been added a long time ago and there might be Case Studies leaked on it. In such a case it may be drained and all the primary approaches for attracting leads may have been used. The decision to launch traffic for this offer may lead to wasted budget.

Check out Google Trends. Analyze whether the product/service is in demand among internet users. How often they are searched and in combinations of what words? What products are offered to go with them? Can a piece be made based on them or a couple teasers?

If for the preceding items there is a positive trend, then we pay attention to GEO and the payment. Keep in mind that an offer with a high rate can have a hard time converting. Meanwhile, a cheaper offer can bring more conversions at a lower lead cost. As far as GEO is concerned, broad coverage is a positive aspect. You have the chance to get your own "slice of the audience", without having to compete with other Marketers to fight for a single region.


The hold is yet another important aspect in the system. Pay attention to the hold time in order not to end up without revenue while your traffic is being checked.

Also, look at the approve level and the CR and EPC numbers in the system. Low numbers may warn you against working with such an offer.

Compare offers across several Affiliate Networks. Since the conditions may substantially differ. Use information catalog sites containing a base of offers and Affiliate Networks online.

Don't ignore the Offer limit and the preliminary time period when it will stop. Your personal AM manager can provide this information to you.
We have analyzed the main aspects in choosing an offer, but, most importantly, you should understand that one of the above-listed features isn't a distinct indicator for whether you to make a decision to work with a certain offer or not. Only by examining the combination of all the offers and testing them between each other can you make the right choice and arrive at profits via experiments.
It's really not difficult to choose an offer. In time, each newbie develops skills in sorting offers and searching for decent positions will happen automatically. Although sometimes it's worth testing different offers, even ones that seem the least promising at first. Each craft has its exceptions and you will never know completely which profit will be yielded by which offer!
Are you not yet an expert in Traffic types and Traffic sources? Traffic types in Internet advertising. How to choose the right one
Create an account in 1 minute for free and become smarter
than others in 1 month with Affbank community!