One of the advantages of LATAM is that the vast majority of countries all speak Spanish, meaning that you can use the same ad creatives for multiple GEOs.
Target Mobile or Desktop?
On ExoClick's network in Q1, Desktop accounted for 18.55% of impressions, with Mobile at 81.45%. As some lockdowns took hold in April, Q2 showed a bigger shift to Mobile with 84.64% and 15.36% on Desktop, that's an overall increase of 3.19% to Mobile devices.
More mobile traffic Q2
Looking at the top LATAM GEOs based on impressions served there were considerable increases in Mobile traffic in Q2 when comparing mobile traffic to Q1.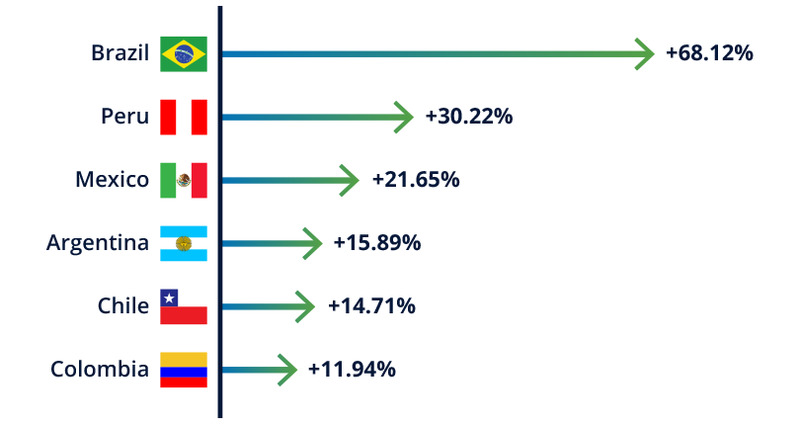 We broke the Mobile traffic down further by examining the Carrier & WiFi split for the top 6 GEOs. Carrier versus WiFi changed by only small percentages comparing the two quarters, here is Q2's data with the increase from Q1: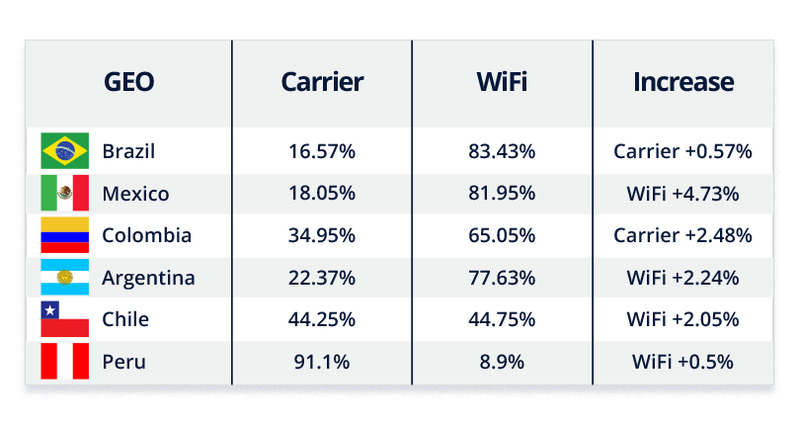 What is working with those high mobile traffic volumes?
High CTR ad formats on Mobile
The final part of your conversion funnel is your product/offer landing page, the landing page's aim is to persuade the end user to buy, but getting them to that landing page is down to your ad. High CTR ad formats give you more chances to build scale for your offer as more clicks mean more traffic to your landing page.
With Banners and Native ad formats yielding small average CTRs, for this blog post we will concentrate on the following high CTR formats on mobile: two video ad formats: In-Stream & Slider and the Mobile Fullpage Interstitial.
Video advertising
Our culture is driven by the fast consumption of short video content on mobile via social networks such as Snapchat, TikTok, Facebook, Twitter and Instagram. With video becoming such a natural part of web browsing, video advertising offers advertisers an opportunity to connect on a deeper level with their target market. A 20 second video can really help you sell your offer compared to a static banner image, which is why video ads have such a high CTR.
Pre-roll In-Stream video ads automatically play when a consumer clicks on a website's video content and plays before the end user is allowed to watch the video content he wants to see. Average CTR for In-Stream across LATAM for all verticals is 4.4%.
Video Slider automatically plays as it slides in from the bottom right of a web page, therefore catches the user's attention. Average CTR for Slider across LATAM for all verticals is 1.93%.
Looking at the top 6 LATAM GEOs by impressions we looked at average CTRs for 4 verticals that have converted well during the pandemic. Dating and Livecams for virtual communication/ flirting and VoD/Paysites & Games for entertainment purposes.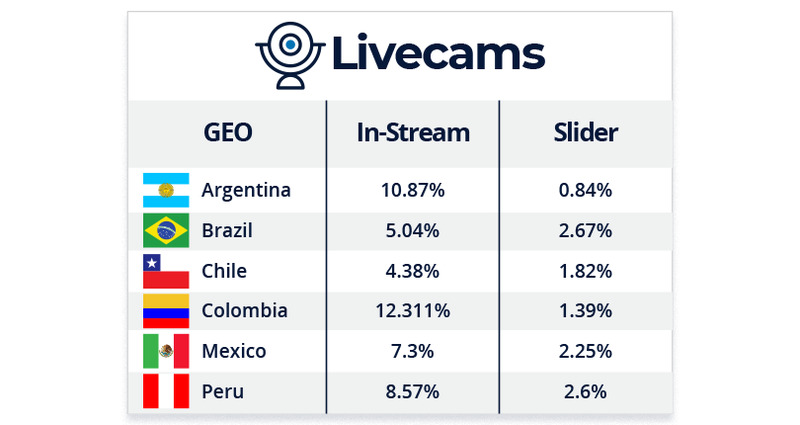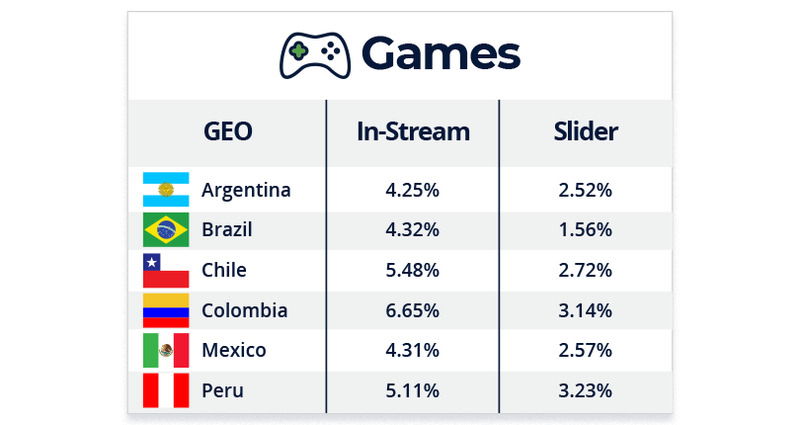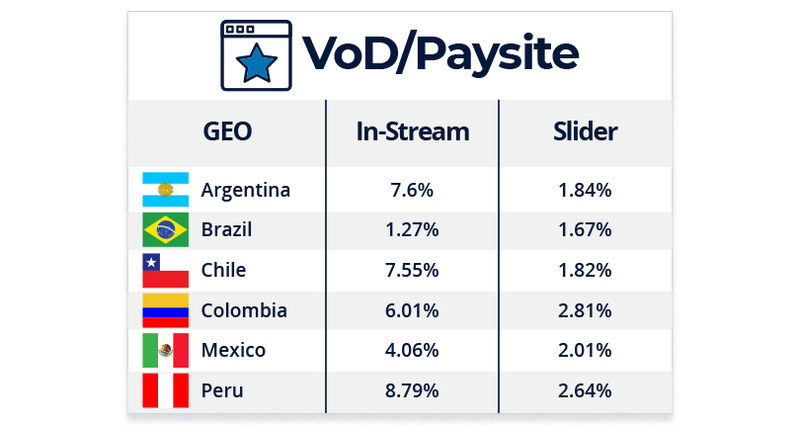 Of course, not every video ad is going to get high CTRs, it also depends upon your ad creative, CTAs, targeting, etc. Check out our Ultimate Guide to Video Advertising for tips and tricks to get those conversions!
Mobile Fullpage interstitial
The Mobile Fullpage Interstitial is a large format and a great alternative to the Mobile popunder Because of its size the Mobile Fullpage Interstitial gives advertisers a big piece of advertising real estate, the format supports video, images and interactive HTML ads making it highly clickable if you use compelling creatives. Looking at the LATAM average CTR for this format across all verticals it is 3.41%. For our top 6 GEOs we saw some bigger numbers than the average for certain verticals.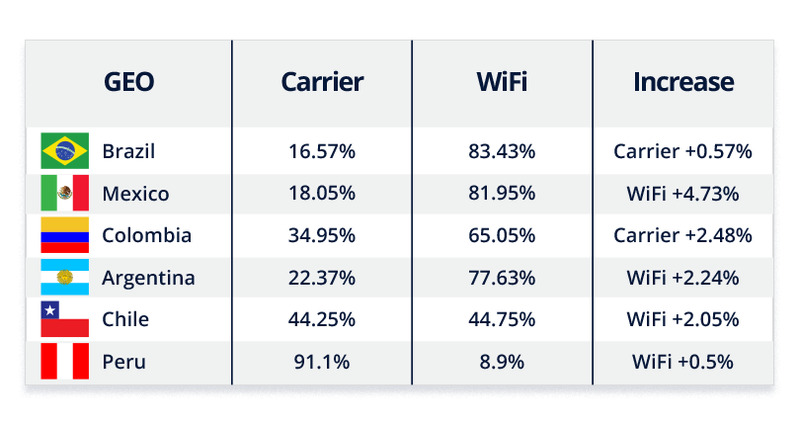 Conclusion
As we continue living through the pandemic times, if you are targeting your offers at LATAM ensure that you target mobile users using our high CTR ad formats for verticals that convert: Dating, Livecams, Vod/Paysites and Games. We recommend that you also use our automatic optimisation tools to help you reach these high CTRs, more information can be found here.