Drive Bigger. Hunt Smarter.
We are thrilled to announce the start of a new contest from Everad — The Wolf of Everad, you have to take part in to show who is the affiliate industry TOP and PRO here! Ready to fight for Mini Cooper, Mercedes-Benz C Class, Porsche Carrera T, luxury watches and useful gadgets?
The hunt for trophies starts on May 2, 2023 and will last till February 2, 2024 inclusive. Join to Win!

We want to remind you how cool it was at the last The Wolf of Everad with Porsche Cayenne Coupe, Mercedes C Coupe and Lexus UX as prizes for drawing. We also had a Formula Everad contest, during which our partners were fighting for BMW 3 Series, Audi A5 and Range Rover VOGUE. Сheck the links above!
Who is Wolf of Everad and how to become one?
What if the eccentric Wolf of Wall Street started his career nowadays? What would he be doing in 2023 and where would he apply his skills that had earned him millions back then? He would work in an affiliate business! And then — his own affiliate program, his own offers, hundreds of media buying employees, thousands of partners around the world and millions in revenue would be waiting for him!

For a year, the Wolf of Wall Street will be at the helm of Everad to motivate, inspire and show you how to make way more money with a direct nutra advertiser. He will also reward the best of the best of you with valuable gifts.
At the end of a productive year ruled by the Wolf of Wall Street we are going to have the time of our lives at the fabulous celebration party of millionaires. The elite will cash out the Evers to fight for the grand prizes, spend money like crazy in the casino, enjoy champagne rivers, bath in cash waterfalls, shave their heads for a reward, or throw a dwarf. Just for one night all wishes will come true!
How to join the Wall Street hunt?
In order to work with the Wolf, you should choose your habitat at Wall Street, confidently taking a seat among your colleagues. Set your goals correctly, evaluate your capabilities and listen to your heart to choose a team that you like.
You will fight for the gifts that the Wolf has already distributed properly. Everyone will get what they deserve, and those who strive for more and show the best results the Wolf will reward with the guaranteed prizes.
Sign up and start run traffic on profitable Everad offers: contest.everad.com
Are you already with us? Check your number in the personal account, run traffic and find yourself on top of competition rankings.
Stake out your position in the TOP-100, accumulate Evers (Everad's internal currency), increase volumes and do your best to take your fair place among the TOP 10
Win in quarterly giveaway and wait for an invitation to the drawing party from the Wolf himself
You think you're just a Shark? Believe in yourself, scale up, increase volumes and find yourself in a Lions team in this race, or – who knows – maybe you'll even become the right-hand man of the Wolf himself? Have faith in yourself to become the better version of yourself and succeed!
Act as if you're a wealthy man, rich already, and you will become rich. Act as if you have unmatched confidence, and people will have confidence in you. Act as if you are already a tremendous success, and as sure as I stand here today – you will become successful — The Wolf from Wall Street learned this lesson a long time ago.
Are you ready to take a leap of faith and show everyone who is the leader of this wolf pack?
Who are you? Join your team and take your level of a Wall Street career skyscraper:
TOP 100 – Strong Bears Team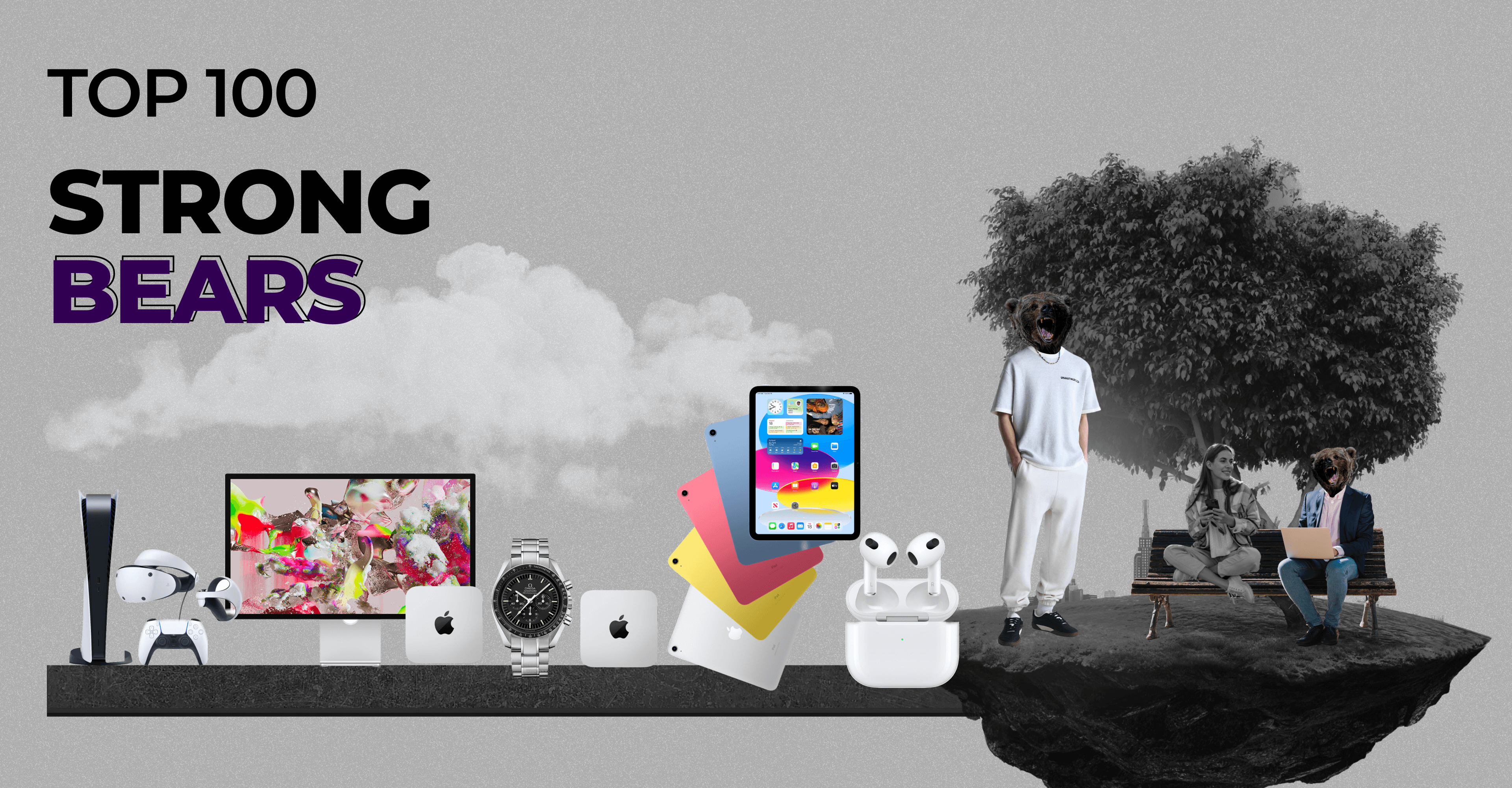 Stubbornness and hard work are their main features. They have just started to run the first campaigns, but they can already see their victories, have their prospects and are determined to follow the Wolves, although they are still very far from such heights. With the high competition it's hard to relax and slow down, so the bears rush forward, trampling those who gape. The way is long, but the Bears strength, stamina and motivation impress the Sharks, as Bears step on their toes in the race.
Gathering of the team: follow the announcements
Prizes: PS5 set + virtual reality helmet (PSVR 2), Mac Studio + Apple Studio Display, OMEGA reloj Seamaster Diver de 42mm
Quarterly awards: Q1 – Mac Mini, Q2 – iPad 10, Q3 – Apple Airpods 3
TOP 50 – Hungry Sharks Team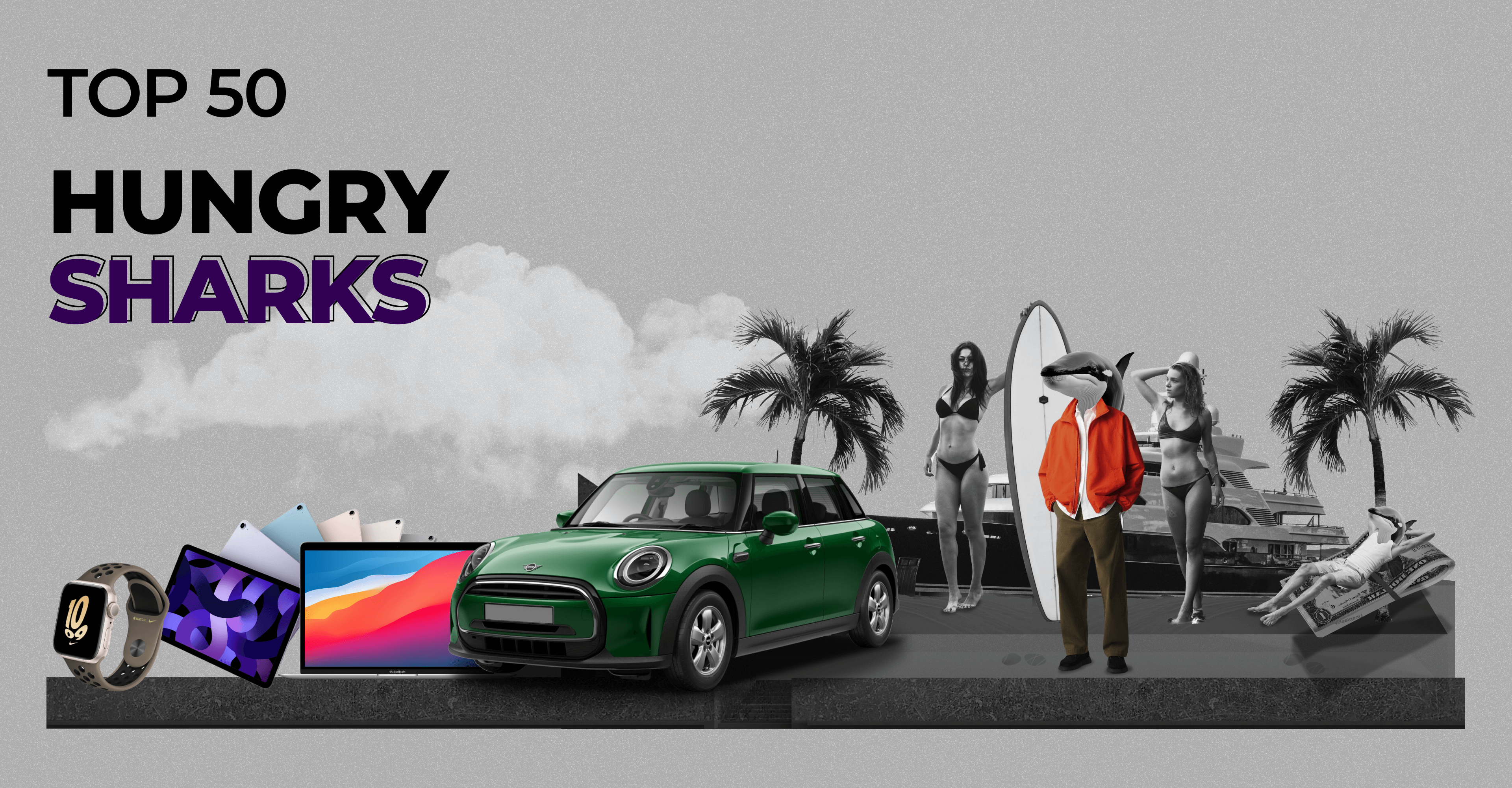 They have flippers and tails instead of paws, which gives Sharks the ability to maneuver, elude and attack their target with the speed of the light. They value time, have specific goals and a clear plan to achieve them. Cold and prudent, Sharks compete with each otherand don't pay attention to anything else. Many are already satisfied with what they have, not being ready to leave their comfort zone and take risks, because for that they'll have to go onshore where the Lions rule.
Gathering of the team: follow the announcements
Main prize: 
 Mini Cooper
Quarterly awards: Q1 – MacBook AIR M1, Q2 – iPad Air, Q3 – Apple Watch SE
TOP 25 – Brave Lions Team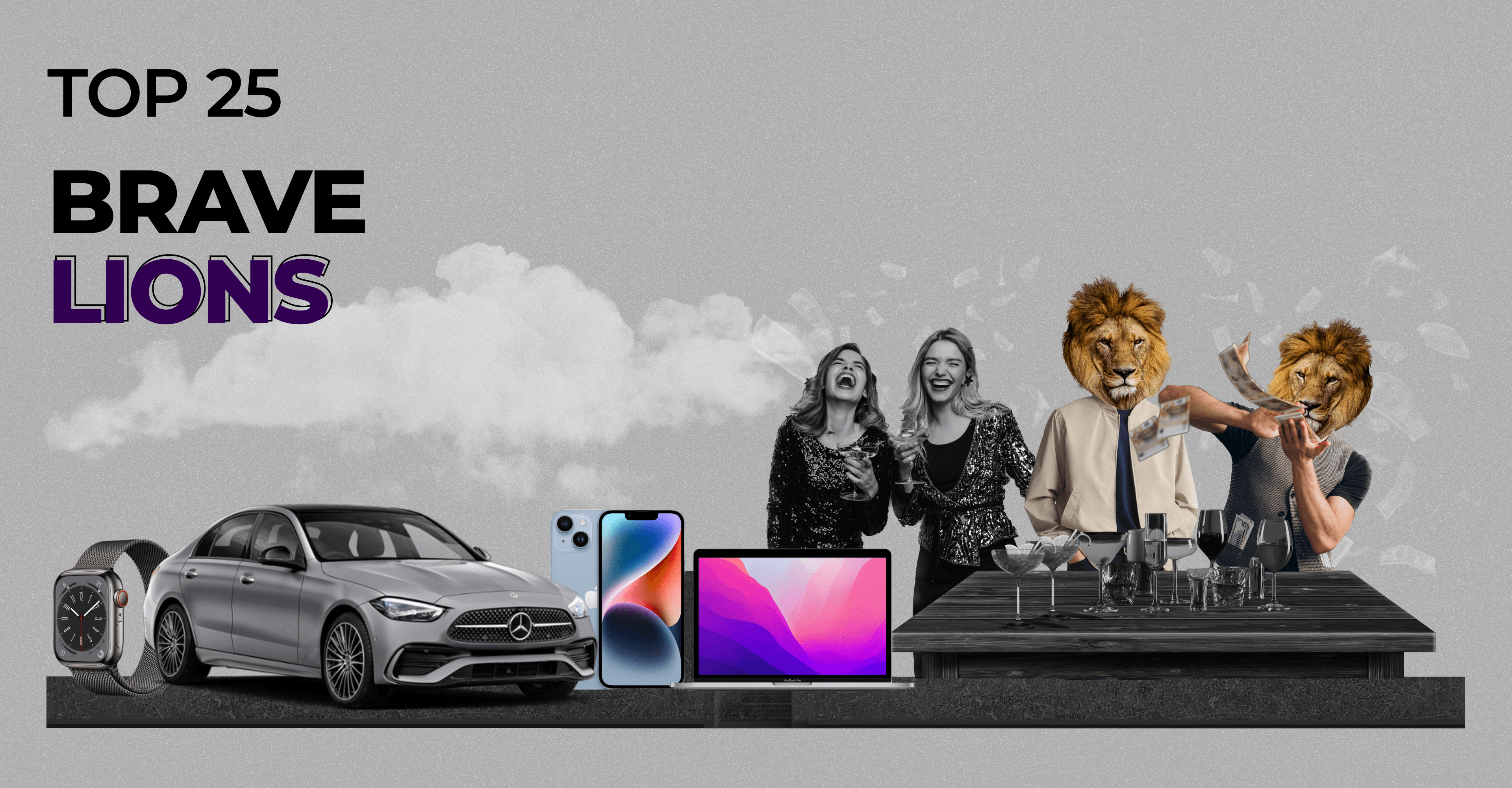 Lions demonstrate their success not only by the way they look, but also by impressive results in statistics and in the balance sheet. They are lazy enough and they can afford it. Lions have already tried the taste of profit, and now they take everything from life. Fair enough! But when it comes to work, they put all their effort into improving their impressive performance even more. The goal of every Leo is to become a Wolf. After all, that's where the most delicious awards are hidden.
Gathering of the team: follow the announcements
Main prize: 
 Mercedes-Benz C-Class
Quarterly awards: Q1 – MacBook Pro 13, Q2 – iPhone 14, Q3 – Apple Watch Series 8
TOP 10 – Powerful Wolves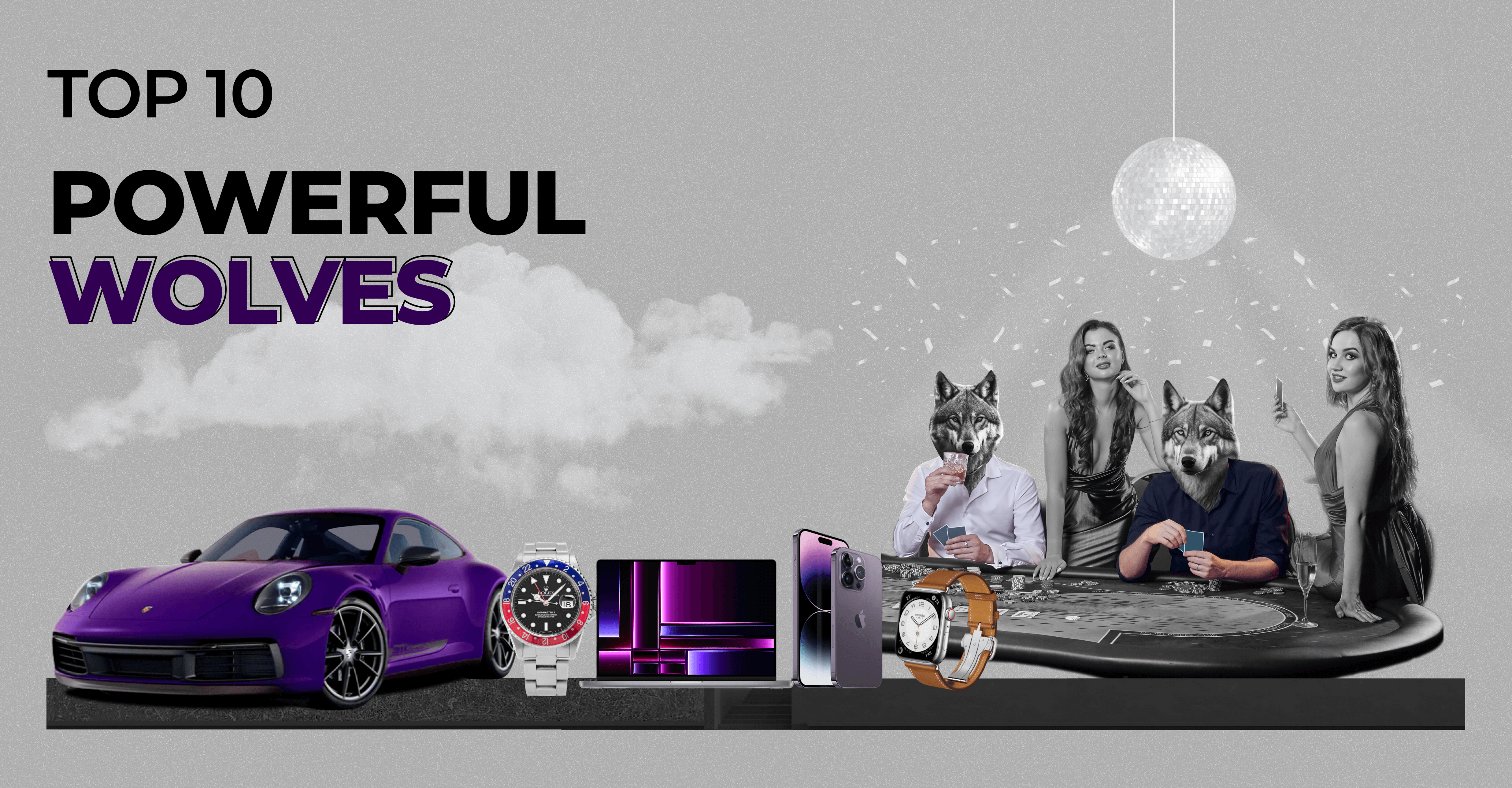 Alphas, tops and gods of affiliate marketing. Only a few can reach these heights, so people talk behind their backs, quote them, all the Lions want to become them, but this is way too hard to achieve quickly. Not all of them, for obvious reasons, live their public lives or expose their real names. The main intrigue is with whom you will find yourself seated at the same table this evening and who will become the main winner and pack leader among TOP10, isn't it?
Gathering of the team: follow the announcements
Main prize: 
 Porsche 911 Carrera T
Quarterly awards: Q1 – MacBook Pro 16, Q2 – iPhone 14 Pro, Q3 – Apple Watch Hermès
Guaranteed prize for TOP 1: Rolex GMT-MASTER II
PARTICIPATION RULES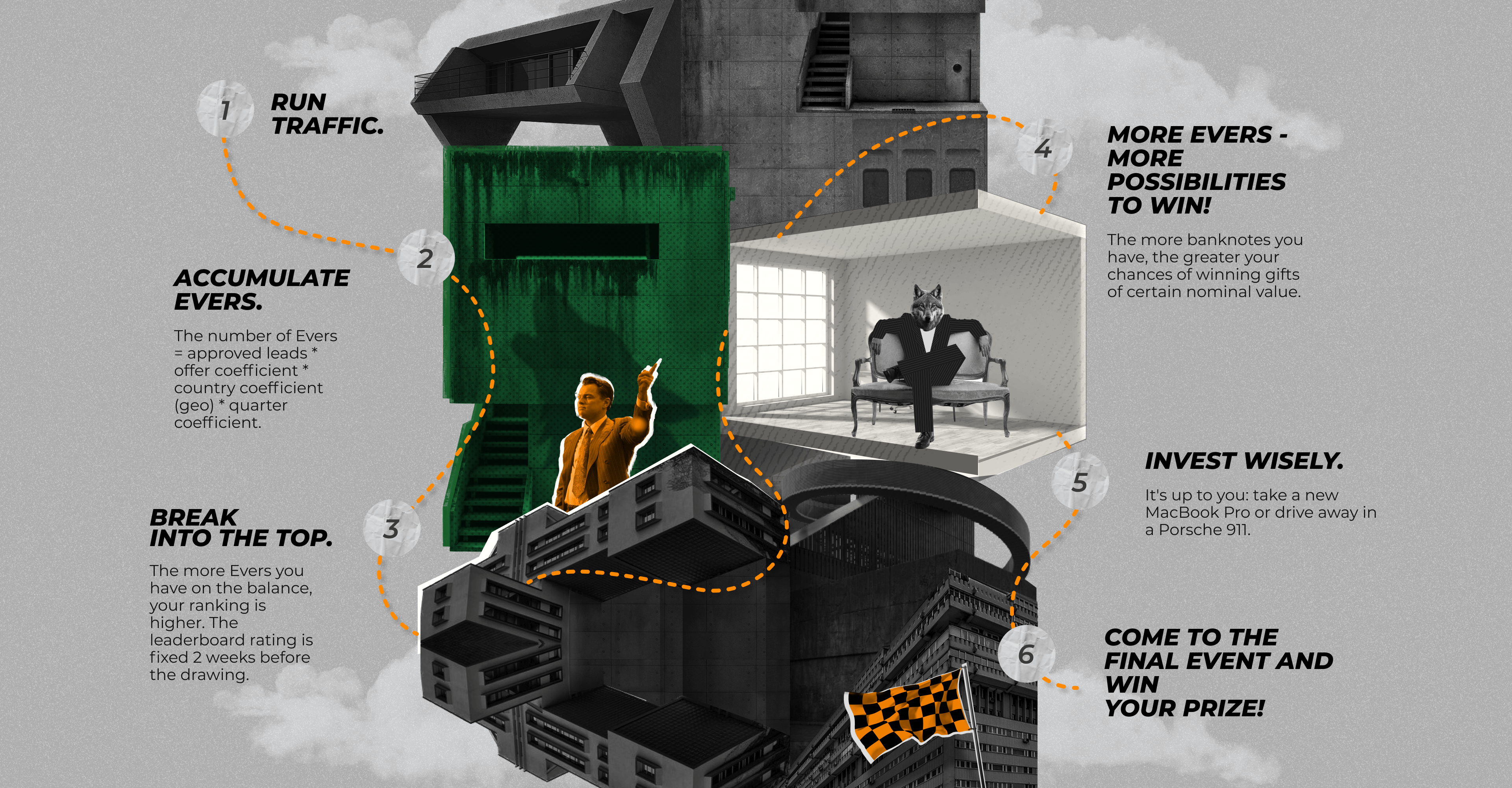 How long will the contest run?
The Wolf of Everad competition starts on May 2, 2023 and ends on February 2, 2024, at 00:00 Kyiv time. The competition takes into account approved leads for all offers and geos.
Who can participate?
All partners registered with the Everad affiliate network are eligible to participate in the competition, except for Everad employees, resellers, and internal media buying team members.
How to earn Evers and get to the top?
The TOP affiliates are determined by counting the "Evers" (Everad's internal currency) accumulated during the competition period. The higher the number of Evers on an affiliate's account, the higher their ranking. In a tie where two or more affiliates have the same Evers >0, the higher place goes to the affiliate who accumulated them first.
How are Evers (Everad's internal currency) calculated and what are they for?
Evers are calculated by multiplying all approved leads generated by an affiliate during the competition period by the country coefficient and quarter coefficient at the time of approval (using the formula: Ever = approved leads  * country coefficient * quarter coefficient). 
For example, if an affiliate generates 100 approved leads for Offer X in Czechia, with a country coefficient of 1.5 and a geo coefficient of 1.5. The total Evers would be 100*1,5*1.5 = 225 Evers.
Information about Evers multipliers for specific countries/quarters will be available in the Coefficients section and can also be confirmed with the personal manager.
How to cash out Evers before the draw?
To cash in the Evers, contact your manager, who will deduct the required amount. After cashing in, the Evers will be removed from the webmaster's balance and not transferred to future contests. Next, they will need to be thrown into a real/virtual lottery drum, and be present at the final online and offline event.
Depending on the race, they will look like 100, 300, 500, 1000, and 5000 Ever bills. Evers are not rounded up. For example, to cash out 500 Evers in the first race, you must have at least 500 Evers. Evers cannot cash out 499. If a participant used Evers and claimed a prize, they cannot participate in the next drawing. Evers are not returned to the balance.
What is the mechanics of drawing quarterly prizes?
The quarterly prizes for each segment are drawn using a randomizer. Cashing in Evers is not required for this part of the contest. One ID can receive only one quarterly prize. An affiliate who wins a quarterly award can participate in the final prize draw.
What about main prizes?
When the main prizes in each segment are awarded, the winner can either accept the prize (cash equivalent) or decline it and continue to participate in the competition.
A guaranteed prize is awarded to the webmaster who takes first place in the overall leaderboard after the final rating fixation. The webmaster who receives the guaranteed prize has the right to participate in drawing the final award.
The contest prizes have their equivalent denominations. Everyone can compete for Apple technology, but only the Top 100 can vie for the PS5, Mac Studio, and Omega Seamaster. One of the Top 50 will win the Mini Cooper, while one of the Top 25 will win the Mercedes-Benz C-Class. The grand prize, the Porsche 911 Carrera T, will go to the winner from the Top 10.
More detailed rules of The Wolf of Everad contest are described HERE.
Join the contest right now, run traffic with Everad nutra offers and take your place in the TOP 10 among the best of the best. You deserve it!