Here at Affbank, we're always determined to share some valuable articles with our readers about affiliate marketing and digital marketing in general. That's why we have interviewed the king of Native Advertising, Jim Desroches from Adcash, who will share his top tips about native advertising.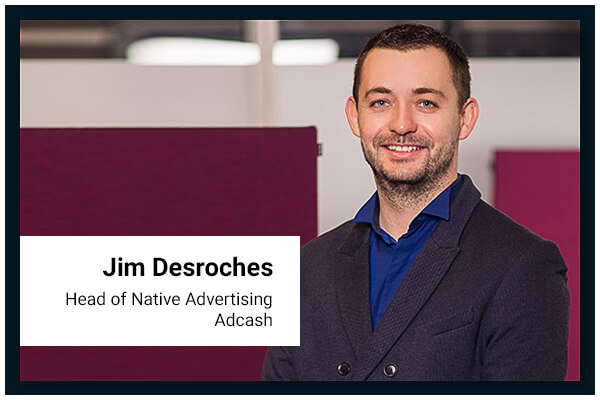 Ana: So king of native advertising, please introduce yourself first.
Jim: Well, to get a title such as King, you must come from a royal family or be married to a Queen! I do have 2 at home but I'll stay humble and refer to myself as the Head of Native Advertising for Adcash.
Like most people born in the 80's, I have seen how much technology has developed and transformed through innovation into something that surrounds us everywhere in our daily lives.
Most of my professional experience and industry knowledge has been acquired at Adcash. As a matter of fact, I entered into this venture at its very early stages. One can say that I wake up, eat and sleep Adcash.
Ana: Thank you for your humbleness! :) Let's talk about your everyday work. Could you please explain how native advertising has become one of the best performing advertising options? And has it replaced any other ad format?
Jim: The first traces of advertising came from the ancient times and it started to grow rapidly in the 20th century when new technologies came into play such as TV, radio and more recently the Internet.
That being said, humankind has always been exposed to advertising. Yet, with such a wide mix of products and services that can be advertised nowadays, it is crucial to recommend content that is based on user interests and behavior. Internet users enjoy digital content when it matches their needs, their likes or when they can identify with it. That's exactly what display and social native advertising is about – it gives relevant recommendations without interrupting the user experience.
As of now, native advertising has not fully replaced any "traditional" ad-formats yet. But it has sure become a massive piece of the advertising pie in the last 5-10 years.
Ana: Jim, you are the Head of Native Advertising. Work can easily influence our private lives, so my question is: do you use native advertising in your everyday life?
Jim: That's a very conceptual question. I have lived in Estonia for the past 8 years but I am still not fluent in Estonian. However, I am always trying to approach people in the local language and blend in, just like native ads do with their surrounding website content!
Ana: Could you list some of the pros of native advertising? Why has it become indispensable for the marketers?
Jim: When you use native advertising to promote your content, you'll touch upon several aforementioned sensitive points: user interest, storytelling, and content relevancy. These 3 points, among others, are in a way unique to native advertising. It's the most engaging way to reach out to the end-users with sponsored materials, without disrupting their online experience.
Ana: And what about the cons?
Jim: There is obviously a little bit more manual work when it comes to dealing with your promotional tools, but at the same time, it leaves more room for creativity and A/B testing.
Ana: Native advertising can't always stay invisible. What are your thoughts on the relationship between the web user and website which is using native ads?
Jim: Seamless integration of the sponsored content within the actual web page content doesn't mean that there is an intention to trick the end-user. All our widgets are clearly labeled "Content by Adcash". Any user can actually get more information about the content he/she has been exposed to and understand why it was recommended to him/her. Additionally, I like to refer to native advertising mostly as content or product recommendations. Since it's the website that recommends different types of digital content to its users. Each Webmaster has an opportunity to choose what kind of content they want or don't want to recommend. Finally, no user is forced to access the sponsored content – after all, they only click on it if they like it!
Ana: Let's talk about the practical aspects of setting up native campaigns. How can Media Buyers exactly use native advertisements? Are there any different types of native ads? Any restrictions?
Jim: I will highlight the ideal setup for a media buyer, using different tools we provide. Once logged in to your Adcash account, create a new campaign and in the targeting section enable all web-native and native push notification supply sources. Unless you need any specific OS/browser targeting, we recommend keeping the targeting options quite wide.  In the next step, you'll add your web-native creatives. Make sure you add as many different creatives as you can within the same campaign so that your A/B testing will be efficient.
Now, the next step is the most interesting one. After setting up your budget, you'll have the opportunity to choose your bidding type. Like everyone else, we offer CPM or CPC with a conversion tracking if you'd like. Because we understand everything takes time and your focus shouldn't be on optimizing the campaign manually yourself, we've released a new bid type called CPA Target. That bidding type should be your 1st choice. Why? Simply because it's a fully automatized way of optimizing your campaign. You need to set up a tracking pixel, ideally to track an event where you are generating revenue, and then you will set a CPA goal (i.e the price you get paid for each event tracked) and then you just have to let the campaign run. Our ad server will automatically adjust the bids according to the conversions we track and based on the CPA goal that you set.
If a traffic source does not convert, we'll quickly drop the bids down to 0 and you'll stop receiving traffic from this source. If the traffic source does convert, we'll try to deliver conversions at a lower price than your set goal. On average, the platform delivers conversions at a 30% lower price than the set goal.
In the end, you just focus on setting up the campaigns, checking after a couple of days if there are any conversions or not. If there are no conversions then simply pause your campaign. If there are, let us do the dirty work for you!
I mentioned above native push notification, yes, we have 2 types of native traffic – web-native and push notifications. With the same creatives within your campaign, you can target those two types of users. Apart from the usual restrictions such as violent, racist, sexist content etc., we're pretty open to any type of content. Please refer to our T&Cs to get more information.
Ana: Could you please share some tips on how to use native ads and which verticals work the best? Could you give some examples?
Jim: I just partially answered this question above. The following list of verticals work well on our supply: games, dating, travel, nutra, finance, e-commerce, utilities and a lot of content arbitrage campaigns as well as simple branding campaigns.
Ana: Now, it's Vanga time! Do you have any predictions about the future of native advertising? And online marketing in general?
Jim: The future of native advertising will involve even more engaging user-friendly content, video, and user interactive solutions. The key to success is serving relevant content to the end user. You may run the best and nicest campaigns, but if they're irrelevant to the user, they simply won't perform.
The same applies to online marketing in general, that is why Facebook is so good at it. They know what the user likes and based on that, they are able to push relevant content.
This is exactly what we are trying to achieve, without knowing the user's name, gender or age!
Sign up to the Adcash platform now to boost your revenue with native ads. If you have any questions then don't hesitate to contact me at any time.
Ana: Thank you for your time, Jim, it was a nice brainstorm! Hope our readers enjoyed the topic!
Was interviewed:
Jim Desroches
Head of Native Advertising  - Adcash
Skype: jim.adcash
Born in Lyon, France. 10 years of digital advertising industry experience and currently Head of Native Advertising at Adcash. I've seen Adcash grow from its kitchen office premises to where it is today—a corporate group with 100+ employees. It's something that I am very proud to be part of. In my personal life I enjoy tennis, football, travel, family life, technology, sailing, and music!