In the MyLead affiliate network, investment programs generate almost 500 leads per day. Their average effectiveness is about 7%. No wonder that our users considered it to be the best place on the Internet to earn money on investment programs and cryptocurrencies. However, MyLead's offer is much more extensive. Check it out for yourself.
2019 affiliate networks ranking
Affiliate marketing has been around for more than 20 years. Since then, many affiliate networks have entered the market as intermediaries between publishers and advertisers, facilitating higher earnings for both parties. They are so profitable that they unite more than 80% of all advertisers. However, the question is, which one to choose if the choice is so huge? 
To help our readers decide, in the middle of 2019, we conducted a vote allowing users to distinguish their favorite affiliate networks in 16 categories. This allowed the undecided to see the leaders in individual industries and consider the best option.

The MyLead affiliate network has been nominated in many categories, and ultimately won the title of the best crypto affiliate network. However, our ranking was not the only one to appreciate its achievements. 2019 was a successful year for this network. 

Below, we will take a closer look at MyLead and try to answer the question, why it is popular among Internet users.
A large number of affiliate programs
Variety of categories
Next to more than 200 investment-related affiliate programs valued by so many users of our website, on MyLead, you will find 1400 more, divided into 16 categories. If you are not interested in loans and bitcoins, you can promote adult sites, gambling, entertainment, or even health and beauty. Also, MyLead allows activating thousands of campaigns at the request of a publisher. All you have to do is complete the form, and a new affiliate program will appear almost immediately.

Many settlement models
The MyLead affiliate network offers many settlement models. In addition to the most popular, such as CPA, CPS, and CPL, it also has COD (Cash on Delivery), PPI (Pay per Instal), SMS Chat and IVR models, which are less common in other networks.
MyLead has already been trusted by over 60,000 publishers
The number of registered publishers is increasing almost every day. This is probably because the portal addresses its offer both to those taking their first steps in affiliate marketing, as well as those experienced in the industry.
Suitable offer for beginners
The MyLead affiliate network has been on the market for six years now. During this time, they have gained a lot of industry experience and are eager to share it with its users. Once you create a free account, you will be provided with the beginner's guide, where you will learn the basic concepts used in affiliate marketing. In order to improve your knowledge, you can download e-books or get acquainted with information on the blog. If you encounter any problem that you cannot deal with on your own, you can ask other publishers on the forums or use the support available 24/7. Unlike its competitors, MyLead support is made up of an affiliate managers who know their industry and also speak different languages. 

If you ever feel dissatisfied with your results, we suggest you ask for individual mentoring. This offer is rare in other affiliate networks.
Advanced tools for professionals
If you already have substantial experience and looking for the best way to increase your earnings, MyLead can help you with that. This network offers eight different free tools, which are distinguished by their ease of use and high efficiency. These are:
Content Locker,
Video Locker,
Video Locker VOD
Deeplinks,
Smartlinks,
A/B tests,
Postback and API,
Advertising banners.
If you want to find out how they can help you maximize your withdrawals, be sure to visit the MyLead page and see it for yourself. 
High withdrawals for all
You can request a payment at any time. According to the rules, they have 14 working days to send you the money you have earned, however, in the opinion of the publishers, you can expect your earnings within two days after the request. Therefore, you don't have to use NET30 and wait a long time for your money.
To ask for a withdrawal, you only need to have $20. If you know affiliate marketing, you understand how little effort you need to get it. You can order the request an unlimited number of times using one of seven payment systems, internet wallets, bitcoins, or bank transfers. 
Increase your rates
It is also worth to know that MyLead's publishers can increase their rates on all acquired leads by taking advantage of frequent promotional actions and codes. Being up to date with their website and social media, you will never miss such opportunities. 
In the user panel, you will also find as many as 11 bonuses that you can use at any time. With them, you can also increase your remuneration up to 10% for all the leads you have acquired. Some of them are difficult, but there are many simple tasks like expressing your opinion in a Google business card.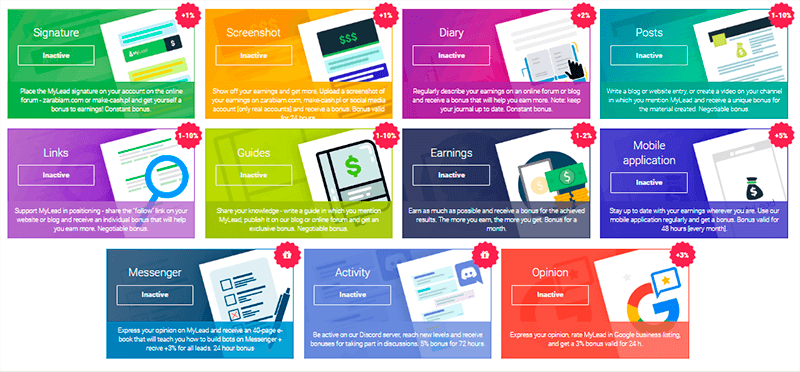 Join the MyLead affiliate network and make money
Although MyLead was considered by our voters to be the best crypto affiliate network, we see even greater potential in it. It is a network that offers more than just one category - it offers as many as 16. This allows them to associate different publishers and advertisers. An extensive educational base helps beginners to take their first steps, and detailed statistics and tools will satisfy professionals.
We recommend it not only to those who want to promote investment programs and cryptocurrencies but to all of you. 
Creating a free account includes four simple steps that will take you about four minutes to complete. We hope that our review will help you decide whether this is the most suitable affiliate network for you.