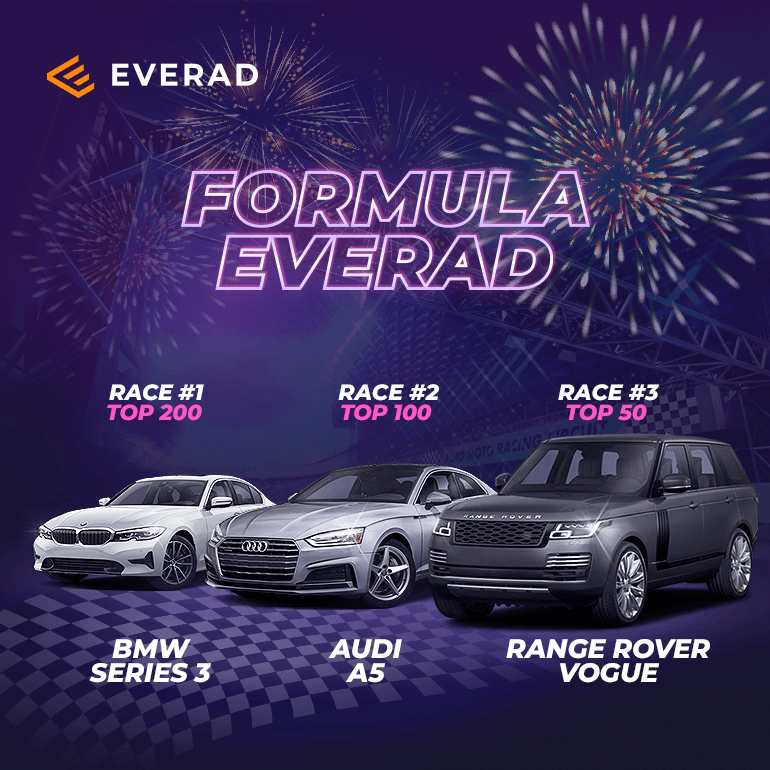 Welcome the new contest Formula Everad 2020! Three races. Three cars. Three chances to win! And many additional prizes! BMW 3 Series, Audi A5 and Range Rover VOGUE are waiting for your luck and your traffic!
Don't waste your time and start taking part in the Race #1
Take your place at the TOP-200 affiliates and get a chance to win the main prize - BMW 3 Series! We are going to draw this car really soon, on April 21 at Moscow Affiliate Conference (MAC).
Race schedule
Race #1 for TOP-200 affiliates only. 
Main prize - BMW 3 Series
21 February 2020 - 21 April 2020
Race #2 for TOP-100 affiliates only. 
Main prize - Audi A5
22 April 2020 - September 2020
Race #3 for TOP-50 affiliates only. 
Main prize - Range Rover VOGUE
September 2020 - December 2020
Rules and conditions
- The Formula Everad contest starts on 02/21/20 and ends in December 2020.
- All the partners registered at the Everad affiliate network automatically become the participants of the contest (Register now).
- The approved leads for all the offers and GEOs are accepted in the contest.
- TOP lists of the affiliates are formed based on the number of competitive Ever-s (internal Everad currency).
- There will be THREE RACES during the contest period. Accordingly, there will be three drawings. You can win a car and additional prizes in each of them. YOU CAN WIN ALL THREE CARS as well by participating in each of the three drawings.
- Only the participant makes a decision whether to fight for all the three cars and cash out Evers before each draw or save for the final prize - Range Rover.
- Each of the participants can win all of the three declared cars and additional prizes at each stage.
- Everad CPA network reserves the right to set the limits on traffic/stop traffic according to current processing capacities.
- Dates and conditions of the competition may change at the discretion of the Everad CPA network.
Get your campaigns ready and let everybody know who is the BOSS here!
And don't forget - DRIVE TRAFFIC TO DRIVE A COOL CAR! 
If you have any questions about the contest - ask your personal manager and follow our Telegram channel and Facebook page