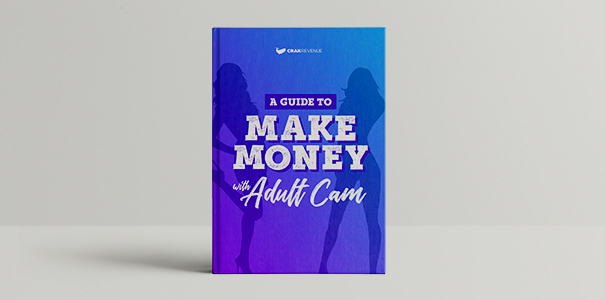 Check out this beginner's guide for making cash on the web with adult cam offers.
Everyone knows how lucrative cam offers can be for adult affiliates. In fact, we've shared advice on how to exploit this industry on our blog. Next up you'll read a methodical manual explaining how to make money promoting the best cam offers.
Adult webcams are extremely unique. Without a doubt, their main appeal has to do with the interactive experience they offer users – something that no other industry comes close to doing. Everything about them is 100% personal.
The best cam performers are able to attract thousands of users. With such high numbers, there's always a demand for high quality offers. Many affiliates have tried to promote cams for three reasons: there's lots of money to be made, it looks easy and it's extremely popular.
Continue reading only if you're willing to work hard to make big bucks promoting porn cams
Since you're probably just getting started in this business, here's some useful information that will help get you up to speed fast!
Getting Started
If this is your first time working with cams, make no mistake: there's nothing easy about it. As with all things in life, it's going to take some practice, patient and training.  
Some adult cam sites have been around for more than 15 years. That means that some affiliates have a big head start on you – almost two decades in some cases!
So, how do you get started?
First, you should be aware that you'll be competing with webmasters who possess far more experience and resources than you may have available. These affiliates have been around for a long time and some of them know the business like the back of their hands.
However, if experience has taught us anything, it's that perseverance is enough to overcome even the biggest obstacles. So let's get started!
Part 1: Establish Goals & Objectives
Before you get to work, it's a good idea to set your aims on challenging but reachable objectives. We recommend getting started with SMART Goals. Make sure you're specific about what you want to achieve. Don't write something like "get rich" or you'll end up disappointed and quitting early. Ambition is good, but you also need to be smart and tactful.
Perhaps set a goal to "make $100 during September of 2019." If that seems like too much, try lowering it to $50. The important thing is that your goals remain challenging yet attainable. 
Part 2: Learn What Works
To be successful with cams, first you have to learn the rules of the game. The best way to learn what works is by paying close attention to what your competitors are doing on their sites and keep an eye out for what's trending.
Look at these top five countries that account for 88% of spending from an anonymous but popular white label:
• France
• United States
• Canada
• Australia
• United Kingdom
Without a doubt, you should be targeting these countries with all your marketing resources. Keep in mind, though, it's going to be expensive. But seeing as these countries make up the bulk of quality traffic on the planet, it makes sense they cost a lot more.
We offer optimized banners and landing pages based on extensive data we've collected over the years. As mentioned earlier, remember to always pay attention to trends.
Here are certain traits that lead to higher CTR for banners:
• Teen
• Athletic
• Masturbation (without toys)
• Big boobs
Additionally, we noticed that over 50% of users who've spent money on the above-mentioned white label come from the paid chat, another area to focus on to make big bucks with cams.
Important: adult cam sites like to display their top performers. Try bookmarking these websites to get a clear idea of what cam models are increasing in popularity.
Ad Spy Tools are a great way to gather valuable information, such as keywords, top banners and so forth.
Part 3: Choose a Niche
Although there are already thousands of affiliates promoting cam offers on the web, there's still a big enough pie to share with hungry newcomers. When getting started, it's generally a good idea to narrow your efforts down to one specific niche. The reason for this is simple: if you try to compete directly with the big boys on their own terms, you're going to end up losing precious time and money and probably abandon the business early.
Try using a tool like SemRush to find your niche. Keyword research is a huge element for success. Check out this comparison between a generic "adult cam" keyword and the more specific "gay cam."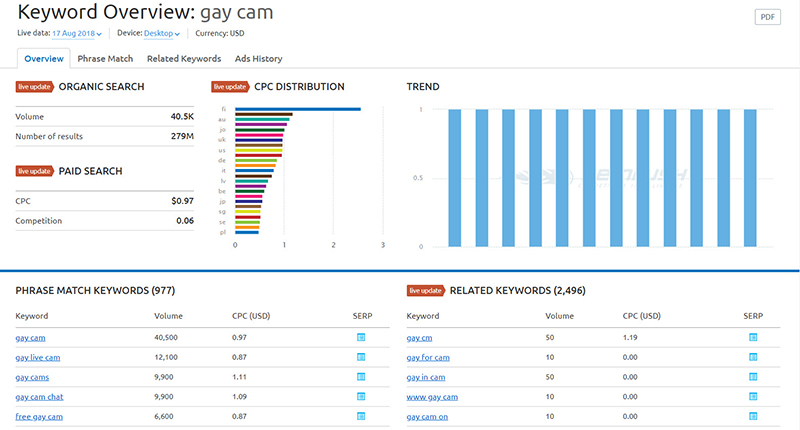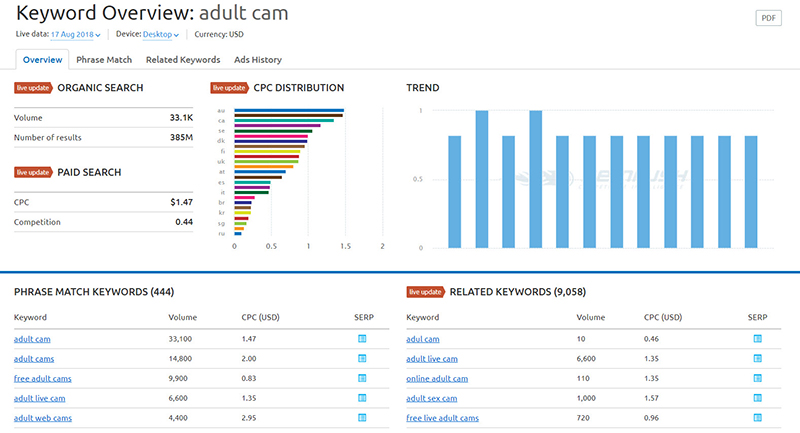 Here are the key points we want to bring to your attention:
• CPC is about 150% more expensive with a generic keyword.
• Competition is 7 times less for the generic keyword.
• More generic searches for the niche keyword.
Therefore, we arrive at the conclusion that running paid ads or creating landing pages for "gay cam" is less expensive, while also offering a higher potential ROI. Remember to stay alert to related keywords and phrase matches to attack all possible options.
Keep in mind, however, you never want to choose a niche that is too specific, since it'll be difficult to acquire traffic. The key is to find the balance between CPC, volume of traffic and competition.
Stay Creative
In business, it always pays to think outside the box.
Choosing a specific niche is not absolutely necessary. It's simply a way to keep your costs low and snatch up some highly targeted traffic. You can also decide to promote all types of cam offers, but you'll have to be creative.
For example, reviews for adult cam sites are plentiful and they all use the same formula. These are mostly written by webmasters and affiliates. But here is a wild idea: how about reviews written by cam models themselves? This could be just the hook you need to put yourself above the competition.
The opportunities are out there –  It's up to you to take advantage of them!
Part 4: Choose a Domain
We don't recommend linking directly to cam offers.
Why?
Because by using your own landing page you'll get the most of out of your traffic. So even if you're buying ad spots or flats, it's always better to have your very own domain to work with.
Landing pages allow you to generate more leads, reduce bounce rates and help build a mailing list, your number one tool for remarketing. For your domain, remember to have at least one relevant keyword related to your niche of choice. Although the .com domains are still the best choice, many affiliates have had success with other extensions such as .net, .xxx and others.
As for where to buy your domain, GoDaddy is a reputable registrar. They offer .com domains for as little as $0.99 on the first year.
Part 5: Select The Best Offers
Now that you have a clearer understanding about the general rules of promoting adult cams, the time has come to choose the right cam offers for your type of traffic. Go to our affiliate dashboard and choose the cam vertical. You'll find various choices depending on your niche.
Here are some ideas:
• UFancyMe
Obviously, we have some outstanding cam offers that fit all niches, but if you're using a specific niche, try sending your traffic to a landing page like you'll find in the image below with Royal Cams and the niche "trans."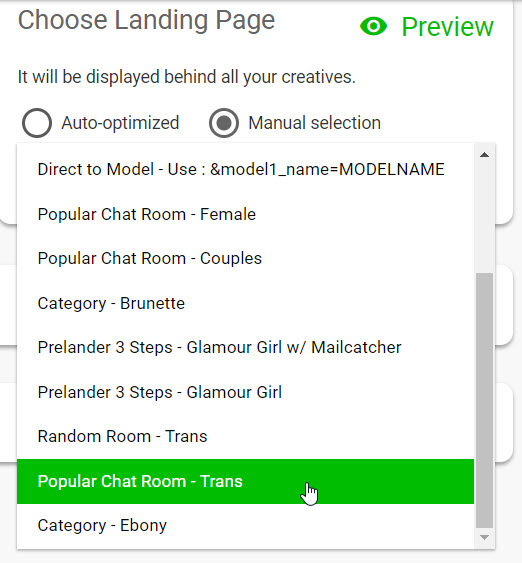 To learn more, don't hesitate to contact your Affiliate Manager and ask what's currently trending in the industry. Or you can use our Smartlink tool, which automates the entire process and saves time.
Part 6: Get Traffic
This is the part that where most new webmasters stumble. 
In order to maximize your cam offers, it's important to understand the different types of online traffic:
• Direct (type-in): users type your domain directly into their browser.
• Organic: users find your website through search engines by typing a relevant keyword.
• Paid: users click on paid link or ad that direct to your website.
• Referral (backlinks): users click on a link from a third-party website that directs to yours.
• Mailing: users click on a link inside an email that directs to your website.
• Social: users click on a link from a social media website that directs to your website.
Direct is without a doubt one of the most interesting, since it means users are memorizing the name of your website and typing it in directly.
Organic traffic is highly valuable since it is acquired by presenting visitors with quality content and through the skillful use of SEO techniques.
Paid traffic is pretty straightforward: you buy ads on networks such as Google AdWords or directly from traffic providers such as Traffic Factory.
Backlinks and referrals are adored by search engines. They are also very important when wanting to increase your Page Rank.
Mailing of course remains one of the most effective sales tools the web has to offer affiliates.
Finally, Social Media is an inexpensive way to get at least a few hits on your website. Eventually, you can consider paying reach influencers and increase your amount of traffic from social media.
Part 7: Monetize Your Traffic
Traffic is obviously very important. However, traffic alone will not guarantee you high sales.
The importance of A/B Testing
Okay, so you started sending traffic to your cam offers. Now it's time to do some A/B testing. Keep in mind that even minor changes can lead to huge boosts in CTR.
An efficient way to optimize your landing pages through A/B testing is with heat maps. These allow you to see and understand what visitors are doing on the different pages of your website.
Call to action
There are more reasons for why a visitor won't turn into a conversion than vice versa. One of those reasons is usually the lack of scarcity & urgency triggers. You need to transmit this idea to your visitors.
Here are some tips:
• Include a countdown timer… "this offer expires in 30 minutes!"
• Limit the number of times an offer can be redeemed… "only X remaining!"
• Offer an incentive for taking action immediately… "50% off today only!"
More ways to make money with adult cam offers
Reinvest your profits
As soon as you find a strategy that works, it's important that you reinvest your profits into your current operation to help it grow. A positive return on investment is an opportunity to scale up. Don't make the newbie mistake of spending your profits while believing you've found a long-term passive income.
Check out our WordPress plugin
We recently released our WordPress plugin for adult affiliates.
This tool allows you to showcase the hottest cam performers and receive cash for each action completed on these offers.
Now, It's Your Turn!
The knowledge you've just received has taken some webmasters years to acquire. We believe this guide will help you hit the ground running so that soon you can be making serious money on the best adult cam offers.
As always, if you have any questions or comments, feel free to share them with our community. Experienced webmasters will often lend new webmasters a hand. Good luck!