Azerbaijan iGaming Affiliate Conference 2022 –Event About Efficient Affiliate Marketing Strategies and Promotion in the Gambling Vertical
On February 16, Baku will host the first Azerbaijan iGaming Affiliate Conference 2022. Industry professionals will gather at one platform, telling how to successfully drive traffic to online casinos, betting platforms and get high earnings.
In the luxurious five-star Hilton Baku hotel overlooking the Caspian Sea, top affiliates, advertisers of the iGaming market from the CIS and EU countries will discuss the practical application of affiliate marketing in the gambling vertical.
the main topics include launching an affiliate network on the global market, effective promotion of gambling projects with SEO, approaches and lifehacks in working with TikTok, mutually beneficial cooperation with CPA networks and products, traffic generation using instant messengers, and much more.
Conference attendees will be able to make useful contacts and improve their skills in order to earn much more.
What will be discussed at the conference?
Azerbaijan iGaming Affiliate Conference 2022 will focus on the latest industry trends and cases with real numbers.
Meet the first three speakers:
YuriyTitkov – CEO at mr.fishmartech company.
Nikolay Kharin – CEO at P1sms and Zvonobot.
Vlad Marlon – CEO and founder of Marlerino Group.
Experts will tell how to use robocalls, SMS mailings and instant messengers as traffic sources: they will present cases from Russia, Kazakhstan, Ukraine. They will compare two popular payment methods – CPA and RevShare, name their pros and cons, explain how to get more profit. In addition, the speakers will give recommendations on how to attract gamblers and share their experience of cooperation with CPA networks.
Event will feature a panel discussion on the topic: "Current trends of the gambling market. How to work in the niche and forecasts for the future", where participants will express their expert opinion and answer questions of the attendees.
The full list of speakers is available on the official website.
Why you need to attend the event
Azerbaijan iGaming Affiliate Conference 2022 is the best place to learn about all the insights and forecasts of the affiliate market, new opportunities to increase income.
Guests will enjoy productive networking and communication in an informal atmosphere. They will be able to learn about the tools to drive traffic to gambling, as well as establish business connections and find profitable offers.
The conference will be interesting to arbitrage specialists, webmasters, gambling business owners, advertising networks representatives, SEO specialists, software developers and marketers. There will be a lot of useful, and most importantly, up-to-date information.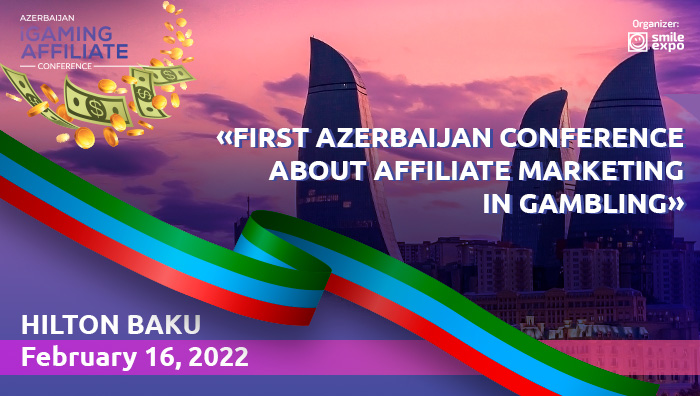 Join!
Find more details about the program and register at igamingconf.com