Hello guys!
We are pleased to announce that Affiliate World Asia is coming back to Bangkok on December 4-5. This year's conference is going to be stronger than ever, trust us. Affiliate World has predicted to be their biggest show yet. Affbank is a regular attendee to the event and we are looking forward to another great conference.
The AWA organizers are always aiming to for best, so this year we, at Affbank, are really excited that they've brought back their labs.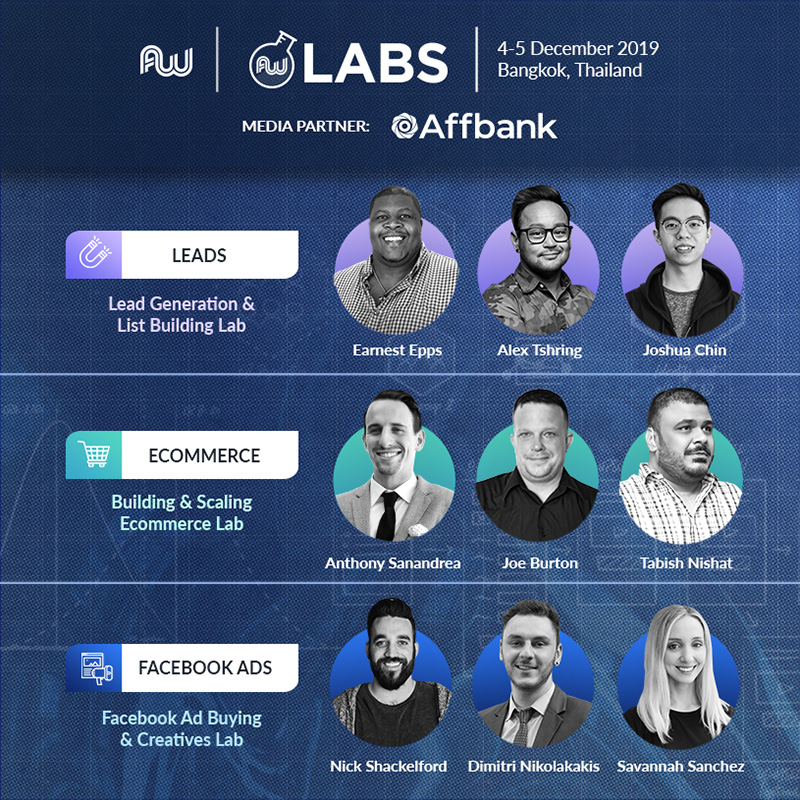 This year the labs will include: 
Facebook Ad Buying & Creatives Lab
What it is: A Facebook Ad buying crash course plus advanced Facebook scaling blueprint used by 8-figure  ad buyers.
Speakers: Nick Shackelford, Savannah Sanchez, Dimitri Nikolakakis, and Yash Kotak.
Lead Generation & List Building Lab
What it is: List building, scaling and creative development methods used by 8-figure Lead Generation experts
Speakers: Anthony Sanandrea, Joe Burton, Matt Diggity, and Tabish Nishat.
Scaling Ecommerce Lab
What it is: Ecommerce Marketing crash course covering Facebook, Google, and Email. Plus, advanced paid advertising and growth hacking tactics that 8-9 figure eCommerce brands are using.  
Speakers: Earnest Epps, Joshua Chin, Alex Tshering, and Kevin Zhang.
The Affbank team will be popping in at the Facebook Lab since we used to do ad-buying ourselves and it would be fantastic to hear from the industry leaders.

Not only can you watch the speaker presentations, but you can also mix and mingle with AWA's top-speakers yourself! Each lab will include dedicated hour-long networking sessions where you can meet like-minded marketers and speakers. You'll be able to walk the world-renowned exhibition floor and discuss the matter with your colleagues and make a few new prosperous connections. What's really great us that you can ask speakers first-hand about what you really want to know. Affbank already has some questions prepared, so you've got to be ready too!