For the last few years, affiliate fraud got a reputation for posing a rapidly growing threat to digital advertising. In the recent Fraud in Performance Marketing White Paper Affise shows up that with digital advertising expenses, that are expected to grow from $560 billion in 2018 to at least 13% by 2022, marketers should also expect a rise in the frequency of fraudulent attacks. 
Latest FraudScore report for the first half of 2019 shows that 35,3% of all processed traffic (both mobile and web) was fraudulent. This number is almost 60% rise if to compare with 2018 when the fraud share was 22% of all processed traffic. 
Geographically fraud distribution varies in figures, but the regions and the scope of fraudulent patterns are almost always the same. With the most likely to process up to 48% of fraudulent mobile traffic - Russia, CIS and APAC countries, and up to 50% of web traffic - APAC, USA and the Middle East countries.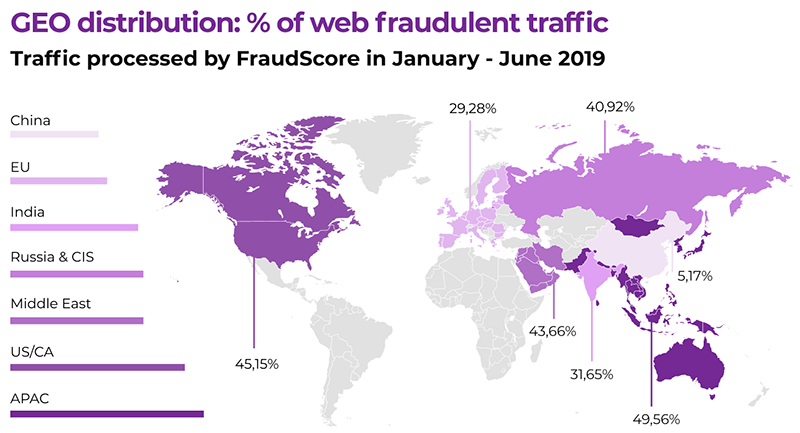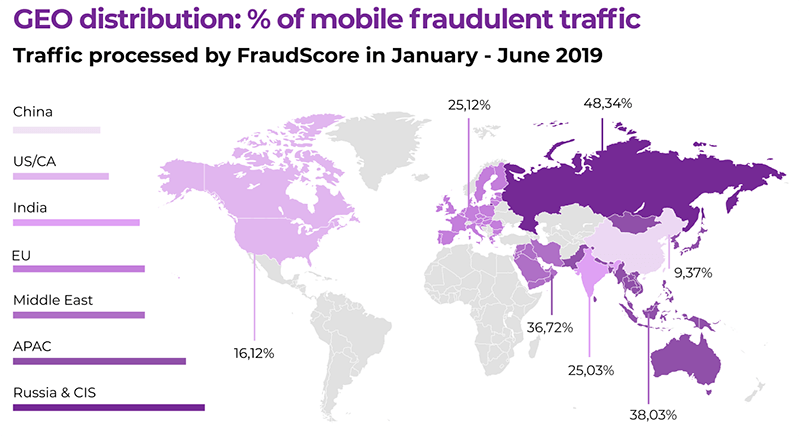 What is fraud in affiliate marketing?
By fraud in affiliate marketing, we generally understand any infringement of the terms and conditions under an affiliate marketing program; i. e. any illegal activity which aims to make profits by harming other businesses. It causes damage in a way that through inadmissible methods, fraudsters generate misleading commissions from affiliate programs that end in scammers' pocket. Naturally, these actions don't bring any income to the program. Besides, they can damage advertisers' budget in cases when those still have to pay for fraud conversions. 
Before taking preventive measures, it is crucial to understand the types of fraud in Affiliate Marketing. That's why we suggest having a closer look at the most wide-spread types of performance marketing fraud. 
Most common fraud types in performance marketing
Typo Squatting 
Typo or domain squatting fraud means creating several domain names that are close in their names to popular websites with a difference just in one letter, that is either missed or misspelt. Through an accidental typo, visitors go to a site, where they find a page that looks like a genuine site. Next thing, visitors see products' offers. Through purchasing something there, they divert sales from an original merchant.     
Spamming
The fraud that we all regularly receive in our email boxes, intended to fake a legitimate brand, deceit users and cheat them out of money. While most people detect and delete these rubbish straight away, there are still enough of those who fall for that and perform requested СТА acts.
Fake clicks
Inflating the number of clicks through unethical ways like 'click farms' or merely a large group of low-paid workforce constantly clicking on ads. Clicks faking is one of the least creative affiliate scams, bred on the CPC pricing model. Repeated clicking on a link drains funds from merchants without turning it into a profit. 
Diverting
Here fraudsters divert traffic from an affiliate's site, bypassing the intended merchant. In practical terms, they create fake affiliate links on sites that further mislead customers. When buyers are redirected to a faux website, they can still make a purchase, but affiliates won't receive their commission.
Cookie Stuffing
This type of fraud is also known as affiliate parasitism. The idea behind the cookie stuffing scheme is adding multiple false cookies that hinder affiliates from earning commissions for the sales they provoked. Instead, fraudsters make sure to place their cookies last, in this way getting paid based on the "last cookie counts" principle. 
Ad stacking
One more widely-spread ad fraud method that does not display ads. Ad stacking is a fraudulent tendency to place more than one ad in the same ad spot. As a result, only the top ad is visible for users, while advertisers are not aware of this and continue paying for all ads.    
Pixel stuffing
Pixel stuffing is a practice of stuffing ads into a single pixel. Real users trigger impressions, the amount of which advertisers can also further see in statistics. However, these users never actually see any ads because it is impossible to spot a single pixel.
Domain spoofing
Domain spoofing is the practice of selling ads either on low-profile websites, by falsely presenting them as premium, or on false copies of what looks like a genuine affiliate site. Advertisers think their ads are displayed on trustworthy, profitable websites, but instead, they end up on irrelevant ones.
How to fight ad fraud?
With such a variety of fraudulent patterns, fraud poses high risks for the performance marketing industry. But you can't avoid that while doing business online. Hence, to succeed in this business, you need to be prepared and take measures to protect your business and clients against fraudsters. 
Want to learn how? Find more information in the Performance Marketing Fraud eBook, prepared by Affise.
This eBook will help you raise awareness and protect your ad campaigns from fraudsters. In the following pages, you will learn:
Which steps affiliate managers must undertake to identify and prevent fraud;

How to protect your ad campaigns with features available at the performance marketing platform; 

Pros and cons of fraud prevention with in-house and ready-made tools;

What are the top fraud prevention solutions and how you can protect CPA campaign with them?
To read the detailed overview of fraud prevention solutions - download the eBook.