Anyone who deals with media buying tries to catch the hottest offer and here it is:
Tagyourleads has various immigration offers. We decided to take a relocation-to-Canada offer. If you know the trends this is one of the directions currently in high demand. The payout type for these offers is CPA (FTD). It means you receive payment after the client has made a deposit. Payouts are extremely high: up to 150 EUR per FTD. Landing pages are available in different languages. Approximately 300K of immigrants land in Canada every year, so it's a great opportunity to earn extra cash.
For our test we decided to work with a small country – The Bahamas and with Adwords as our traffic source.
Offer: Canada Citizenship Immigration Services
Traffic source: Google
Partner program: Tagyourleads.com
GEO: The Bahamas
Lead payout: 150 EUR
Campaign period: 1.09.19-3.12.19
Total number of leads: 809
Confirmed: 32
Spent: 1400 EUR
Received: 4800 EUR
Profit: 3400 EUR
ROI: 242.61%
Overall stats from google:

As you can see, the price of a FTD is (170.41 ils) 43.79 EUR, with amazing sale-to-lead conversion rates of 3.96% on average. An average lead cost of about 1.73 EUR.
Here are the most converting keywords in our campaigns:

And look at the search queries: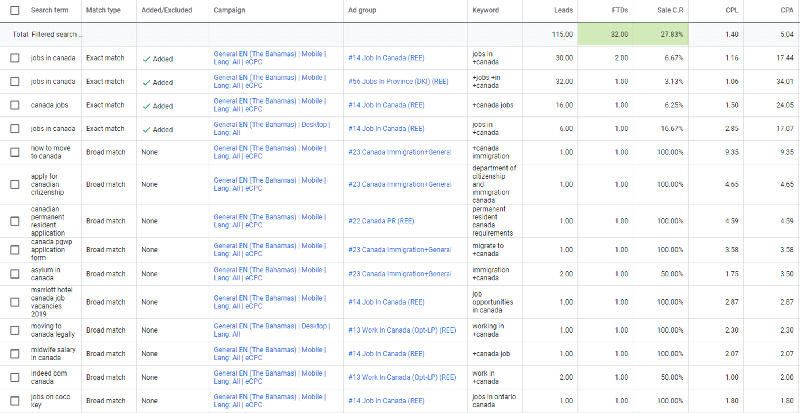 During the test period we spent 1400 EUR and earned 4800EUR, got 809 leads and 32 of them were confirmed FTDs. After all the tests and optimization, campaigns work in autopilot mode. This is a great advantage of white label offers.
Why have we found this offer promising? Because it's a white hat niche with a growing interest of the audience. You can find more interesting offers on the Tagyourleads - immigration affiliate cpa network.