Manga users are increasingly consuming Manga on mobile devices
Since January 2020 to May 2020 we have seen a 24.5% increase in users switching from desktop to mobile in order to consume Manga content.
Total impressions Mobile versus Desktop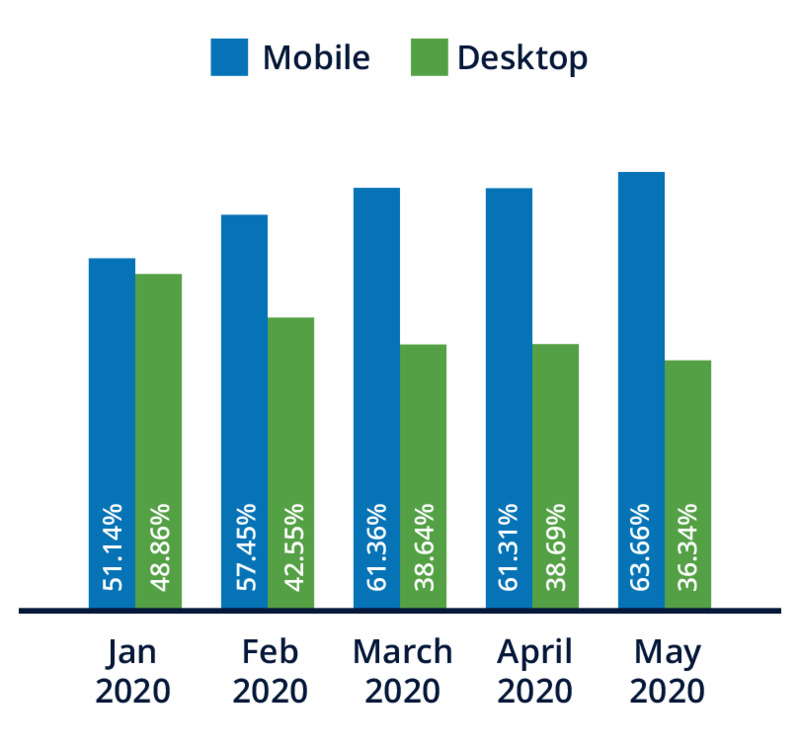 Looking more closely at GEOs and impressions served, here are the top 5 GEOs on Manga mobile Jan - May 2020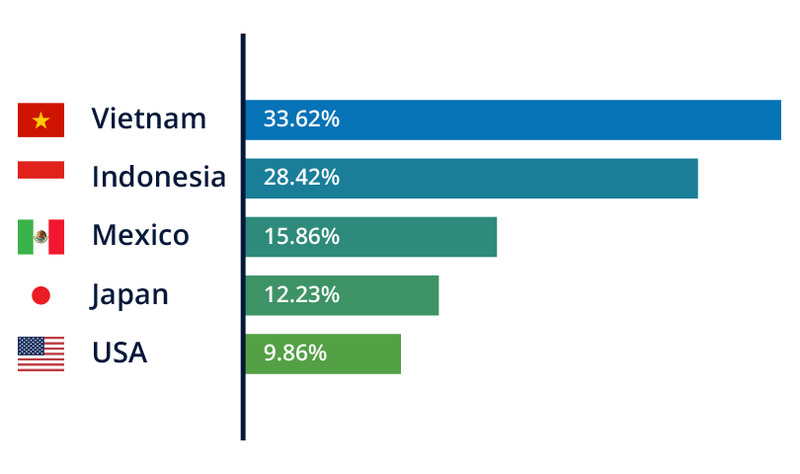 Mobile brings higher CTRs
Advertisers targeting their offers at mobile devices on Manga are finding a significant increase in CTR for their ads compared to desktop, and in some cases the average CTR is 800% higher on mobile.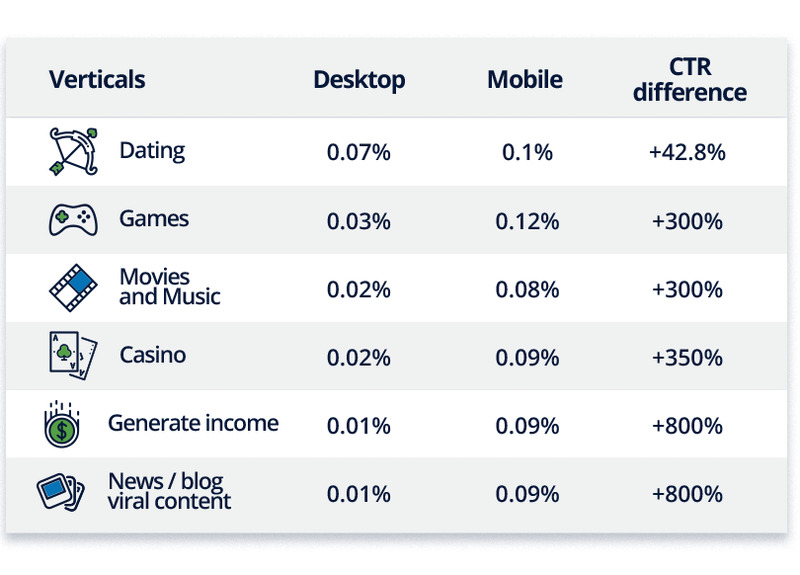 Expert tips for mobile ad formats
Looking across all of the ad formats targeting mobile Manga users here are the 5 most popular for advertisers with some expert tips from Manga Girl Ana B!
Video Slider
This format gets a very high CTR on Manga sites. Why? Manga sites feature static images that tell stories, the Video Slider ad format introduces video content to the Manga site in the form of your ad, giving the user a new content dimension to engage with. Additionally, the format slides in from the bottom right hand side of the web page, making it even more eye catching to the end user. Video Slider can be bought on CPM, CPC and CPV (cost per view).
Expert tip - Manga users are constantly searching for new animated stories, it is their passion. To get maximum CTRs for your Video Slider ad, ensure that you use an animated creative that tells a short story. For example a dating product could show how two Manga fans found true love using the dating site. For a mobile game product, show a Manga character playing the game then use video captures of the character winning the game.
Instant Message
This format also has a high CTR, traditionally used for dating offers this works like a copy of an instant messenger chat box. It appears at the bottom right of the page, which again makes this an eye catching format to end users. This format is available on CPM and CPC.
Expert tip - Don't limit yourself to dating offers, try other verticals too.
Mobile Fullpage Interstitial
ExoClick introduced this format in February as an alternative to the Popunder format, which is getting blocked on certain sites by Chrome. This large format Interstitial fills the full screen of the device and is triggered while the Manga user is navigating the Manga site. It features a large banner creative 900x1600px on the vertical and can be bought on CPM and CPC and includes frequency capping options.
Expert tip - You can use static images or video banners for this format, and because its a large format it gives you the opportunity to create a really compelling creative, one idea would be to use the image as a short comic strip style to tell the story of your product e.g. if it's a casino offer show a Manga cartoon of a character playing then winning a prize, or if its a mobile game use video banners to show segments of the game.
Banners
Available on CPM and CPC, traditional banners may have a lower CTR than the previous formats, but they are cheap to bid on and we have large volumes.
Expert tip - Try animated banners to make your banner ad stand out against the static cartoon content on the site
Native
Native ads work by looking like the editorial content of the site and tease the end user into clicking with a title, image and description. They are available on CPM and CPC. Despite having a lower CTR this format is very cheap to bid on because of the large volumes. The 0.08% CTR is the average globally for Native, however you can push this up higher by testing different creatives and texts and sites. We carried out research and found that Native ads that feature a title get a 68% higher CTR compared to Native ads without a title. ExoClick allows advertisers to only target sites where publishers allow titles to be shown in their native ad zones, to help your CTR even further.
Expert tip #1 - You have two options to use here: a Manga style cartoon image to fit in with the rest of the site and a photograph image which will make your ad stand out against the cartoon content of the website. I recommend that you test both options to see which brings the highest conversions. To get maximum clicks your title and description should have some kind of link to Manga, here are a couple of example titles you could try: 99% of Manga users love this game, Manga fans find true love here. You can also use ExoClick's Dynamic Keyword Tokens to further personalise your ad text, check out this blog post How to Create Dynamic Keyword Insertions for Native Ads post.
More Native advertising tips:
Native advertising tips for higher conversions
Native advertising: Tips to get creative
Conclusion
With more Manga users on mobile currently on our network, we hope that these tips have given you some ideas of how to target Manga users with your next campaign in order to maximise your opportunities!
Further reading:
Manga users favourite verticals for ads