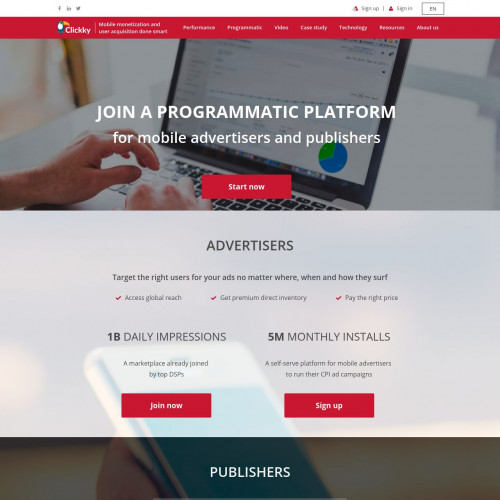 Network details
Payment Method
Paypal, Webmoney
Top GEOs
CO, CL, EG, CN, ID, TW, RU, US, CX, CC
Impressions per month
30 billion
Ad Format
Video, Mobile, Native, Interstitial, Rich Media, Banner
Pay In System
Paypal, Webmoney
Pricing Model
CPM, CPA, CPL
Optimization details
Description
Clickky is a mobile monetization platform established in 2010 by a dynamic team with a broad experience in this field, whose purpose was to target the right category of users for the ads. Working with Clickky, will give you the opportunity to monetize applications and websites on a mobile phone.
For Clickky, the clients' opinion is a key element when it comes to improving something about their way of working. The team is constantly communicating with their customers in order to provide a customized package of solutions.
Their innovative system and constant progress has been proved many times before, as they have always been a step forward from the current advertising technologies.
In order to register on Clickky and be part of this successful project - click on Join Now!
Don't forget to get back to Affbank in order to leave a comment about Clickky.
Network Manager
Yo trabajo con ellos tanto por CPC como por CPM con 2 páginas web. En CPC yo recibo pagos cada 2 o 3 semanas, Para CPM yo usaba taboola, ellos pagan después de 3 meses, Adnow siempre me paga por CPM por adelantado :)
Read more
Anastasiia_Affbank
2016-06-15
Bons site de pub et avec de très bons GAINS.
Read more