Is Valentine's Day actually worth it?
You probably know the answer to this question. If Valentine's Day business was unprofitable, people certainly wouldn't be so loud about it. 
As the MuchNeeded portal says, in the United States, about 27 billion dollars are spent on Valentine's Day gifts. In the United Kingdom, this amount reaches over one billion pounds. According to data from the German Federal Republic, in 2020 alone, Americans spent 27.4 billion dollars, which, compared to the previous year, is an increase of 32%. That's a lot!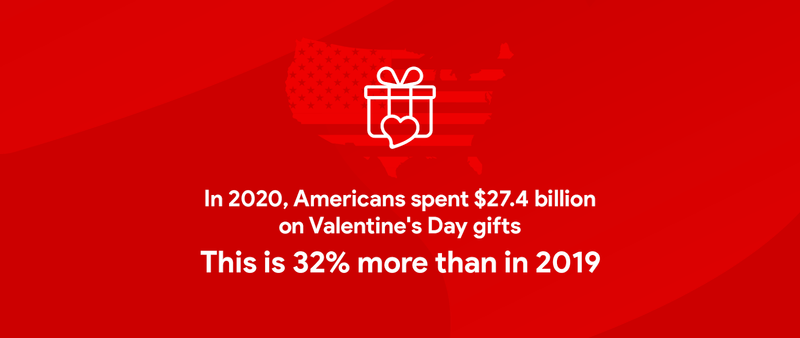 When we talk about V-Day, spending per person increased by over 21% in 2020. The average amount that Americans leave in stores has been growing steadily since 2017. Then it was $136, in 2018 it was already $143, and a year after - almost $162 per person.
Interestingly, more than a quarter of Americans buy gifts for their... cats, dogs and other four-legged friends. Gift-giving to pets is steadily gaining in popularity. In 2020, 27% of respondents declared that they would buy something for their pet. It is worth noting that in 2010 it was only 10%.
What do we spend the most on?
There will be nothing innovative in what we are just about to say, but it's worth remembering what sells best. According to Zeropark, most people choose proven solutions when it comes to Valentine's Day shopping. The list most often includes the most obvious gifts as sweets, flowers and jewellery, but also clothing, gift cards and dinner in a restaurant.
On the other hand, the most frequently mentioned gifts that people dream about are the experience itself, sweets and flowers, jewellery, electronics and cosmetics.
In the previous year, approximately $5.8 billion was spent on jewellery, which 21% of customers decided to buy. More than a third of those who celebrate Valentine's Day have decided to celebrate this day with dinner outside, which generated $4.3 billion in revenue. The latest trends show that 52% of people buy sweets and 37% buy flowers. The total amount spent in these exact categories is $2.4 billion and $2.3 billion respectively.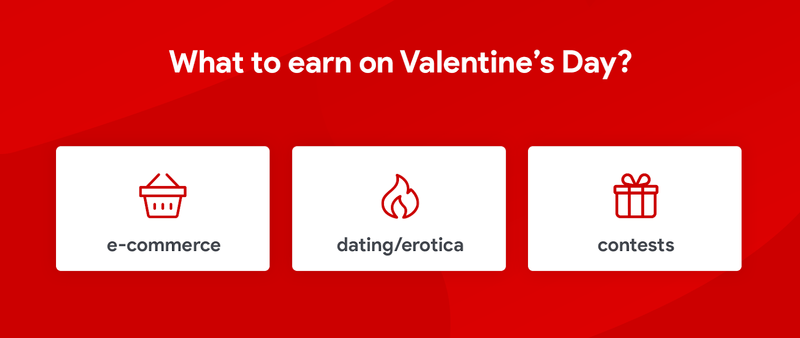 How to earn on Valentine's Day?
Now that you know that earning money during Valentine's Day makes sense, you need to know how to prepare for it. First of all, you should start by choosing a course of action. When it comes to this particular holiday, there are three possibilities: e-commerce, dating and eroticism, and contests (also known as sweepstakes).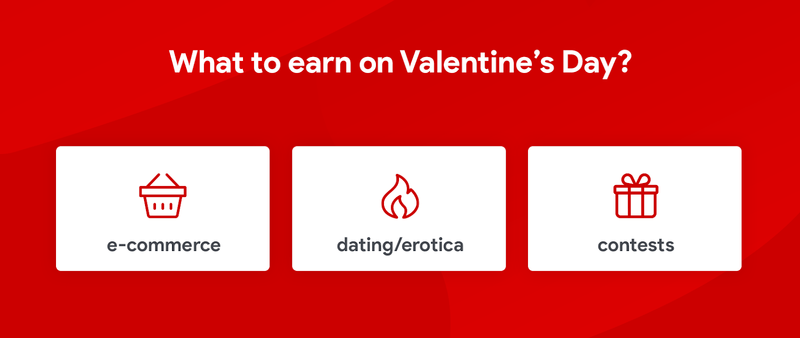 Earning on e-commerce - what to remember?
As we mentioned before, the e-commerce industry is booming not only in spring. Valentine's Day is one of the most intense shopping periods. Here are some tips to help you maximize your profits.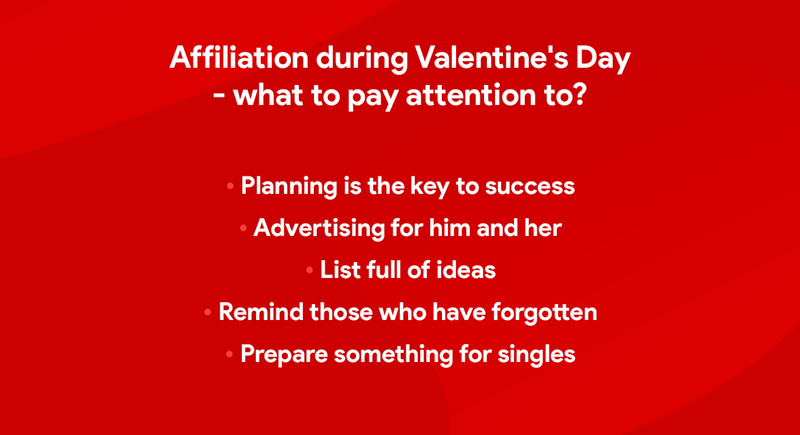 Beggin with the good plan
Planning is one of the most significant elements in conducting marketing activities. There is no good campaign without a well-thought-out strategy, so give yourself at least a week to reserve the most important decisions. Consider whether you will create a separate landing page or social media accounts, or whether you will place ads on existing channels. Remember that your clients need time too. After all, all possible purchases are made in advance. Give your audience this opportunity.
Who should you advertise your content to?
Love doesn't know the gender, but advertising is still about targeting content. Remember that personalization plays a key role here. Men and women are different… when it comes to Valentine's Day spending. Men spend much more than ladies. Usually, these amounts are even twice as high. Keep this in mind when selecting specific campaigns to promote. The types of purchases also vary. Men buy more jewellery and clothes, while women more often choose to pay for a date out.
Gift ideas - what to choose for the love of your life? 
Are you wondering how to reach your potential audience? Content marketing will be great here. What customers are looking for at this time are ideas for Valentine's Day gifts. Try to provide them with hints that will make their deciding process much easier. How about the list of "Best Valentine's Day Gifts for Her"?
Something special for those who forgot 
They might have forgotten, but you shouldn't have. If you want to make the most of this opportunity, you have to be prepared for any eventuality. Prepare a "last-minute" offer for the forgetful ones and let their day be filled with roses and hearts.
V-Day - not only for couples
If you think that Valentine's Day is a holiday only for couples, you are wrong. Especially when it comes to advertising and monetization. After all, there is no better opportunity to promote dating sites than Valentine's Day. Therefore, do not waste any more time and prepare something for those who are still looking for their other half.
The best MyLead e-commerce affiliate programs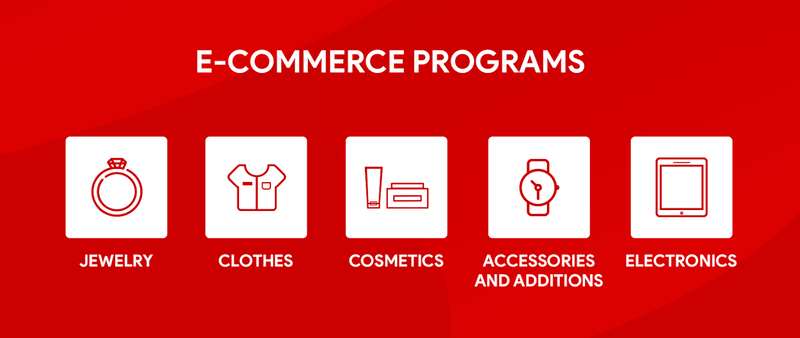 Speaking of ideas for gifts for loved ones, let's take a look at the best e-commerce programs you can find on the MyLead affiliate network. Here are a few suggestions that we think are worth using during the upcoming Valentine's Day.
AliExpress - Smartlink
Gifts are gifts, but each of us likes to find an interesting price offer. On Aliexpress, you will find thousands of products at attractive prices.
Type: CPS | Rate: 2,4% - 7,2% | Conversion type: Sale | GEO: GLOBAL | Preview: click

Walmart
Walmart is an American online store that is very popular all over the world. This huge online supermarket offers many products from various categories at very attractive prices. 

Type: CPS | Rate: 6.09 $ | 0,61% - 2,46% | Conversion type: Sale | GEO: GLOBAL | Preview: click

Lumin
Lumin is a brand of natural skincare cosmetics for men. The company's range includes products for face, body, and hair. 
Type: CPL | CPS | Rate: $3.07 | 3,20% | Conversion type: Sale, Create and activate account | GEO: GLOBAL | Preview: click

Lotteries and Contests
Right after e-commerce, quite an interesting option are various types of contests and lotteries that allow you to take part in the drawing of attractive prizes, such as vouchers. Here are our Valentine's Day suggestions:
Sweepstakes - Smartlink III
Type: CPL | Rate: $0.13 - 21.13 | Conversion type: Single Opt-In, Double Opt-In, Create and activate an account, Email Submit | GEO: GLOBAL 

Ferrero Hamper - UK
Type: CPL | Rate: $0.89 | Conversion type: Single Opt-In, Sweepstakes | GEO: UK | Preview: click

L'Oreal - FR
Type: CPL | Rate: $0.81 | Conversion type: Single Opt-In, Sweepstakes  | GEO: FR | Preview: click

Make money promoting on dating 
Love and belonging are human needs, the fulfilment of which is essential for the proper functioning of each of us. According to Maslow, people need a sense of belonging and acceptance among their social groups, regardless of whether these groups are large or small. The small social groups include, among others, relationships. So it's no wonder that online dating is so popular, especially when it comes to pandemic times. Dating sites are one of the most popular ways to meet a potential partner online. Considering that, according to Statista data, more than 370 million people use dating services, it is clear that online dating is quite a profitable niche where you can earn a lot.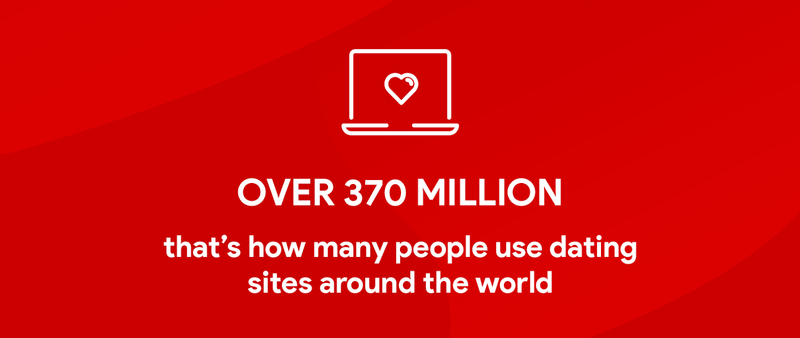 Promoting online dating programs can result in earning quite an amount, as advertisers offer high commissions and high conversion rates. So why not start making money from the cosy corner of your own home?
Valentine's Day is mainly associated with dating. So let's start with some statistics. Did you know that at the end of March last year, traffic on Pornhub, the largest porn site, increased by over 24%? It happened exactly on March 25, 2020, and it was all due to ... a pandemic. As it turns out, interest in the portal also increases every year during Valentine's Day, when users have access to the free version of Pornhub Premium all day long.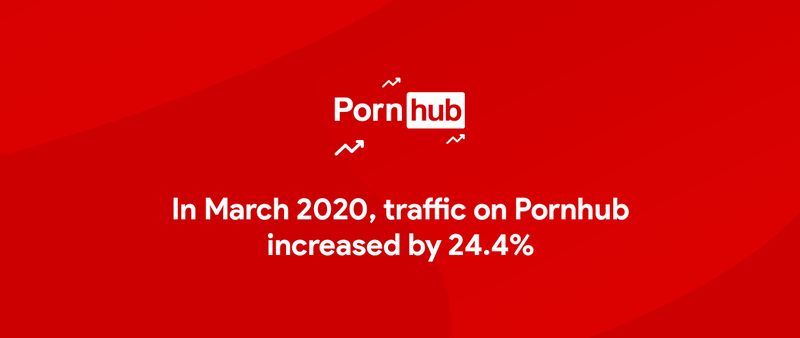 According to data from October 2020 - Tinder, with 57 million users around the world at that time, is also quite interesting. Swiping takes place about 1.6 billion a day, and there are about a million Tinder dates each week. These data only show the potential that the world of dating sites hides. Use it and promote online dating during Valentine's Day madness!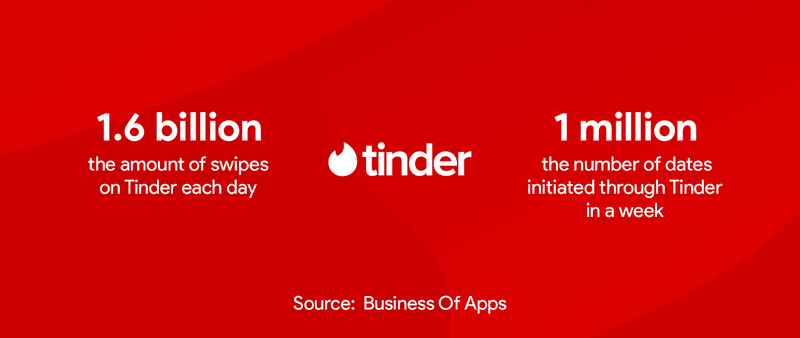 When it comes to Valentine's Day itself, Google Trends presents statistics that clearly show that on February 9-15, the slogan Valentine's Day reaches the highest interest, and a slow increase can be observed from the first days of January.
How does all this relate to affiliation? As it turns out, the categories that are gaining popularity include not only e-commerce or dating but also... Nutra, and all kinds of enhancers for men. The data from 2019 also shows that among the niches that decline in this period are VOD, gaming and webcams.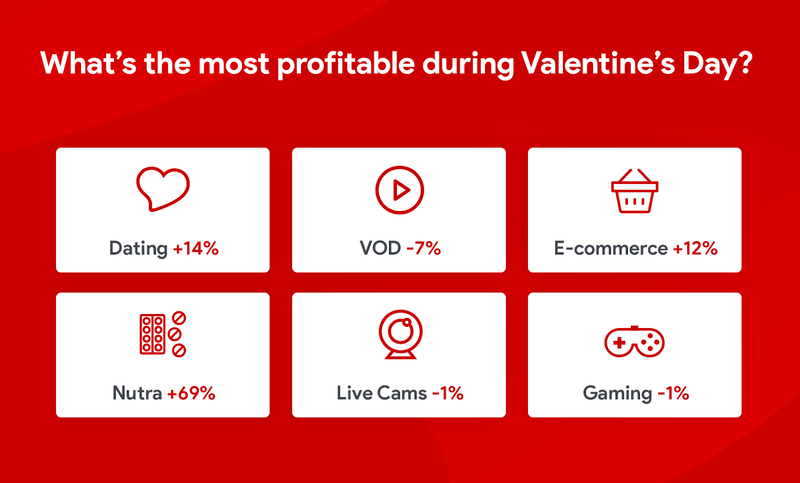 The changes taking place in the world of affiliate marketing are not only the cause of Valentine's Day. Let's not forget about the coronavirus pandemic, which significantly affects the feeling of loneliness among all age groups, regardless of gender. Research by Social Pro clearly shows that the outbreak of the pandemic has had a heavy impact on communities. At least 20% of respondents always or very often feel lonely, which is the result of current events around the world.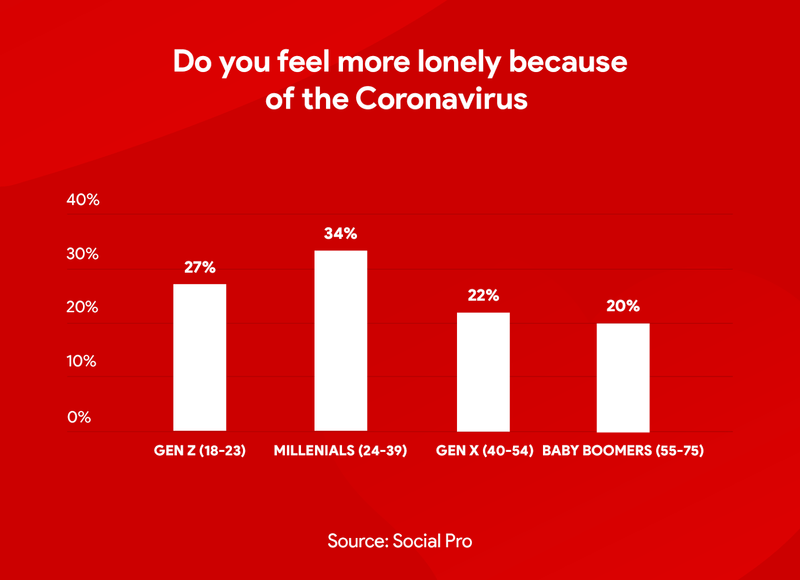 The best MyLead dating programs
If you want to encourage your audience to online dating, see our suggestions. 
Sex Dating - Smartlink VI
Type: CPL | Rate: $0.55 - 158.45  | Conversion type: Single Opt-In, Create and activate account | GEO: AU, BE, CZ, DK, FR, DE, HU, IL, IT, JP, MEX, NL, NO, NZ, PL, PO, RO, SG, RPA, ES, SE, CH, TZ, UK, USA

[EXCLUSIVE] Landing page - best dating offers ranking 
Type: CPL|CPA | Rate: $20.58 - 6.74 | Conversion type: Single Opt-In, Double Opt-In, Create and activate an account, Email Submit | GEO: AU, AT, BE, CA, CZ, DK, FI, FR, DE, HU, IL, IT, JP, MEX, NL, NZ, NO, PL, PO, RO, SG, RPA, ES, SO, SE, CH, TW, UK, USA

Xmeets
Type: CPA | Rate: $59.42 | Conversion type: Double Opt-In, Create and activate an account, Email Submit | GEO: AU, CA, IL, NZ, UK, US | Preview: click 

Where to promote V-Day content?
You can actually use several places to promote Valentine's Day offers, and the decision on which of them will work best depends mainly on what you want to promote and what idea you have for it.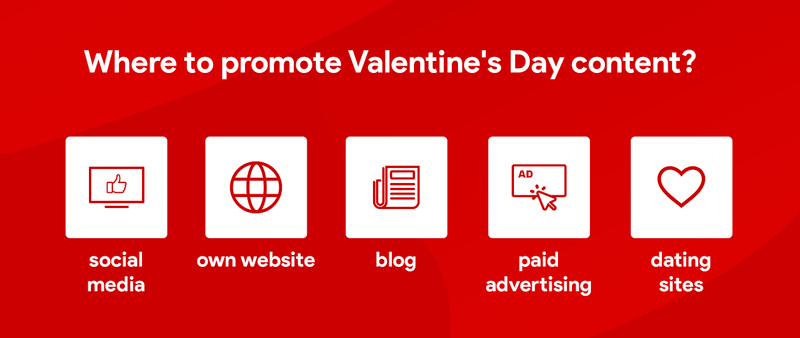 Social media 
It's the first thing that comes to mind when talking about any form of promotion, especially when it comes to novice publishers. However, it is worth remembering that this path may not always be the easiest. First of all, social media is often a subject to various types of restrictions, so sending affiliate links directly to your recipients may turn out to be a bad idea. Pay attention to this when you decide to choose this form of promotion.
Facebook 
When it comes to restrictions, Facebook is the king of all prohibitions and orders. Of course, it gives a lot of great opportunities, such as creating events, groups, or fanpages. An interesting idea may also be to create a single account or use a messenger bot.
The list of things to avoid, however, is just as long. Want to learn a bit more about earning money on Facebook? Check out the MyLead e-book on how to avoid getting blocked by promoting affiliate links on Facebook.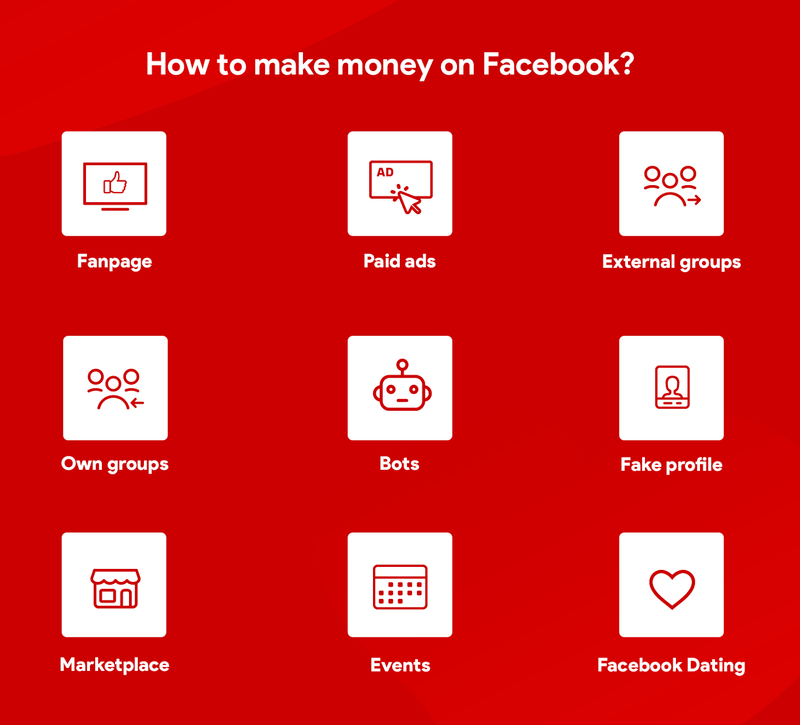 Instagram
This is one of the most popular places to promote, especially when it comes to e-commerce campaigns. An interesting picture, catchy description, popular hashtags, and a redirect with a link in the bio. Isn't it simple? All you really need to do is create an account. So why not give it a try? One more option is Instagram stories. A few dollars is all you need to attract new followers. 
Pinterest
If you think that this medium does not deserve the least bit of attention, you are very wrong. After all, where better to look for a Valentine's Day gift idea if not on Pinterest? Native ads and various types of infographics, which you can easily prepare in free online wizards, will work best here. Creating an account on the portal is completely free, and a good, detailed description of the graphic/picture will allow you to display your pins in the search results of users looking for inspiration for Valentine's Day gifts. Each post may have a link redirecting to a specific page. You will place it when creating your pin.
Own website
Do you have your own website? Then you don't have to search too much. A lot of the work is already done. Focus on the text that will allow you to appear in the search results and choose interesting offers that you will be able to sell to your recipients without losing credibility. 
Blog
It's 2021 and there are already over 570 million blogs on the internet. This only proves that there is still a huge demand for blog content. What's more, running a blog, at least for some people, seems much easier than organizing your own website.
Paid ads 
This is a good solution for those who can afford even a small investment. Paid ads now allow for extremely precise targeting, so you can target your content to the audience it should reach and, what's better, you have a really good chance for it to be successful, i.e. in this case - a completed conversion. For dating campaigns, focus on reaching men aged 18-65 (or, for some programs, 21-65) whose interests include erotica, dating, webcams, sex, or a long-term relationship. However, remember that not all of these can be promoted unhindered, and when it comes to e-commerce offers, you have more options. The target group will depend mainly on the promoted program.
Dating portals
Is there a more obvious idea than promoting Valentine's Day on dating sites? We don't think so. For this purpose, use the description of your profile or the possibility of sending private messages. Encourage users with interesting solutions, for example - present the portal you are as something that you have been using for a long time:

What should you do to earn more? 
Make your ads present the Valentine's Day vibe - use all shades of red, pink and all of the associated symbols. Roses, hearts and arrows will work great! 
Don't forget to use emojis… we all love them, right? Use hearts, flowers, sweets or gifts. A flame emoji is also great for dating dates, and in e-commerce, you can use a teddy bear emoji. On the internet, you will find tons of emoji lists that can be used on Valentine's Day. 
Impress your audience with a catchy text. Even some cheesy rhymes will work during Valentine's Day, but the key to success may turn out to be emotional-stirring texts, especially when it comes to promoting dating campaigns.