What if, instead of paying for steamy hot, live cams on Skype, you… earned money from them? And no, you don't necessarily need to be a webcam model to gain serious money from adult cam shows. And you don't need to have your own cam site either. For there's also a third option: registering on WhaleHunter.cash.
Whale… what? What's That?
WhaleHunter.cash is the affiliate marketing program of SkyPrivate.com, the adult service offering live adult cams on Skype.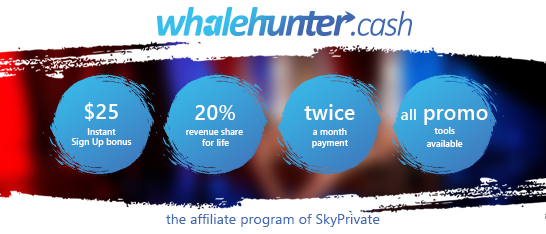 And What Makes WhaleHunter.cash Any Different from Other Affiliate Programs?

A short answer would be:

"There's NO special requirement, you get all the promo tools out of the box, and the referral commissions are super tempting."

Now, let's zoom in on the reasons why you'd join the SkyPrivate's affiliate marketing program:


You sign up in 2 simple steps: just fill in the short form and click on the link you get in the confirmation email; that's it…


You get  $  25 upon registration: basically, you earn this welcome bonus to your account by simply signing up to Whalehunter.cash


You have a variety of promo tools at your disposal, ranging from basic affiliate links and banners, all the way to… white labels


You get 20% lifetime revshare from what your referred members will spend on SkyPrivate (from all the calls, tips, and purchases they'll make there)


You get 10% lifetime revshare from the earnings of each new affiliate that you refer to Whalehunter.cash


You get an intuitive user dashboard: all the stats about your referred members/affiliates in one place


You get paid twice a month via Paxum, Bank Deposit, Bitcoin, International Wire, Bank Transfer, ePayService
Tell Me More About the Promo Tools that I Get to Choose From
Your "whale hunting tools" range from:


text links: the basic tools for newcomers; create your own link or just get a pre-built one from Whalehunter.cash


to image banners of all sizes


to API feeds that… feed your aggregator site with live SkyPrivate models


to a models carousel widget: display a carousel of live webcam models that meet your specific requirements


to a chat head tool: inspired by Facebook's Messenger App, this tool will inject interactivity into your website


to a live video widget: hook new SkyPrivate members with a video of a live webcam model


to white label: get your own, full-custom cam site up and running (and making money) in no time
Does the Traffic Need to Come from Any Particular Sources?
Nope.

All traffic is good traffic as long as it converts into new SkyPrivate members.

And by all I do mean ALL types of traffic sources: email lists, social media, forums, blogs, websites, ad networks… you name it.
Is There a Payment Threshold Here?
There is a minimum amount of $100 that you need to make before you can cash-in the money you will have earned.
Do I Need to Be a Webmaster to Become an Affiliate?

No, there's no such requirement: you don't need to have a website.

You can display the WhaleHunter.cash tools anywhere you stand high chances to hunt some... "whales" (i.e. new SkyPrivate members or WhaleHunter.cash affiliates).

So, ready to make good money from adult Skype shows?