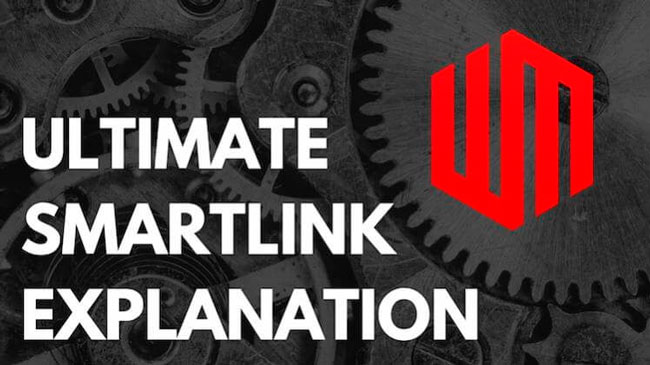 Even though a SmartLink technology has been around for quite sometime, we still see tons of questions lingering around the Internet Marketing community regarding SmartLinks and how to use it effectively.
We also receive multiple of the same questions regarding a SmartLink tech from our new & existing publishers every day. That is why we would like to dedicate this article for the internet marketing community to understand more about SmartLinks.
What is a SmartLink?
For those who don't know about a SmartLink, simply put, it's a collection of multiple offers running behind a Single URL.
But one might "ask what's the difference between a SmartLink and a rotator then?"
The difference is that a rotator is set to rotate offers on a predefined configuration that is set by you. Whereas SmartLink, it's set by us to automatically optimize multiple offers to your traffic, so that you get the best conversions out of your traffic.
The Optimization Process
Let's make it simple by using a basic example of sending your first 1,000 clicks.
1st Smartlink Attempt – (The Introduction)
Offer – Rotation% >> Clicks
Offer A – 25% >> 20
Offer B – 25% >> 100
Offer C – 25% >> 300
Offer D – 25% >> 20
Traffic clicks – 440
Traffic not clicking – 560
As you can see, 4 offers are being rotated equally, but with different results. There's a clear winning offer (Offer C). The first 1,000 clicks are the data collection stage, to allow the system to understand what offer converts best, and adjust the weight accordingly.
2nd Smartlink Attempt (The Optimization)
Offer – Rotation% >> Clicks
Offer A – 05% >> 4
Offer B – 40% >> 150
Offer C – 50% >> 500
Offer D – 05% >> 10
Traffic clicks – 664
Traffic not clicking – 336
Now what the SmartLink does is to help maximize the conversion of your traffic. It optimizes Offer B & C to be pushed more to help get more clicks out of your traffic, and as you can see Offer B is not doing as good as Offer C. So for the next 1,000 clicks, SmartLink will maximize it something like this:
3rd Smartlink Attempt (Maximizing Conversions)
Offer – Rotation% >> Clicks
Offer A – 05% >> 7
Offer B – 15% >> 75
Offer C – 75% >> 750
Offer D – 05% >> 3
Traffic clicks – 835
Traffic not clicking – 165
That is just a simple example of what SmartLink tech does. Let's continue to cover some more details.
The Learning Process
As you see above, it was quite easy to understand. Smartlink directs your traffic to the best offers resulting in maximum conversions. But how does SmartLink knows your traffic?
"What if today I send iPhone traffic and tomorrow Android traffic? Does that mean the optimization resets or it does not convert ?"
We get this kind of questions a lot too. The best answer to this is, SmartLink figures your traffic type before sending it to multiple offers.
So a simple example will be this – an Android traffic will only be sent to Android only offers, and an iPhone traffic will only be sent to iPhone offers only.
What traffic types does SmartLink learn?
Now, this is getting a little bit mind-blowing, but please don't explode. Basically, SmartLink will learn all of these metrics of your traffic to match it to the best converting offers.
• GEO
• Gender
• Age
• Carrier
• OperatingSystem
• DeviceType
• Language
• Offers
• Landers
• (Ourownsecretsauce)
• 20+ moremetrics
I know what you going to think next… "How will SmartLink operate with so many things to optimize?!" Honestly, let's not go to that territory… It's a complex optimization process that I might not be able to explain in just one article.
Ok, I guess by now you pretty much got the basic idea of what SmartLink is and what it does. The final question will be, how do you use SmartLink?
For this last point, I'll give you a few ideas on how you can use, and hopefully inspire you to be more creative on how you can use it more effectively.
How to apply a SmartLink tech creatively
I've seen most people use SmartLink monotonously. Sending traffic directly to the SmartLink and that's it. But there's so much more that we could do with it and here's how…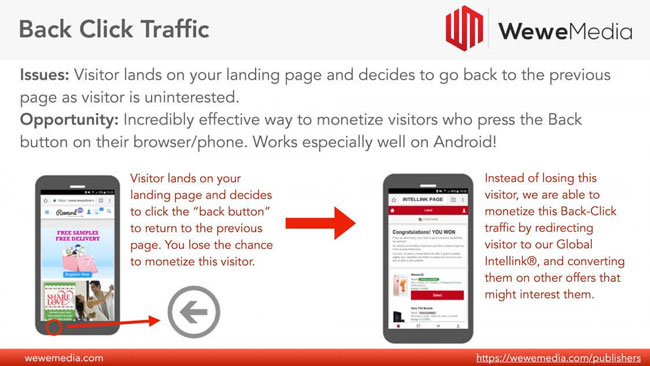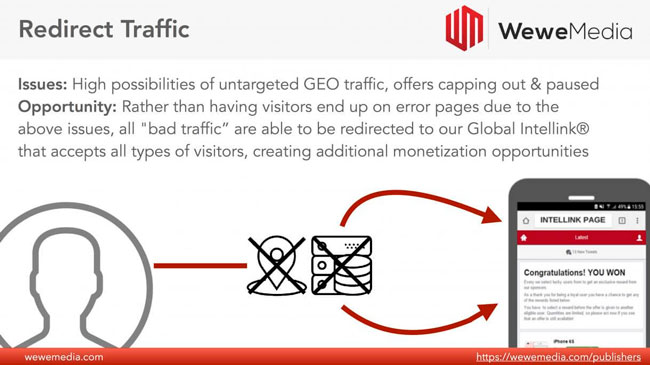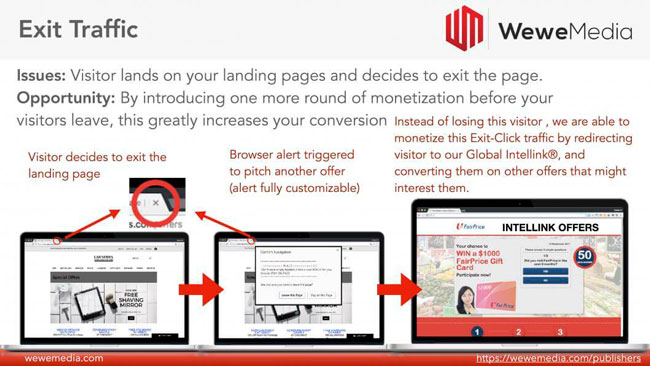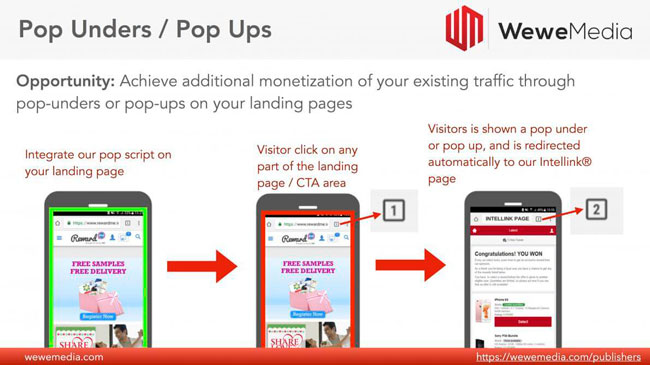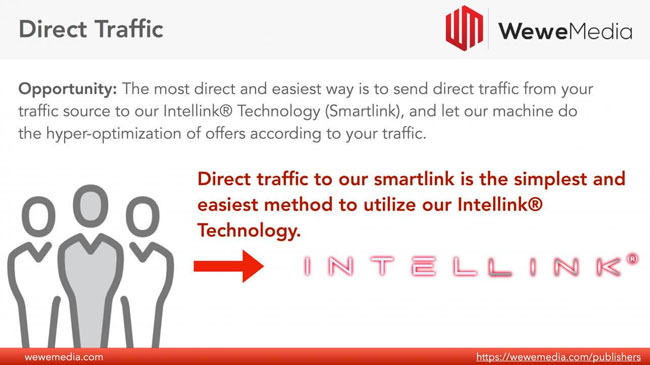 Types of Smartlinks
There you go… so these are all creative SmartLink uses you should consider. Next, we are going to list different types of Smartlink that exist.
By knowing the types of SmartLink to use, you will able to target the right audience right from the start. Just think of it this way, you are doing yourself a favor of getting conversions faster. Don't worry, you'll understand what I'm talking…
Global Smartlink (Mainstream)
This type of Smartlink is perfect for all kinds of traffic audience… From any kind of GEO, Carrier, Device, Mobile or Desktop. This Global Smartlink URL is preloaded with thousands of offers from all countries combined. This one doesn't cover Adult offers.
Who uses this Smartlink type?
• Webmaster (Traffic coming from all over the world)
• Network
• TrafficSource
GlobalSmartlink (Adult)
Same as the above, this type of SmartLink is preloaded with thousands of offers to serve any kind of GEO, Carrier, Device, Mobile or Desktop. The difference is the Global Smartlink is only preloaded with adult offers. This one doesn't cover Mainstream offers.
Who are using this Smartlink type?
• An Adult Webmaster (traffic coming from all over the world) • A network • A trafficsource
GlobalSmartlink (CPI)
This is a pretty new type of global SmartLink in the industry. Wewe Media have it and just like the rest of the global SmartLink, it is preloaded with only CPI offers. Hundredsofthem.
WhousesthisSmartLink?
• AppDeveloper
• Media Buyer
• WebMaster
VerticalSpecificSmartlink
This type of SmartLink is most used by affiliates. It's broken down into multiple verticals and GEOs.
The purpose of this vertical specific SmartLink is so that affiliates are able to target their campaign to the right audience. This type features certain rules to narrow down an optimization that a SmartLink should do.
If affiliates know that the traffic is going to be from one particular Geo that is interested in one particular vertical, it will be much more effective to send it to vertical SmartLink rather than global SmartLink.
These are a few examples of Vertical based Smartlinks:
• WhatsappSmartlink
• AntivirusSmartlink
• SweepstakesSmartlink
• MobileContentSmartlink
• CPI Smartlink
Usually, vertical-based SmartLinks are also broken down to multiple GEO, so you can target the precise country. In this simple example, you can see Whatsapp& Antivirus SmartLink on multiple Geo that you can choose.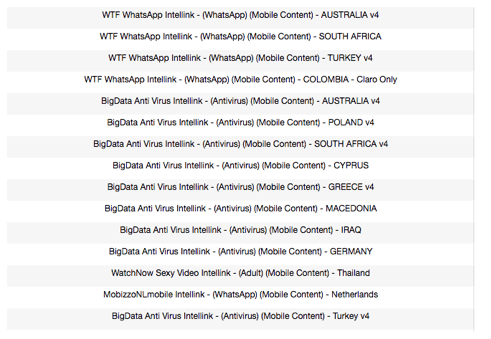 Custom Made SmartLink
This is also could be done by requesting the network to make your own custom SmartLink. If you have a huge traffic and you know what kind of offers most likely they will be converted, you can request a SmartLink customization.
An example will be if you own video streaming sites and your audience is only from the UK, you can request a SmartLink preloaded with CPL only Video Streaming offers that are only available in the UK.
Payout
Yes, the money… We internet marketers love to know in advance how much we will make. It's not a bad thing, but one of the matters that made them not use SmartLink is because of the payout scheme.
So I will try to explain how the payout goes. There are 2 types. Revshare and Fixed Payout.
Revshare (Revenue Sharing)
The Revshare payout scheme implies sharing of a revenue, generated with a SmartLink, for any offers. Every network has different revshare schemes. Usually, Revshare model implies the following sharing scheme – 70% go to you and 30% to a network.
If traffic converts for high payout offers you will receive high revenue, and if traffic converts on low payout offers, you will receive low revenue.
It may sound bad or it may sound good, this type of scheme is likely to be available on Global Smartlinks. It may generate you a revenue if you have global traffic and you prefer for your SmartLink to do all optimization for you.
Fixed-Payout Scheme
With Fixed-Payout scheme, on the other hand, affiliates are able to choose from the predetermined payout of SmartLink based on CPA basis.
Any conversion made on any offers will be calculated as a fixed predetermined payout. This type of payout scheme enables affiliates to expect the outcome of the revenue.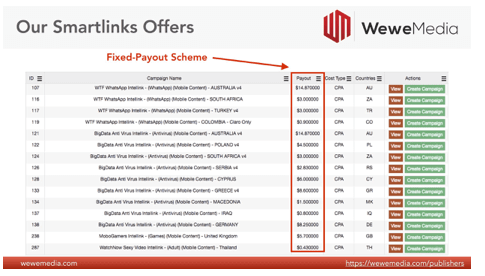 Conclusion
I hope this article will explain in detail on what Smartlink is and how you can use it effectively. As you can see, the Smartlink tech is another way to help you monetize your traffic. If you are able to use it effectively, it will be a valuable tool to help you earn more.
Who are we?
Wewe Media is one of the pioneers in adopting SmartLink technology to help our publishers monetize their traffic. Over the last several years, we have built a great reputation in the industry as a trusted traffic monetization partner, working with major networks and traffic sources to monetize their traffic.
To partner with us you could do so by following this link >> Wewe Media Sign Up Page