ExoClick has introduced a new category called Manga & Anime, in this blog post we will give you a market analysis of this globally popular entertainment genre and some tips on how to convert your offers on our network of Manga & Anime websites.
Manga and Anime explained
You might instantly think of Manga as THE definitive name for cartoons and animation content in Asia, however, did you know that China and South Korea also have their own versions of Manga? The Chinese version is called Manhua and the South Korean version is called Manhwa, and there are also significant differences in the way these comic stories are presented to the audience.
Manga makes up over 40% of all published magazines and books in Japan. Also, 40% of the movies produced in Japan are Anime (the motion equivalent of manga). This makes it larger than comic production in America. In South Korea, Webtoons are an art form based on the more traditional comic or Manhwa format but transformed by technology. Reading digital comics became popular in Korea because the nation is number one worldwide in smartphone ownership and Internet usage.
Digitisation and world market value
Manga/Anime and their genres are very easy to export to a global audience because it is just a matter of changing the layout for Western reading and translating the texts. Additionally, by digitising this content, Manga and Anime have been opened up to a global audience, who can consume the content on all of their devices to view online or via mobile apps.
All of this makes this content genre a huge revenue generator. For example, in 2018 The All Japan Magazine and Book Publisher's and Editor's Association stated the Manga market was worth 441.4 billion yen (about US$3.96 billion), with the digital Manga market accounting for 44.9% of this (US$1.77 billion). The estimated totals for the digital market don't include advertising revenue generated by websites or from freemium or paid apps. According to China's iResearch, in 2018, China's Manhua market reached 174.7 billion yuan ($26.06 billion), increasing 13.7 percent from 2017. The main driver of this revenue growth is a base of nearly 220 million Manhua fans online.
Who reads Manga and Anime?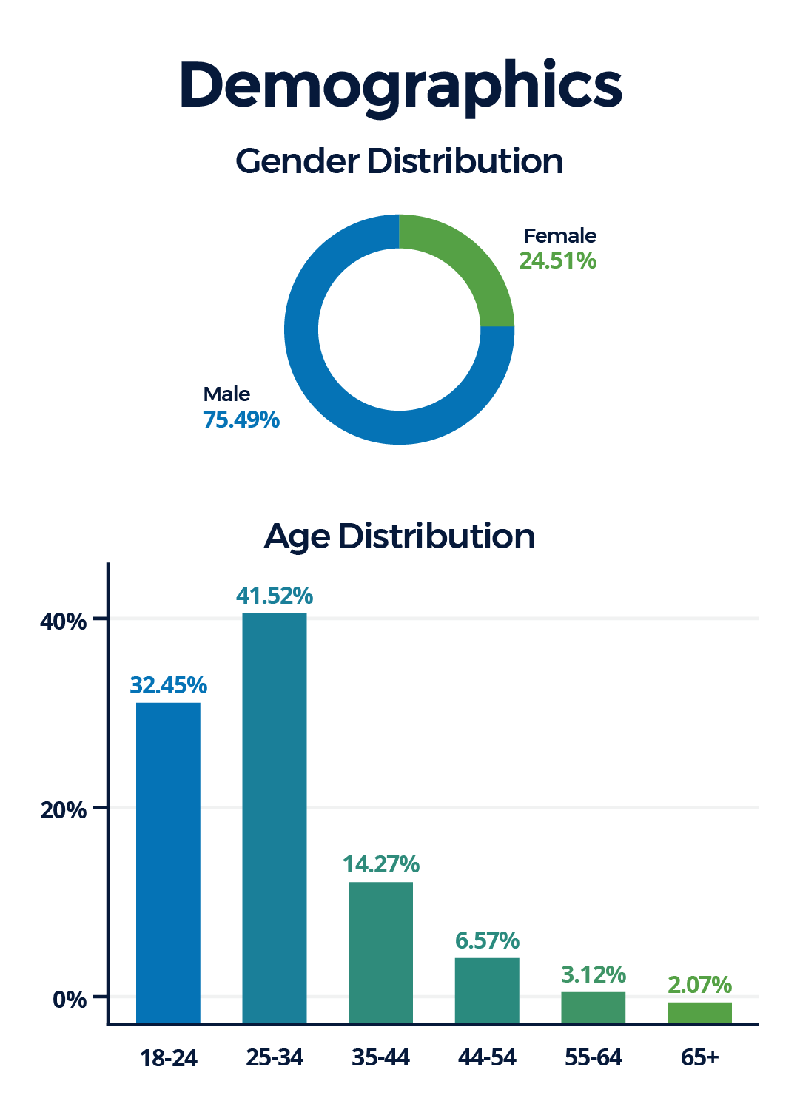 Source https://www.similarweb.com/
Where Western comics are designed more with children and teenagers in mind, Manga, Manhua and Manhwa are read by a much wider audience with the bulk being 18-35 year olds. Content is often a mix of Western and Manga styles. Many sites feature user generated content uploaded by amateur storytellers and artists and most sites offer the option of English to appeal to a global audience. If you look at South Korea's most popular site Webtoons, genres include Comedy, Drama, Romance, Fantasy, Action, Historical, Thriller and Sports to appeal to both sexes.
Advice for Advertisers/Affiliates
What offers can you target at this market?
This segment is ideal if you have offers that appeal to both a male and female audience aged 18-35 year old. Manga and Anime websites accept SFW ad creatives and offers. Offers that work well include:
Games
Soft dating
Generate income/Crypto
eCommerce
Utilities
Entertainment
What ad formats are common on Manga and Anime sites?
All of ExoClick's ad formats can be used, however the most common our top publishers are using are banners and native ads/sponsored content and video formats pre-roll in-stream and video slider.
What creative style should you use?
Remember that Manga and Anime are illustrations/cartoons so to fit in with the websites content advertisers could try this style, especially for native ads that are designed to appear like editorial content. However, you don't need to stick to the Manga style, try other styles that make the ads really stand out on the publishers website.
Targeting
ExoClick offers keyword targeting so you could target Romance Manga/Anime stories with Dating, or Action genres with Games, so check out the content genres each website has.
For GEO targeting Manga and Anime is a global audience so you don't have to just target Asian countries, most websites have an English speaking audience, so English texts on your ad creatives will work well.