As an experienced affiliate, you are always looking for ways to ride the hype wave and tap into the behavior of consumers. Most likely, you couldn't miss such a huge topic right now as summer romance and dating offers.
Dating is one of those verticals, which tend to stay afloat even when the market is crashing. Why? People never stop dating, it's nature. Have a look at this data: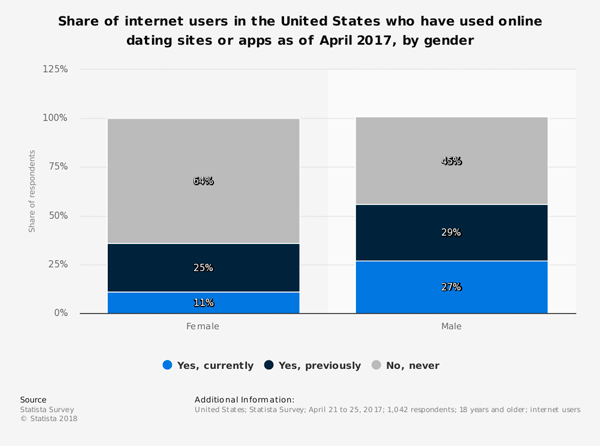 Naturally, such a versatile vertical is drawing lots of attention, heating up the competition: the massive number of offers and lots of affiliates are there to make some money.
So let's get to the point here – how can you take advantage of dating offers? Our teammates have agreed to share their immense experience in dating vertical and challenge our thinking on how a dating creative should look like (Spoiler: you'll be surprised).
Meet our Head of Sales, Irina Sandra Razvodova, and a CPA Team Lead, Maria Kotova.
So today, we will guide you through all three steps of promoting a dating offer:
We'll discuss where to find an offer

How to choose a great offer

And how to promote it
Part 1. Where to find an offer?
First of all, there are two types of dating offers: mainstream and adult. We will be talking about mainstream dating offers only as adult content is not permitted for promotion on PropellerAds.
The best way to find an offer is to browse one of these resources: offer aggregators, CPA networks or even direct affiliate programs.
Offer Aggregators: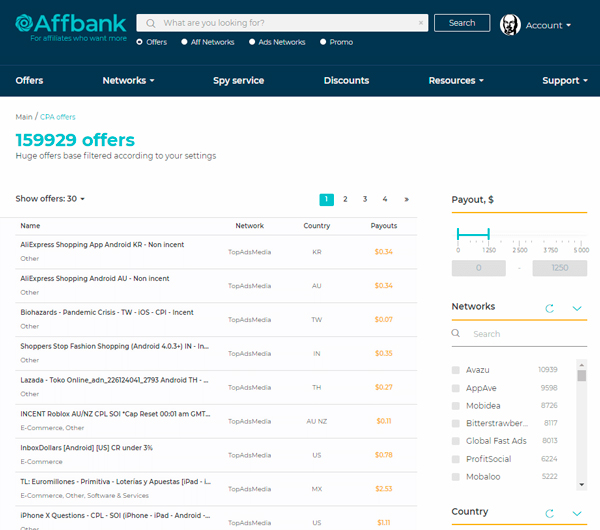 You can look for dating offers at CPA networks:
Or try dating websites affiliate programs if you prefer dealing with advertisers directly:
CPA Network or Direct Affiliate Program?
And here we are facing the first important question. Should we choose CPA network over direct affilaite program?
Irina says: Many affiliates consider direct advertisers more reliable business partners and fear dealing with networks. This idea has no grounding in reality. In fact, CPA networks offer multiple advantages to affiliates. For example:
• Fast and easy access to a large variety of offers. You can start earning almost right away.
• A better selection of payment methods – including all kinds of eWallets. Meanwhile, direct advertisers might have a limited range of funding options.
• Networks are more flexible in terms of payouts: you can withdraw smaller sums. Let's say, for some networks minimum payout is $50, while direct advertiser will offer $100 minimum payout.
As for benefits a direct advertiser can offer, I can name slightly higher rates and better support and understanding of the product.
Part 2. How to choose a great offer?
Let's assume you're eyeing a couple of offers, but how do you know which one to proceed with?
"First," says Maria, "Look at the product, and try to analyze how attractive the website or an app can be to potential customers."
Read more: A Guide to Betting Offers for Affiliates
Maria suggests going through this checklist before enrolling in an affiliate program.
• How popular the website is(how big is the audience, and for how long the website has been on the market). Check if it's a mainstream website or a niche one. Mainstream, popular websites are easier to promote.
• For niche websites, check the "specialization":religion, nationality, age groups, dating type, etc. A focus on the certain social group will heavily affect the targeting and your creatives.
• Have a look at how easily a user can join the dating community: does it have extensive questionnaires? Can a user register with social accounts?
• Can a user freely search other members? If the users are limited in their actions, and a website is too complicated – it's a big no-no for affiliates. (Examples: eHarmony and Chemistry)
• Is it obligatory to add the credit card info? This part scares away most of the users, so it's better to skip a website like that.
• Pricing – is it a free service or how high is the monthly payment?
• Check the reviews– reputation matters. How secure is the personal information of the user? Where there any issues before? Can't find anything bad – that's a good sign for an affiliate.
What's there for affiliates?
Once you have an understanding of what websites are most likely to convert, go ahead and check how you can benefit from the offer. Dating vertical has a certain specifics when it comes to payouts. Here are the most popular models:
Price Per Lead 

Revshare

Price per Sale

 Price Per Lead has two modifications that vary by the complexity of the conversion process. In other words, the easier it is to convert a user, the lower the price will be.

• SOI (Single Opt-In) – meaning a user only has to provide an email address. Nothing else is required. These leads are the easiest to convert, therefore, you can't expect high payouts.

• DOI (Double Opt-In) – the same as SOI, but with an extra step – email verification. Sometimes though,  advertisers are making things a bit more complicated: request to complete the questionnaire, upload photos, send a message to another member – conditions of approval are limited only by the imagination of advertisers.

Revshare – works mostly on mainstream dating websites. You are getting paid (a certain percentage) when a user purchases a membership. Revshare is a great choice if you are willing to wait for people to convert. Note that the payouts are much higher (up to 50% from the price of the membership).

Price per sale – you receive a flat rate per each membership sold. Payouts are usually quite significant, but again, you'll have to be patient (ranging from $20 to $100 and up).
Maria: The Price per Lead usually depends on GEO. I would say the average for Tier-1 traffic is from $3 to $6 per lead, and for Tier-2 the range is from $1 to $3.
Another interesting fact, the prices per lead can also depend on gender, with higher payouts for female leads.
Other conditions
• How often can you withdraw your earnings? (As per request, once a month, or there's a specific schedule?)
• Minimal withdrawal amount
Part 3. How to promote dating offers?
What are the most important aspects of a dating promo? Irina believes that a truly successful offer rests on two pillars: correct targeting and well-thought-out creatives.
Targeting
According to Irina, our best performing GEOs are Tier-2 European countries and, of course, the United States. But it's better to start small with local campaigns, for example, targeted at Germany, the Netherlands or France.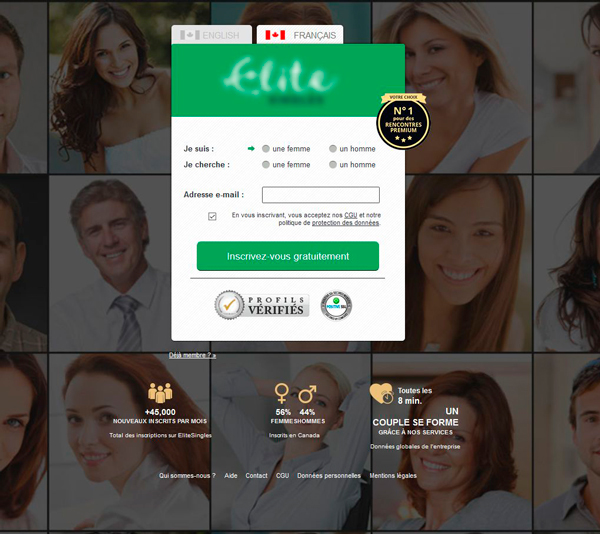 This way, you will have a clear idea of how good the offer is, how well your creatives are converting, and what ad formats are the delivering the results.
Finding the right creatives
What you will need:
• A couple of pre-landers
• Creatives for Native Ads
As you could notice, you should have more than one set of creatives because dating vertical is very demanding, and creatives burn out very fast.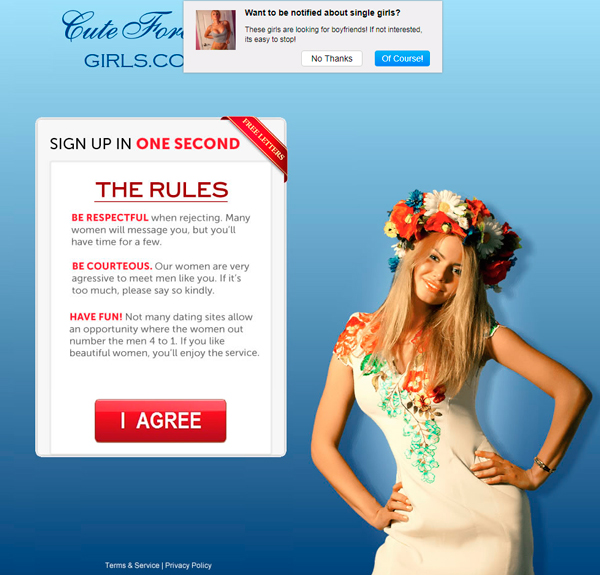 As well, make sure to use pre-landers to heat up users' interest and increase conversion rates.
What should be on creatives?
And here comes the BIG surprise for all those who are far from affiliate marketing.
Maria explains: "You might think that images portraying happy couples would work best. Let me disappoint you! Place singles on the image, preferably friendly-looking women, to make your creatives perform better."
Don't forget that all creatives should comply with our policy.
What ad format to choose?
• Popunder ensures massive traffic, and for maximum effectiveness, we recommend using it together with retargeting – spend money on the prospects only.
• Push Notifications – a perfect format for summer vacations while most of the users are spending time enjoying life outdoors. Push Notifications are delivered directly to a user's device, even when a user is not browsing the website.
Ready to launch your dating campaign?