December 19, 2018
by Ally
Reviews: 1
Hey-ho! Our partner RedTrack launches the last festive present of the outgoing 2018 year – special Christmas deal!
From December 21 to December 31 get access to 12-month of Professional or Business account with 50% discount! Or subscribe to our two exclusive Christmas plans: half-Professional and half-Business that also go with 50% yearly discount.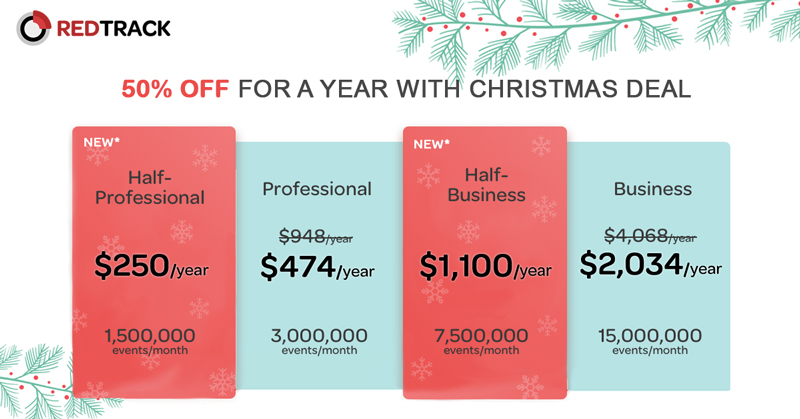 How to get the Christmas deal?
1. Choose the RedTrack plan:  


Half-Professional  — 1,500,000 events/ month  —  $250/year
Professional  — 3,000,000 events/ month  — $474/year   $948/year
Half-Business — 7,500,000 events/ month  — $1,100/year
Business  — 15,000,000 events/ month  — $2,034/year   $4,068/year
2. If you're a current RedTrack customer — send a request to [email protected] or ping us in our Telegram channel and ask for an update of your current plan to the plan of your choice.
New to RedTrack? Subscribe to trial with promocode CHRISTMAS and send an email to [email protected] with the name of a yearly plan you want to purchase.
Note: discount is not applicable to event overage. 
Hurry up, the Christmas sale is limited in time and valid till December 31!
Marry Christmas and Happy New Year!