October 19, 2018
by VRBCash
Reviews: 0
Porn Industry jumped on VR and monetization is amazing.

I remember the good old days of Porn converting...boys, was that something. Now, with decades of content and free porn pouring in and out of internet, it became a waste of time.  Being a faithful follower I've kept an eye on the recent developments since 2015, when Virtual Reality (VR) Porn most logically appeared and brought back the Pay for Porn concept. I'm not going to get into details, but I "evaluated" a few of the top players and now three years later, here it is - VRBcash. These guys were at the beginning of this revolution and although a bit new to the affiliate biz, they already went through Nats, got fed up and spent over a year building their own platform.

All I had to do is pull in some old contacts and we are streaming. That's all. Using their own banners AND landing pages (library on vrbcash.com), just had to send the banners to over 50 photo and tube adult sites. They offer revshare or pps, depending on the campaign, have a few sites to play with, send postbacks and run holiday specials with increased share. Add a few adult site targeted POPS campaigns with RTX platform and a monthly budget of $250.

The platform keeps your stats. Most necessary parameters are here. As is exporting function.
This was october to date: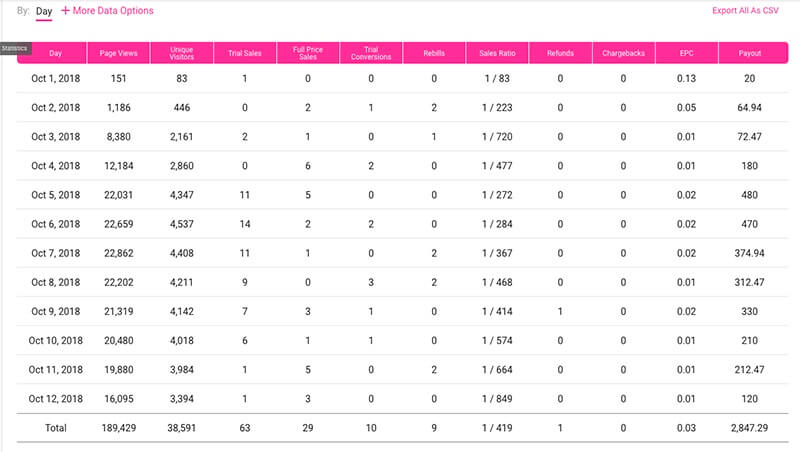 Conversions are pretty rough, but I got traffic from the old sources. Got a couple of referral payments as well - lifetime 5% on any referral. Can't complain.

That's basically it. Give it a drive. VR Porn is taking the world by the storm, but still wide open spaces.