Subscription plan with the same price but double the number of events!
Sounds like an April Fools' joke, but it is not.
Purchase the yearly PRO plan till April, 1 and double the number of monthly events — getting 6 mln events/ month instead of 3 mln events.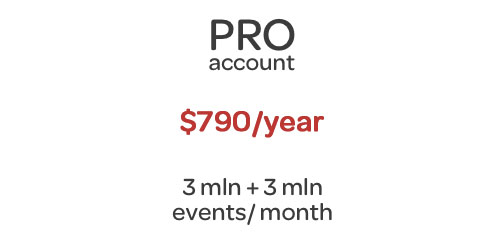 It doesn't matter if you're an existing RedTrack user or just planning to become the customer. We open this deal to everyone! To get the Pro plan with a doubled number of events, send the email to our Team – [email protected] and we would help you to update your account.
Note: the deal with a doubled benefit on yearly Pro subscription is valid till April, 1.
Why purchase Pro plan with a special deal?
Recent months at RedTrack.io have been very productive. Our tracker, infrastructure, as well as 3rd party integrations are being continually developed. We are improving the tracking software itself – we add new features which make affiliate marketer's and media buyers team's work effective and hassle-free.
Starting from Pro plan, in addition to core tracker features that are available at Starter plan, you get access to:
auto-rules and alerts;
click quality checker – fraud report;
conversion quality monitoring (integration with FraudScore);
conditional postback;
ClickBank S2S postback integration;
full-access API, and more.
Go here to contact Redtrack!