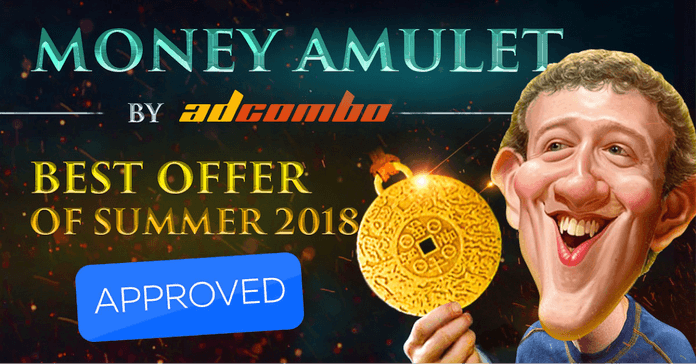 AdCombo has presented their most promising offer of the Summer: Money Amulet.
It was their best converting offer in Asia, and now it is conquering Europe. It performs really well with Facebook ads across on all Europeangeos.
Here are a few tips to run their offer with Facebook Ads:
1. Put the pixel on "Thank you page" run lead optimization ad;
2. Use the manual bidding. Enter the bid per lead so it equals half of the payout you have; Auto bidding will not perform;
3. Daily budget is about 200 USD. If your account cannot run 200 per day, then you need to warm it up;
4. Toggle the "Fast Delivery" function. If things go well, you will have up to 40-60 leads every hour;
5. Hurry up. The offer has been live for more than a week now. Affiliates who act quickly will definitely reap the benefits!
The payouts are between $14 and $19. If your campaign is not performing well, show it to your Affiliate Manager, and ask them for a bump or some help with the banners.
For more information on Money Amulet, visit AdCombo's blog.
Don't waste time, as your competitors are probably already jumping on this offer.
To sign up with AdCombo, click here.