The international affiliate network MAGIC CLICK PARTNERS has been in private for more than a year before going public in the middle of 2021.
The network specializes in local iGaming and betting offers. It currently has over 4,000 partners worldwide and 500+ active offers.
Rules
Work on CPA and CPL models.
We accept traffic from Facebook*, Aso, Seo, Google, TikTok, Telegram Channels, email, push, native and other traffic sources. Freud and motivated traffic is prohibited.
How to earn with MAGIC CLICK PARTNERS affiliate program
To gain access to a personal account, the webmaster must first register.
To do this, follow the link and fill out a small registration form, where you enter your email, nickname in Telegram, tell how you learned about MAGIC CLICK PARTNERS and come up with a password: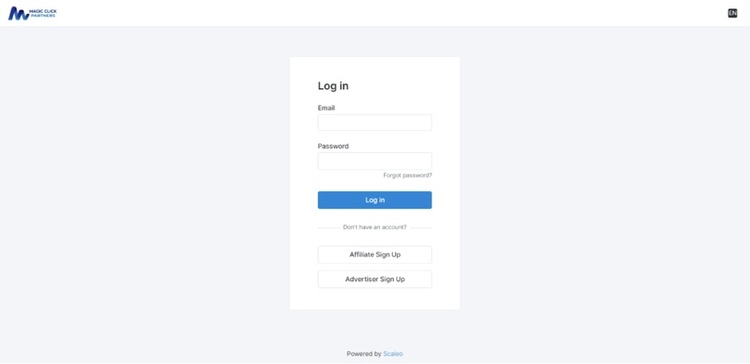 After that a manager will contact us (usually within a couple of hours), who will activate the account after a short dialogue about our experience and traffic sources. You can go to your personal cabinet and start working with the affiliate.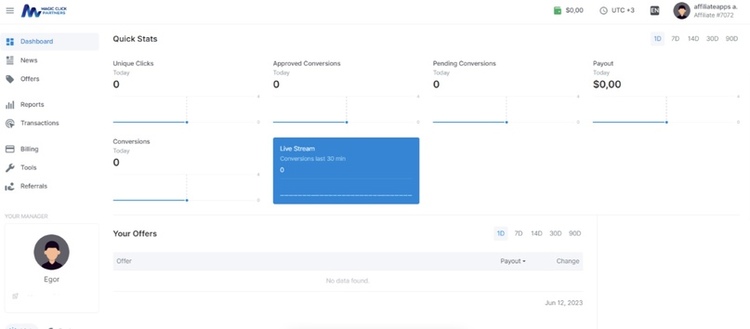 As you can see from the screenshot, the dashboard provides brief statistics on your successes: the number of unique clicks, confirmed and unconfirmed conversions, and information on payments. Here you will also find already connected offers, as well as the network's top offers.
For more detailed statistics, check out the "Reports" section. Here you can conveniently sort all the data by different filters (period, country, category, currency) or build separate graphs by offers, GEO, OS, etc.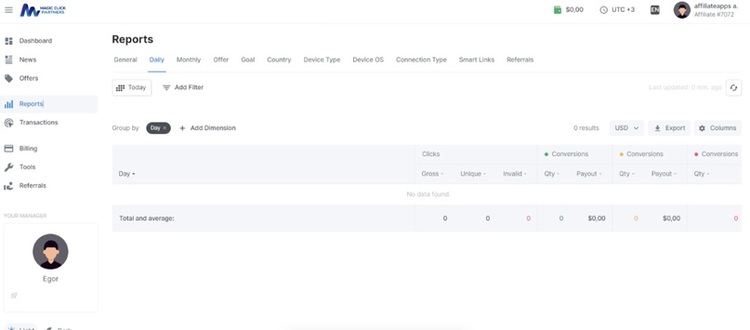 You can add a payment system and request withdrawal in the "Billing" section.
In the menu section "News" you can find a lot of useful information from instructions on how to work with the affiliate network to reviews of quality offers.
To select and connect an affiliate, you can go to the "Affiliates" section.
Offers
MAGIC CLICK PARTNERS currently has more than 500 offers in the iGaming vertical and betting from direct advertisers. Some of them can be connected immediately, but for the vast majority you need to request access. We counted only 10 available offers. Offers are started through a personal manager, and the connection is quite fast.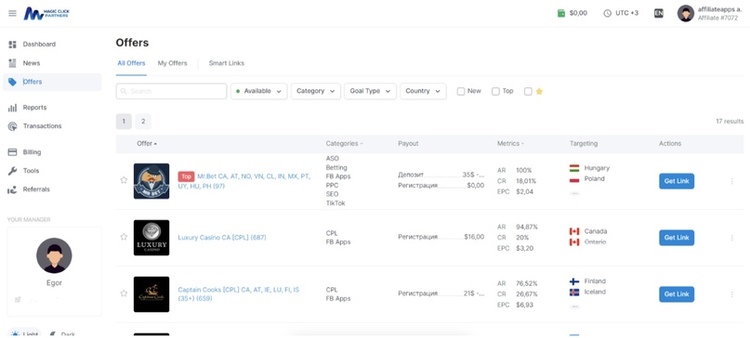 The affiliate network offers 2 types of cooperation: CPA and CPL. There are also CPC, CPS, CPI, RevShare in the filters, but there are no offers for these schemes yet. However, it is still possible to work with RS, if you represent a team or have a large amount of traffic.
Of GEO - more than 50 countries, among which you should pay special attention to Finland, Hungary, Poland, New Zealand, Estonia and Latvia.
Rates reach $31 on CPL and $280 on CPA. There is a hold - from 7 to 30 days.
Payouts are made every week on Tuesdays to USDT TRC-20 (commission 1 Usdt), Capitalist (0% commission), Bitcoin (6% commission). Withdrawal of funds to USDT is carried out through smart contract.
Minimum withdrawal amount:
$10 for USDT/Capitalist;
$500 for BTC.
Tools
In terms of tools, the MAGIC CLICK PARTNERS affiliate network provides all of its partners:
Setting up postbacks. Will help better track traffic.
Export statistics. Allows you to upload reports to CSV and XLSX formats.
Free Android/iOS and PWA (Progressive Web Apps) mobile apps.
Keitaro integration. Multifunctional traffic tracker can greatly simplify a webmaster's work.
API. Useful tool for developers, allowing to integrate with their own applications.
Smartlink. Formally, the "smartlink" is present here, but we did not find any offerers with smartlinks.
Referral program. Get additional revenue by bringing new partners to MAGIC CLICK PARTNERS. You will receive a commission of 3% of their monthly payments.
A personal manager. Available to all partners. He will help to choose the most appropriate offer, tell about sources of traffic and help with any other questions. Personal manager contacts (email and Telegram) can be found in the personal cabinet.
What users are saying about MAGIC CLICK PARTNERS
On the whole, we were satisfied with our cooperation with the MAGIC CLICK PARTNERS network. And, after reading the reviews on the verified forums, we were convinced that our case is not an isolated one. Most of the comments about this affiliate network are very positive.
Positive points
A large number of exclusive gambling offers from direct advertisers.
Timely weekly payments.
A wide range of tools for webmasters.
Very qualitative work of technical support.
Negative aspects
Small choice of payment systems, commission for withdrawal and large minimum amount for withdrawal to BTC.