Affiliates and advertisers! The voting of the international online award  Affbank Awards has ended!
Congrats to the winners and thank you all for taking part in Affbank Awards! Everyone truly deserves to be the first because you all are THE BEST!
We're sure that Affbank Awards will have much more participants because many companies weren't in time, so we are waiting for you next year to show everyone who should be on top in affiliate marketing!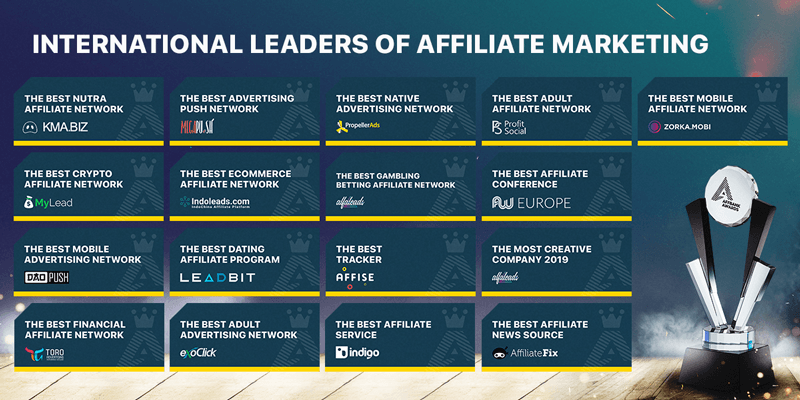 The best adult advertising network - ExoClick.com
The best financial affiliate network - TORO Advertising - Affiliate Network
The best affiliate service - Indigo
The best affiliate news source - AffiliateFix
The best affiliate conference - AW Europe
The best tracker - Affise - Performance Marketing Software
The best dating affiliate program - Leadbit
The best mobile advertising network - DaoPush
The best crypto affiliate network - MyLead
The best e-commerce affiliate network - Indoleads
The best gambling/betting affiliate network - Alfaleads
The best adult affiliate network - ProfitSocial.com
The best mobile affiliate network - Zorka.Mobi - Creative Mobile Performance Agency
The best native advertising network - PropellerAds
The best advertising push network - Megapu.sh
The best nutra affiliate network - KMAbiz