Nutra is vertical with offers in the "health and beauty" category. Means for weight loss, skin rejuvenation, potency improvement, medicines for various diseases, cosmetics, preparations for gaining muscle mass, and many other products. The choice is really wide – you can find offers for any audience and GEO.
This is one of the most reliable and stable verticals that has existed for decades. In many ways, it was thanks to nutra that the affiliate sphere arose. Nutra is considered "evergreen" due to stable demand because people always experience health and appearance problems.
Despite the "age" and popularity of the vertical, it is great for beginners. If you know the nuances and know how to work with moderation, finding a profitable bundle is quite simple, while the competition is still at a comfortable level.
And this is also the key vertical of Everad, and therefore, in the material, we will not only talk about offers and the specifics of the nutra, but also demonstrate how to work with it!
Examples and categories of offers
There are many categories of offers in Nutra, and their list is constantly updated with fresh products. But, if we talk about the main categories, we can distinguish the following:
Slimming. One of the most famous categories, includes dietary supplements, powders, and teas that help users lose weight. Ever-actual category with stable demand;
Potency. These are means to improve men's health, for example, gels for penis enlargement, prolonging sexual intercourse, or stimulating an erection. Always in demand among the male audience;
Other 18+ offers. Remedies for sexual health are not limited to potency. Other 18+ offers include breast enlargement products, aphrodisiacs, prostatitis medications, and other similar products;
Rejuvenation. This category includes creams, balms and other products that heal the skin and smooth out wrinkles. Such offers are popular among women 35+, and they are often bought as a gift;
Care. This category contains other personal care products, these can be acne medications, cosmetics, wow products like charcoal masks for blackheads;
Parasites. These are medicines that will help the audience get rid of parasites inside the body, such as worms. An extremely relevant category for GEOs with a high level of unsanitary conditions, poor countries, as well as regions with a hot and humid climate;
Products for the elderly. Such tools will help the audience get rid of the problems that come with age. These can be drugs for joint pain, problems with blood vessels, hearing, and vision. When promoting, keep in mind that such offers can be ordered by a young user, for elderly relatives;
Strengthening agents. This category includes vitamin complexes and other means that improve immunity. Especially in demand in autumn, winter, or during disease outbreaks in different GEOs;
Remedies for specific problems. Nutra also has offers for narrower problems such as fungus, diabetes, varicose veins, alcohol and nicotine addiction, and many other diseases.
Nutra has a really large selection of offers, and this allows you to find products for a variety of audience segments.
In terms of payment models, Nutra most often works on CPA. In this case, the affiliate receives a payment for each confirmed order, the user must leave contact details on the landing page and agree to delivery when the operator calls.
Most affiliate programs have a hold when working on CPA. This means that the advertiser freezes the first payout for 1-2 weeks in order to check the quality of the traffic and make sure that users redeem orders.
There is another payment model – SS (Straight Sale). It is less common and characterized by high payouts, but it is much more difficult to convert the audience. In this case, users must pay for the order directly on the landing page.
Here are the most common form factors:
Capsules;
Pills;
Gels and balms;
Soluble powders;
Teas and decoctions;
Drops-concentrates;
Drops for external use (for example, drops for the eyes or ears);
Cosmetics;
Sprays.
Nutra-offers also differ in "color", depending on the requirements of advertising networks.
White – care products, cosmetics, rejuvenation, products for the elderly audience and from specific problems;
Gray – weight loss, parasites, and 18+ offers, including potency products. When working with these categories, you will have to cloak to bypass moderation;
Black – are usually not found. Insider advertisers do not violate the law, and if you work with trusted affiliate networks, there will be no problems.
The last thing worth mentioning about nutra offers is naturalness. Most advertisers focus on natural herbal remedies and their extracts. This helps to attract the attention of the audience and avoids labeling drugs as drugs. In practice, this helps in promotion, since in most geos drug advertising is heavily regulated.
Specificity of the vertical
Nutra is a light vertical, loyal to beginners. Of course, you will need to be able to work with traffic sources and cloaking to promote, but the need for these skills weeds out many marketers and reduces competition. This means that the budgets for the start are kept at a comfortable level.
In addition, there are no business representatives in this market, as in E-commerce or dating, which means that you will not have to compete with large players in the advertising auction.
The audience for nutra-offers in most cases depends on the product category. Here is what the audience looks like for the categories already described:
Slimming – men and women 25+ who are overweight. Most often they want to lose weight for health, or to please others;
Potency – men 35+. As a rule, problems with potency lead to complexes and problems in personal life;
Rejuvenation – women 35+, since it is by this age that wrinkles become more pronounced. Reasons for buying – the desire to restore youth, and improve appearance. Also, they buy as a gift for women's holidays, such as March 8;
Care – depends on the specific offer. For example, acne remedies are relevant for teenagers, and cosmetics are for girls 20+;
Parasites – men and women from poor countries with unsanitary conditions. Also relevant for hot humid Asian countries;
Strengthening agents – as a rule, relevant for an audience of 35+. When developing a bundle, pay attention to seasonality – relevance grows in the cold season, or during outbreaks of diseases;
Specific problems – it is worth focusing on the experience of colleagues and the manager, it is difficult to predict targeting.
If we talk about GEO, consumers of nutra-offers can be found in every country. First of all, we recommend paying attention to the Arab countries, Latin America, Africa and Eastern Europe – these regions are gaining relevance in recent years.
Regarding traffic sources, please note that large ad networks prohibit the advertising of nutra-offers. To pour comfortably, you need to learn how to bypass moderation and use the cloaca.
Here are the sources in which moderation will need to be bypassed:
FB and other Meta platforms;
Search engines, including Google;
Tiktok.
If you do not have the time or skills to circumvent the rules, you can pour from sources with loyal moderation, they are also great for inside.
These include:
Teaser and banner networks;
Pushes, popunders;
Local sites;
Spam;
SEO.
Choose a traffic source depending on the skills and requirements of the advertiser. Most of the sites are great for nutra, in almost every source you can find a relevant audience.
Check demand with Google Trends and look at previous years' statistics to predict audience behavior.
Advantages
Adaptability for beginners. The vertical is great for beginners due to its flexibility, abundance of learning materials, little competition, and low-budget requirements;
Easy start. Everad allows you to access converting offers and verified advertisers even if you have no experience. In addition, converting the audience is quite simple – health products are always in demand;
A lot of information. You can find a lot of cases, manuals and reviews on the net. Nutra is one of the oldest verticals in arbitration, there is more than enough information about it;
Stable demand. People will never stop getting sick and experiencing problems with their appearance.
Variety of offers. You can find offers for almost any audience. There are many products in the nutra, each webmaster will be able to choose a direction for himself;
Disadvantages
Requirements of large traffic sources. To promote on FB, Google and TikTok, you will have to work with a cloacing services. It is not difficult – we have already told you how to do it;
Hold. Before the first payment, you will have to wait 1-2 weeks. This is necessary for the advertiser to be convinced of the quality of the traffic.
How to profitably work with nutra in Everad?
Nutra is our main vertical, and this is where Everad specializes. Below we have left step-by-step instructions with which you can create a profitable bundle and implement the functions of our affiliate network to the fullest!
1.Registration. If you haven't joined Everad yet, now is the time to do so! Go here, enter your Email, create a password and nickname, and leave the contacts of the messenger for communication;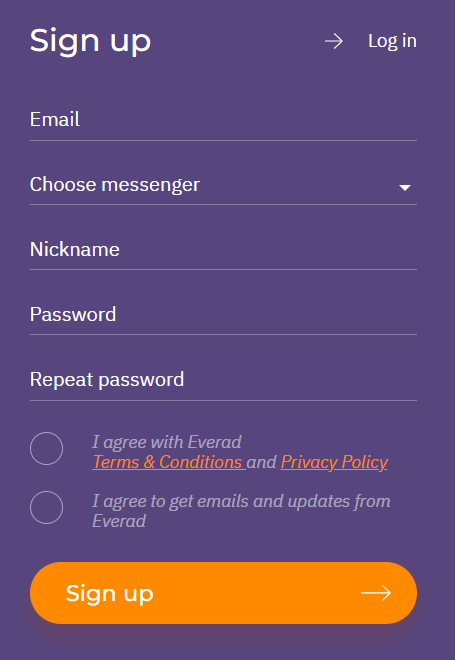 2.The most important. Here you can find the contacts of the manager – contact him for any questions related to affiliate marketing. This is an experienced specialist whose opinion can be trusted – he is directly interested in you preparing profitable bundles;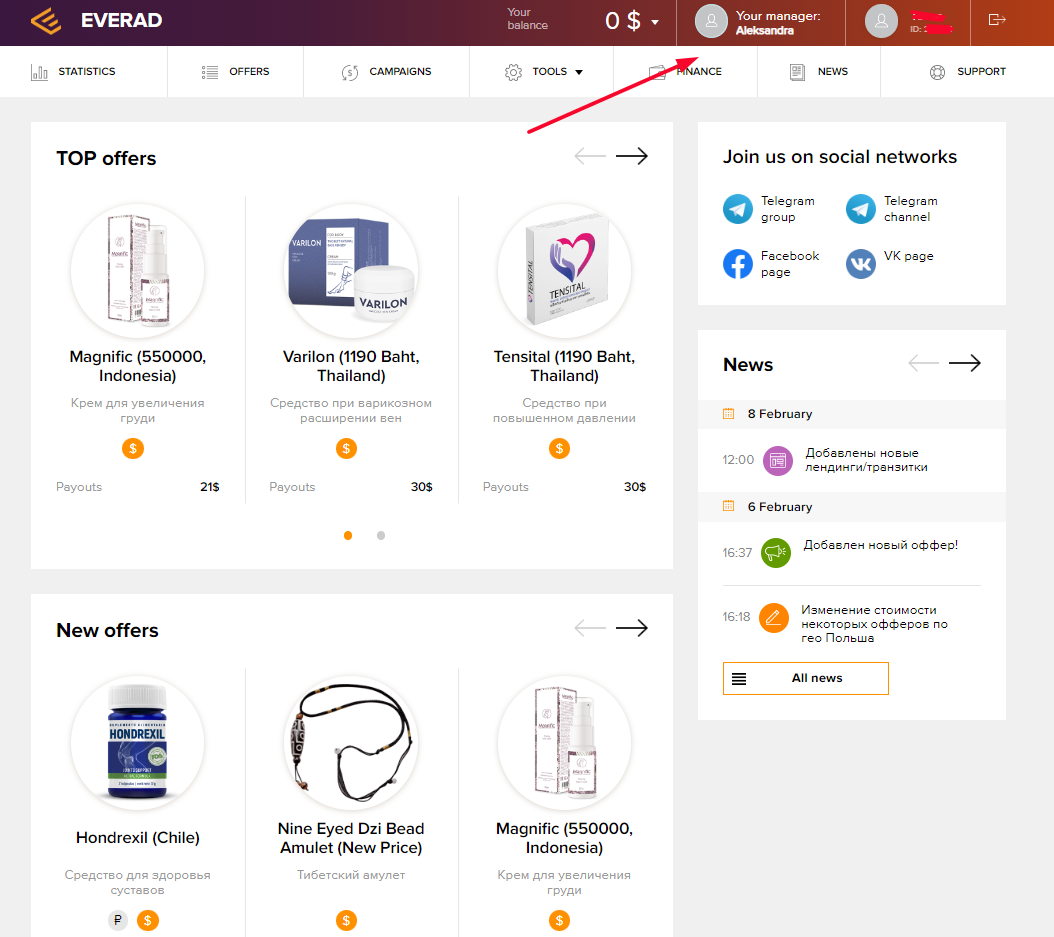 3.GEO selection. Before moving on to choosing an offer and developing a bundle, decide on the GEO. You can ask the manager for advice, take a look at our reviews of different countries, or rely on your experience and knowledge of the specifics of the regions. Also check that we have available offers for the selected country.
Don't forget about budgets – keep in mind that the higher the GEO Tier, the more funds will be required for a comfortable launch.
We recommend paying attention to Eastern Europe or Latin America – these regions have been gaining popularity in recent years;
4.Traffic source. Decide on the source – you can learn more about different sites from our reviews. Consult with the manager, evaluate the budgets and cost of advertising, and do not forget about the requirements of moderation and the complexity of the work. Choose those sites from which you can really run ads.
To work with some sources, tools and consumables are required – for example, accounts or access to an anti-detect browser. Buy them when you decide on a platform and don't forget to visit the "Bonuses and discounts" section – it contains discounts for various services;
Offer. Go to the "Offers" tab and select the product you want to inject. Use the filters, be sure to find out the opinion of the manager and read our article about the first offer for beginners – we are sure that with this data you will select profitable products.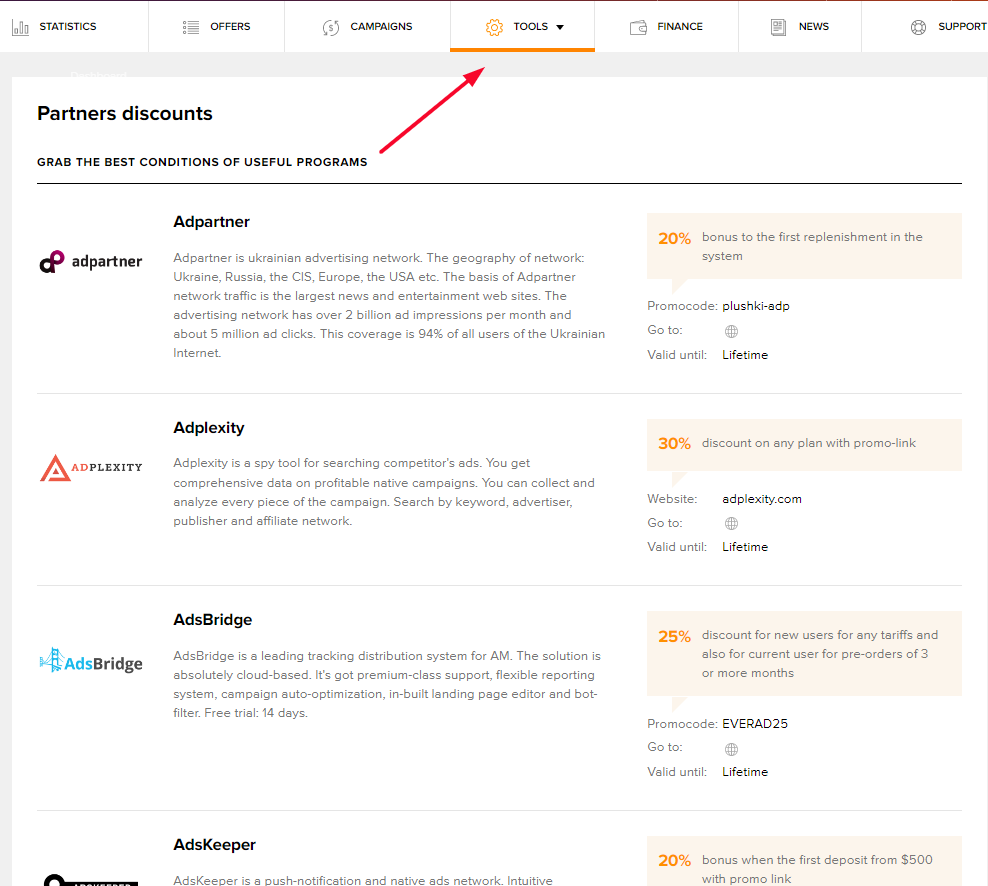 6.Evaluate the advertiser's requirements and GEO restrictions – remember them to avoid mistakes;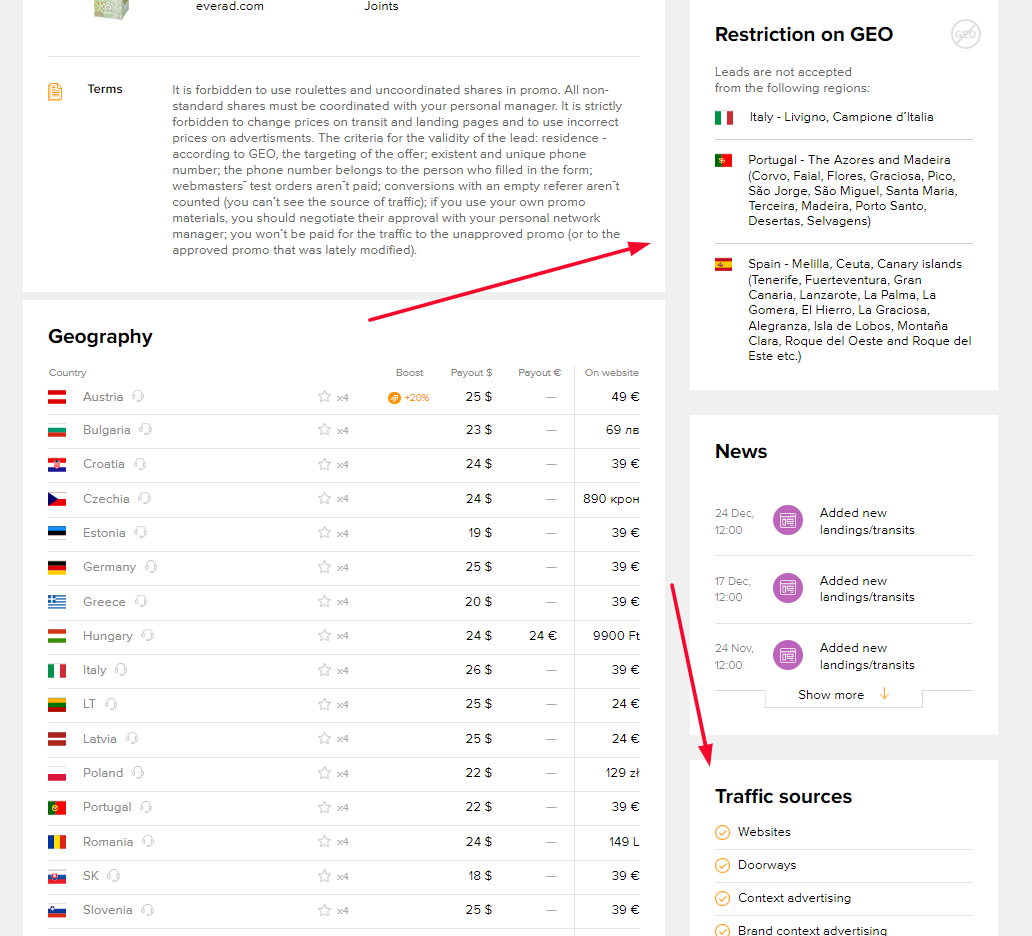 7. Connecting an offer. Click on the "Connect offer" button, and then on the "Create flow" button. Come up with a name for the stream, and choose the geo, language, and currency that will be used on landing pages.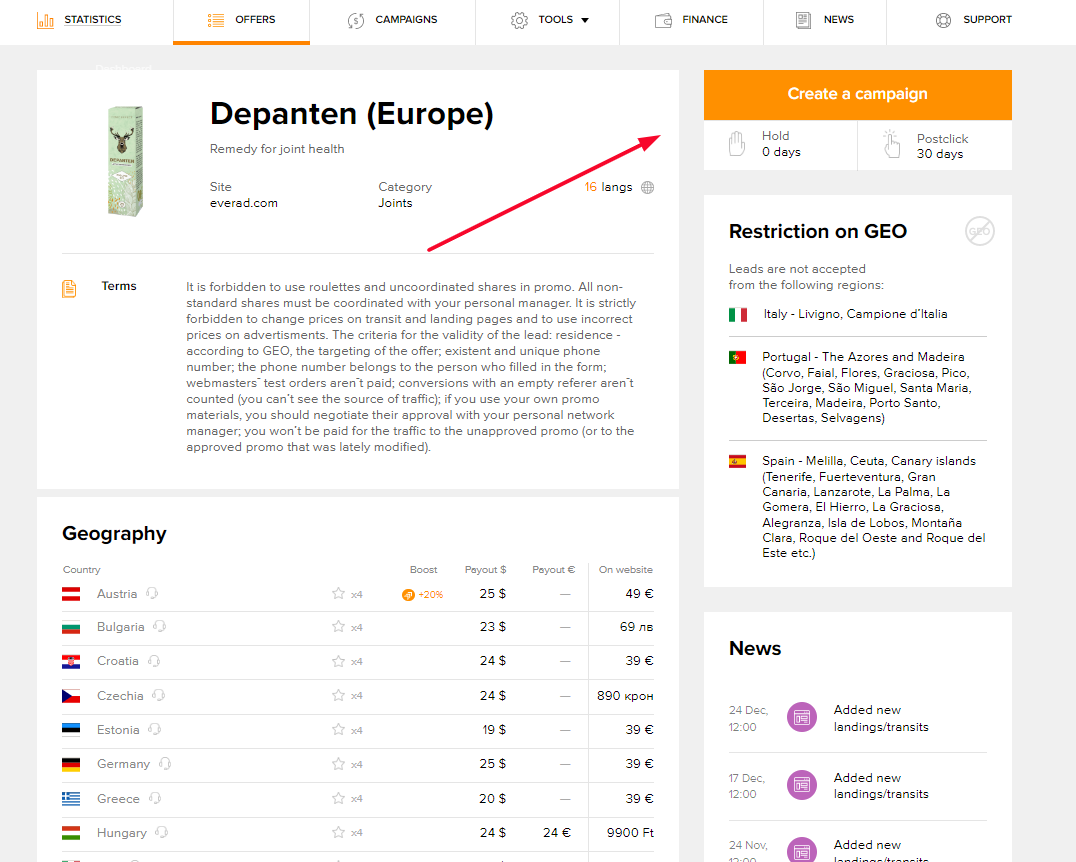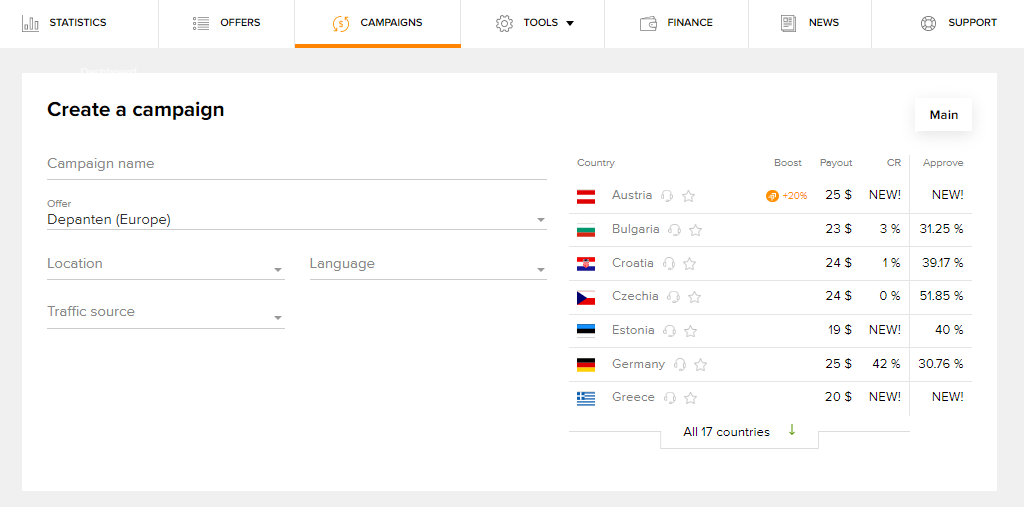 After – choose a landing and pre-landing from those offered. Evaluate different options and ask the manager for advice – he will suggest converting options.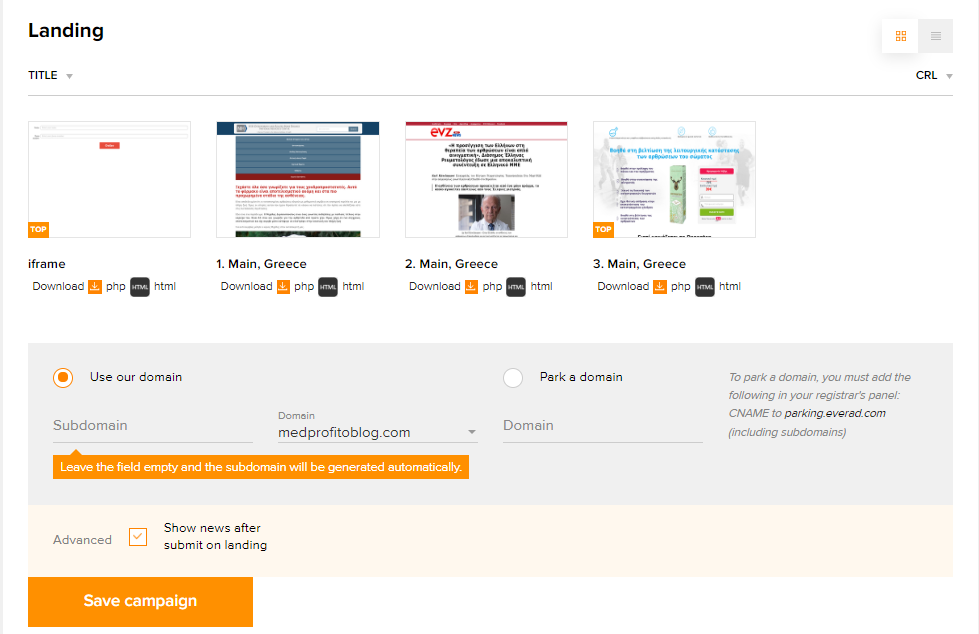 Next, you need to choose a domain. You can use our domains or park yours if you have one. To park a third-party domain, change the CNAME in the registrar to parking.everad.com
The last stage is extra monetization through storefronts. If you need it – click on the checkmark. If you do not know what pre-monetization is, read this article.
When everything is ready – click on the "Create a stream" button;
8.Start running traffic. Now in the menu "Streams" you can copy the link to which you want to run traffic. Then it's up to you: create creatives, set up ads in the selected source and start promotion.

And to track the effectiveness of the campaign, take a look at the "Statistics" section – where we collect all the information about your leads and flows;
9.Withdrawal of funds. You can withdraw funds in the "Finance" section – enter the amount and estimate the commission. If everything is in order, click on the "Order payment" button.
We have a user-friendly interface and responsive managers – we are sure that with such functionality you can easily prepare profitable bundles!
Results
Nutra is our main vertical, it is great for beginners and has been bringing stable profits to partners for decades. If you are looking for where to start your path in arbitration, choose your gut and connect to Everad!
Good luck!