We live in the best period in recorded history to get an education. Thanks to the technologies, people from even the most remote parts of the world can get access to shared human knowledge. These are good news not only for those who study but also for people who want to make money on educational traffic. The online education market is now worth well over $100 billion and it's growing around 30% every year.
Today we're going to tell you how to earn money with affiliate programs. By the end of this article, you'll learn the basics of affiliate marketing, know how to set up an affiliate promo campaign for your student traffic, and how much you can earn on it. Also, you'll see our partner's impressive case. Let's get started!
What Is Affiliate Marketing?
Let's say you've created a website and you have some student traffic on it. There are many ways to monetize your site and this traffic. You might consider, for example, using Google Ads, selling advertising spots on your website pages to advertisers directly, or make money by writing sponsored posts and reviews. One more high-profit way is joining affiliate marketing programs. They offer the highest return potential and require minimal effort from you.
Affiliate marketing is one of the most efficient ways to promote a business online. It helps the partner (which, in your case, is you and your website) earn a commission for each client, subscriber, or sale made with the help of your platform. It basically means you'll get a commission each time someone from your website makes an order in favor of the advertiser. 
There Are Usually 3 Parties in Affiliate Marketing: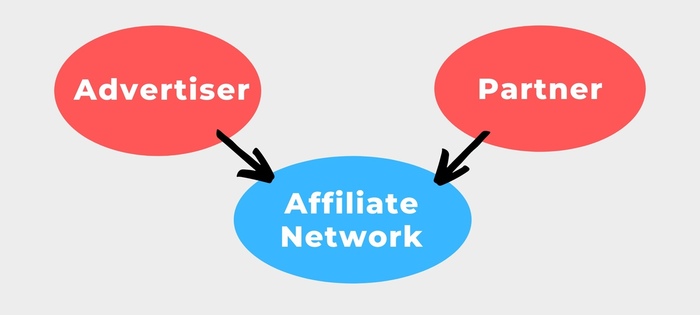 An advertiser owning a product or a service that they want to promote. The advertiser pays a commission to partners for each target action (sale, filling the form, etc.) that was made via the partners' websites.
A partner (a webmaster) promoting the advertiser's products or services on the website. The partner places advertiser's offers engaging users to take a target action. And, for each successful interaction between the advertiser and the user, the partner earns a commission. There are also other ways to promote the offers, for example, paid search or influencer marketing, but now we are going to talk only about websites and the profit that the webmaster can get from an affiliate program. 
An affiliate network (CPA network, affiliate marketing agency, etc.) connecting the advertiser and the webmaster, providing them with useful tools to promote the offers, covering their technical needs, and keeping the whole deal safe and secure for both sides.
Difference Between Google Adsense and Affiliate Program 
You may wonder what's the difference between Google AdSense and affiliate marketing programs. Well, on AdSense you get an income for showing advertisements placed by Google. You have no control over products and services that will appear on your ad places, also your earnings depend on the cost per click of your keywords. 
With affiliate marketing, you get revenue for each deal between the advertiser and the user that has been made with the help of your website. You also can choose what product you are going to promote and your commission depends on the advertiser's conditions.
Affiliate Marketing Benefits Over Google:
You don't need to have a huge amount of traffic on your website to earn good money, but the offer needs to be relevant to your traffic.
You get higher commission rates. Which also leads to the next benefit. 
You can get a higher income. If you spend some time and choose a product, a service, or any other offer that's relevant to the users visiting your platform, your income can be significant.
You can build up loyal relationships with your users. When the product is chosen correctly, the offers look organic on your website. You don't distract your users with irrelevant ads and untrustful offers, but show them products that are interesting for them.
You can choose the product or the service to promote by yourself. This helps you keep control over your platform, its public image, and reputation. You can be sure that your website is not involved in promoting controversial goods. 
Now let's see how you can monetize your student traffic with a real offer — Studybay.com, the platform providing online homework and writing help for students on demand.
How To Earn With Studybay Affiliate Program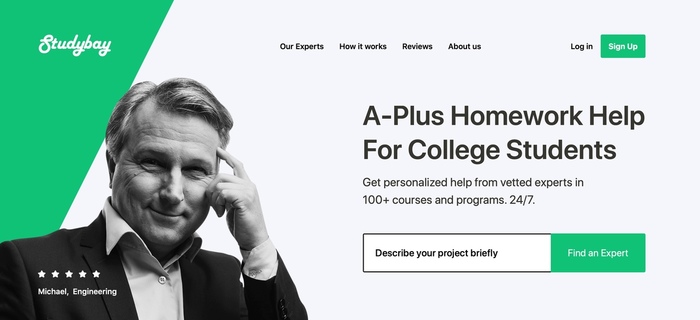 Studybay.com is a platform where students can get expert help with their homework, deepen their knowledge of any subject, get some professional advice on how to make any assignment perfect directly from the professors specializing in the topic. It is a global online platform where students can request help with their projects, receive bids, then choose the best offer and cooperate with the expert they choose. The service is clear and user-friendly, the interface is nice, also the company is trustworthy cause it was founded back in 2013 and has grown into a community containing more than 3 million students from all over the world since then.
The service is popular worldwide but it's mostly focused on helping English-speaking students who need help with their homework, essay, term papers, etc. There are tons of students seeking such help as they either don't have enough time to handle both their studies and their work, or they can't stand the stress, or they don't have enough data to complete their tasks, or they just can't understand the topic and are too shy to reach to their professors.
Now Studybay is a growing platform with over 1000 orders per day, more than 12 million completed assignments, and over 57,000 experts. And the Studybay affiliate program will perfectly suit any website in an educational niche. This program has a high conversion rate and simplified monetization. 
Speaking of finances, that's probably one of the most profitable education affiliate programs providing a great affiliate commission rate: 60% on each referral and an additional 15% on all subsequent projects of your referrals.
Here we list out some benefits you can get as a Studybay affiliate:
The top conversion rate in the educational niche of 60% for paid and fulfilled orders.
A high number of orders per client — up to 10 orders per client.
24/7 services — they convert your traffic even at night, on holidays, and weekends.
The Personal Manager working directly with each affiliate, available literally 24 hours per day.
Instant payments on any working day.
Various payment options and withdrawal methods. 
The stable system of counting the number of referrals. Your referrals stay with you forever and do not expire.
The record number of rebills in the niche.
Unique promotional materials that are available to download for your ad campaigns. 
How To Get Started On Studybay as a Publisher/Affiliate
Joining the program is very easy. 
Go to the program page and sign up there, now the offer is available on the CPA network https://studybay.edugram.com/landing/ 
Find the Studybay USA offer there.
Go to the promotional materials section and choose the ones that suit your website. It could be widgets, banners, links, landing pages, referral links, order forms and pop-ups, keyword lists, and many others.
Place promotional materials on your website, blog, or any other traffic source. 
Track the effectiveness of your promotional campaigns, analyze their pros and cons, and set them to make them more efficient. 
Get money for every referral user that you bring to the platform, and withdraw whenever you want. 
Your private support manager will message you right after the registration. The manager can help you with anything and provide you with help on each step. 
Here Are Some Examples of the Most Convertible Studybay Promo Materials
Now it's time to get to the promotional materials and which ones of them can provide you with the most amazing result. Here's the top-3, the conversion rate of these promo materials is 10-15%.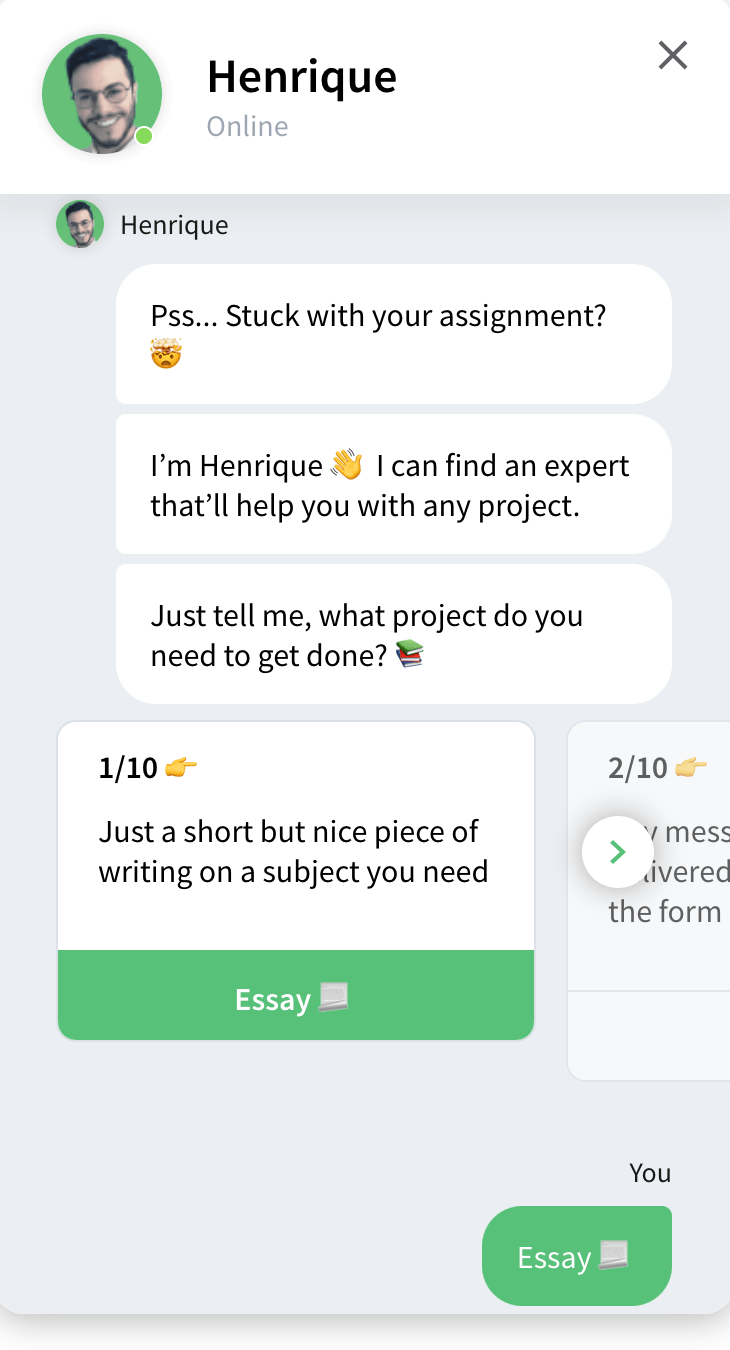 Chatbot
According to our tests, a chatbot is the most convertible promo option. Its conversion rate is high, also it's the best way of advertising in terms of CPA commission since it's customizable. You can change anything from color, text, picture, and geo where this promo will be visible to the device type where it will be displayed. Also, the chatbot doesn't occupy too much advertising space. 
This is a simple yet engaging form of lead generation. After asking questions related to the future order it takes the user to Studybay.com where the user can start a project and choose an expert.
Forms
Forms are available in two forms: static and dynamic. The static form is shown in full size right away. The dynamic form is initially hidden and reveals only after 30 seconds. Unfortunately, this kind of promo material is less customizable than the chatbot.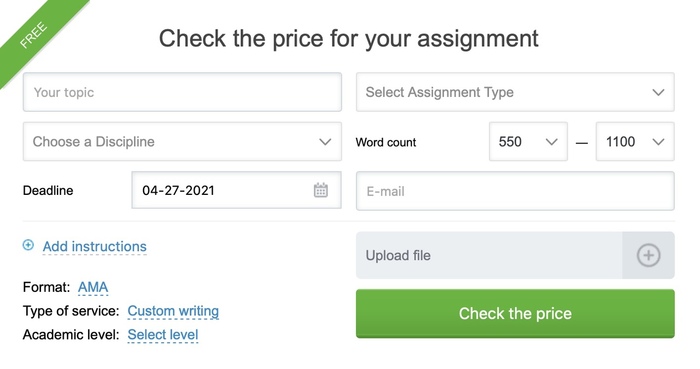 Landing pages
Apart from forms, there are beautifully designed high-convertible landing pages. All you need to do is to download the pages and upload them to your website. Try to lead your traffic from promo materials placed on your website directly to those landing pages. All conversions through those landing pages are counted and drive income to your account.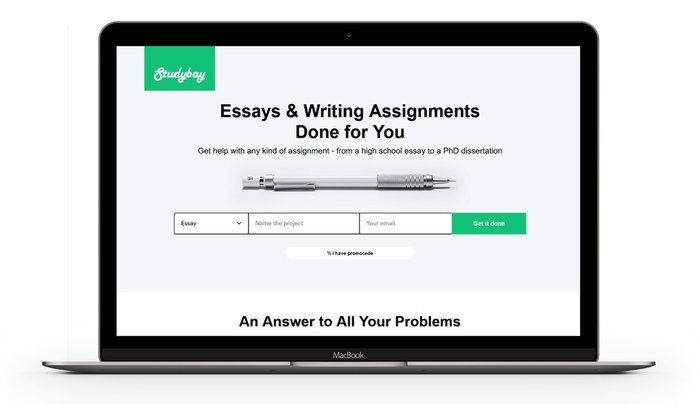 Custom Promotional Materials
You always have an option to get a custom promotional material that will perfectly fit your website. You can change the picture, the colors, or texts, you can adapt the design to your website theme. Just contact your personal manager and describe your needs so that the manager could come up with a custom promo material for you.
How Much You Can Earn
Now let's talk some real numbers and check how much you can earn with Studybay.
Let's say you've decided to promote Studybay for one month only. You attracted 50 students each of which has placed an order. An average deal on Studybay is worth $80. So for each of these students, you'll get 60% income, which is $48.
According to statistics, 40% of customers love the service so much that they come back within a year to create and pay for 9 more projects! For each of these recurring orders, you'll get 15%. 
So your income for only a month of promotion will be $4,560!
50*80*0,6+50*0,4*80*0,15*9 = $4,560
Isn't that's good? And it's all for just 50 new students. Imagine how much you'll get for attracting 100, 200, and more students. 
You can also get inspired by the statistics of Studybay's top-3 performing partners. That's how much they made since the beginning of 2021.
21,257 USD
19,950 USD
14,392 USD
These are the numbers for 3 months only (January, February, March). The highest peak for this offer is June and November as the homework help gets more demanded at these periods. The lowest months are usually August and January.
Also, another useful thing to know: Studybay makes payments to their partners within 3 days from the date of the request. 
The Real Case You Were Waiting For
And here is a real case from one of our partners we've mentioned at the beginning of this article. 
The partner is an educational website providing free course materials on different subjects for high school, college, and university students. The monthly traffic is around 300K users. 
The partner has selected the chatbot option for the website and placed several order forms in different parts of the page. It all looks very neat and does not annoy the users.
Within the last 3 months (January, February, March) there were 432 new orders and 1230 rebills made via this partner's platform! It proves you can make good money even with the small traffic.
Now when you are pretty well prepared to start earning with the Studybay affiliate program, we hope to see you among our partners!
It was Kate — your personal affiliate manager at Studybay. You can contact me directly if you need any assistance with the offer.
t.me/Kate_Edugram_bot
[email protected]