November 24, 2017
by Lina
Reviews: 0
If you're starting your pay-per-click (PPC) campaign, you must be interested in the most important rules for it and what to do to enhance your advertising results. All the hacks I want to advise you  are based on my marketing experience. I do not have my own product to advertise that is why I promote products  from other advertisers. I have chosen adsmain.com as a network with huge variety of offers from lots of advertisers for almost all GEOs and all niches. So I hope my experience will be useful. 
  •   Start with the strategy and a goal. 
First of all answer 2 questions: What issues do your potential customers have? What problems will your product solve(the product you promote)? Then simply help them – sell them your product. You need to outline goals for your campaign. If you've got no goal – you may haven't any results. You want to promote a campaign for more people to know about your brand – create CPM campaign, you're targeted on conversions – run CPA campaigns.  As for me – I always choose CPA campaigns to promote.

 •   Create a good advertising account. 
Always follow the structure of it and optimize it. As we all know every advertising account has ad campaigns, ad campaigns contain ad groups with keywords, text, landing page. 
- Keywords should be relevant to their ad group. 
The most common mistake here is selecting too broad keywords just because it usually has lower bid price. It is better to use all match types. Your company's name should be included as a keyword (CPC for those keywords is rather low). Always remember about negative keywords – they will prevent your ads from being displayed to the non-targeted audience. 
- Ad text needs to be distinctive. 
It should solve your customers' issue and should contain right keywords for this group. Use correct words to grab people's attention and to give them what they need with powerful call-to-action phrases. 
- Landing pages should match the ad.
They need to relate to the users search intent, they should include headlines, photos, text and call-to-actions. Sending people to the homepage you are not solving their problem with your product.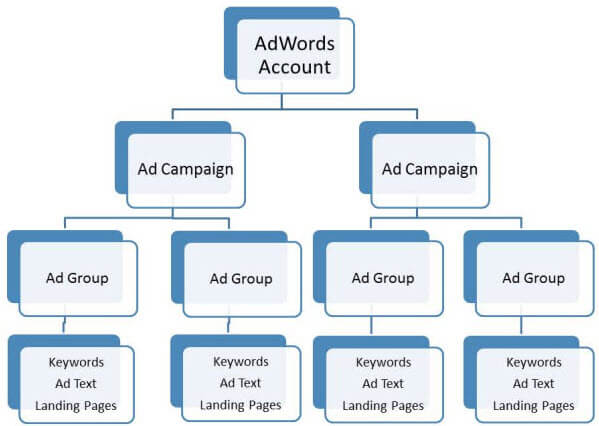 •   Track conversions while running the campaigns. 
Monitor the performance of your ppc campaigns, what happens once a client clicks on your add, will he order your product and if he buys from you – which keyword, ad group, campaign induces the conversion? I am lucky because I can track all these parameters in my AdWords account and compare the stats with adsmain's platform. The reports from the platform include all the details you need. 
 •   Create mobile friendly campaigns. 
More and more customers these days come from mobile devices. Mobile optimized campaigns can help you to extend the conversion rate. 
 •   Run re-marketing campaigns. 
Tests show that including re-marketing campaigns is always profitable and that they increase ROI for various types of businesses. If you continue advertising without re-marketing campaign – you will lose a lot! 
 •   Do not try to win #1 line in paid search results. 
According to people's behavior – the best place for your ad is number three therefore don't fight for the first rank, it's not the most successful strategy at all. 
 •   Do not stop optimizing your ad campaigns. 
The ads that have no strong call-to-action phrases will not help you in getting many clicks and conversions. If it takes so long for a landing page to load – it will provide no value to a visitor. Always improve your conversion rate. 
There are just a few advices that may help you to save your PPC from fiasco. If you have not created your ad account yet, the article will be useful for you to start it properly. Creating a great campaign structure will help you to focus on the right audience, to save money (make sure your advertising is not shown to the wrong people or through the wrong channels) and to control your spend and whether your ad groups continue to run, are paused or deleted. Good luck with your ads! 
Create an account in 1 minute for free and become smarter than others in 1 month with Affbank community!