Your landing page is one of the most important aspects of your affiliate site. It's where your PPC or social ads lead your customers, and it's where they convert from leads into sales. It's up to you to create an optimized landing page that hooks your audience and compels them to make a purchase or take advantage of an offer. To help you with that, we've compiled a handy guide for how to create a dazzling affiliate sales landing page for your site.
Do your research.
Your landing page needs to cater to your customer's needs, fears, and desires. It needs to speak to them and urge them to buy. To achieve that, you need to do your customer research and find out what makes them tick.
Use tools like buzzsumo.com or Google Trends to find out what interests your consumer demographic, or seek them out on social media to see what they're talking about.
This research can also help you decide on the right tone of voice that will most resonate with your customer. How do they speak? Do they prefer formal, informative copy, or will an informal, friendly tone engage them most?
---
Remember that it's essential that your content appeals to an expert niche audience — they will tell if something is slightly 'off' with your content targeting, so pay attention here.
---
Once you've done your research, it will inform everything else you do as you're building out your affiliate landing page.
Write copy that persuades.
When it comes to your sales copy, you need to write copy that is high-quality and convincing. Dull, lifeless words won't resonate with people.
---
Effective and successful sales copy is direct and clear, as well as engaging and emotive.
---
This is especially important for affiliate sites, which often feature generic sales copy that readers struggle to engage with. So, spend the time making yours better, and you might see a traffic and sales uplift.
Outline the key features of your product or service and how they relate to your audience's interests and needs. This should form the basis of your sales copy that leads up to your final customer goal.
Really think about the product or service you're selling or linking to: what is it you're really offering to your customer? It could be a stress-free commute with noise-cancelling headphones, or peace of mind with dashcam...
---
Highlight the benefits of the product with big bold head terms and phrases. 'Hook' the reader and get them to engage with the rest of your sales page.
---
Don't overwhelm the customer
While it's important to convey all the relevant features of your product or service, too much information on a landing page can overwhelm your customer. An overload of info will drive them away, so keep your copy short and sweet and your design uncluttered. Check out this example from real estate website Trulia: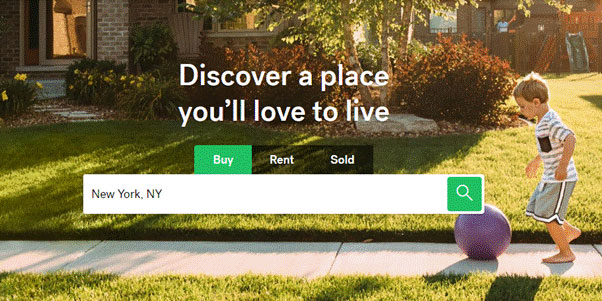 It's pleasing to the eye and undemanding, with just a simple form for the customer to complete. It will lead them onto more information of course, but it's a good entry point that will keep the customer locked into the site.
With the wealth of affiliate sites out there, you need to make yours stand out. Look at your competitors and identify where their design falls down.
---
You don't want your landing page to look messy and dated, but at the same time your landing page design needs to match your products and niche.
---
Have a look at the best ecommerce sites in your niche and see if you can pick up a thing or two from their design choices.
If you're not a design wizard yourself, there are landing page builders available online for you to quickly and easily create a page that delivers. Or if you're using a DIY site builder to sell a product or service, there are plenty of landing page templates that are simple to set up. In WordPress, there are even some free landing page themes you can quickly customize to your needs.
Bold and clear call to action
One of most important aspects of your sales landing page is your call to action. This is the word or phrase that literally tells your customer what to do next — and most sales landing pages need at least a few to make sure people get clicking.
Think about CTA placement: make sure your CTAs are visible in the areas where people are likely to look the most (above the fold, halfway down, at the end). Try a few different ones on the same landing page, but make sure they are all building up to the same goal.
---
A good call to action is compelling, conveying a sense of urgency that urges the customer to act.
---
It needs to be eye-catching and visually striking, so make it bold and easily visible on your landing page.
Your CTA should also give your readers the same affiliate offer stated in your header or originating link, as any discrepancy will be jarring for them.
Your landing page is one of the most crucial aspects of your affiliate site, so it's worth taking the time to get it right. Form a clear goal for your customers and lead them up to it with persuasive sales copy. Keep your design clean and uncluttered, and make sure that your call to action is big and bold. Get this right, and you'll have yourself the perfect affiliate sales landing page on your hands...
Interested in learning more about affiliate marketing?
Read the following articles:
How to Start in Affiliate Marketing: an Easy Step-by-Step Guide
Affiliate Marketing Glossary
What are ROI, ROMI and ROAS?
How to choose the right offers for your traffic? 
How to choose a Network to start Affiliate Marketing
Mobile Affiliate Marketing Tiers Explained
How to improve your PPC campaign?
Why do you need to use an Ad Spy Service?
How to Be a Successful Affiliate Marketer with Native Advertising
How to plan the budget for promotion?
To be updated on the last changes on the market, follow us in social media.