First, let me introduce you one review from our BHW thread: 
"So I have tested Dolphin in the past 7 days and I must say that this is a "game-changer" for us! Whoever is behind their dev team, kudos to them because they know 100% what they are doing, and the needs of marketers who struggle to manage multiple accounts on FB.

We are still testing this but so far I can conclude that having Dolphin is like having a 10 man media buying team, or more. No kid!
Highly recommended!"
And now let`s go!
Many affiliates choose Facebook as their main traffic source. But it's quite difficult to keep track of all ad accounts as their number is really high. Fortunately, this problem is fairly easy to fix. There are services that help organize all advertising accounts and effectively work with them. And today we wanna tell you about the best of them - this is Dolphin.
Getting to know Dolphin
Dolphin is an automation service that gives affiliates the ability to manage ads from hundreds of Facebook accounts in one window. The user can see all the statistics for their advertising accounts. There is no need to go to individual antidetect profiles each time to view their budget and expense. 
Moreover, Dolphin saves a lot of time on automating routine tasks for preparing accounts such as creating FanPages, BMs, pixels, auto-rules, binding payments and many others.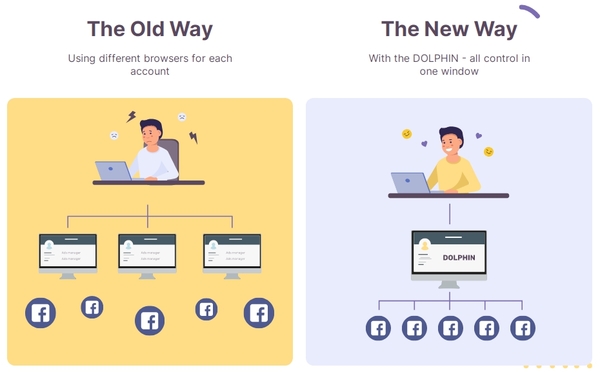 The service has 4 access levels: 
Admin - can see all accounts and their expenses in the system. 
Teamlead - can see the statistics of accounts and their buyers. 
Media Buyer - can see just his own accounts. 
Farmer - can add and make full preparation of accounts for traffic generation and then transfer them to buyers. But he doesn't see statistics on this generation and other data.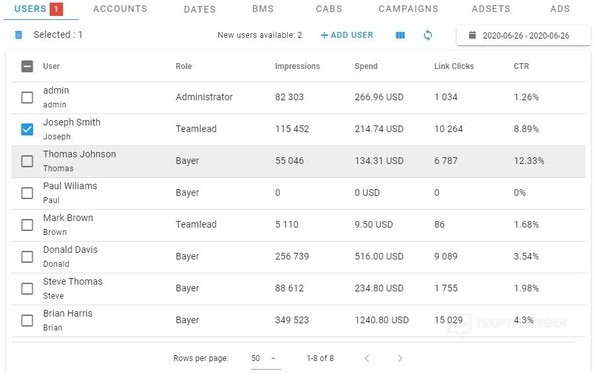 One of the main conveniences of this service is the ability to view the statistics of multiple Facebook ad accounts in one window! Also you can quickly disable non-converting campaigns / ad sets or, conversely, increase budgets and duplicate campaigns.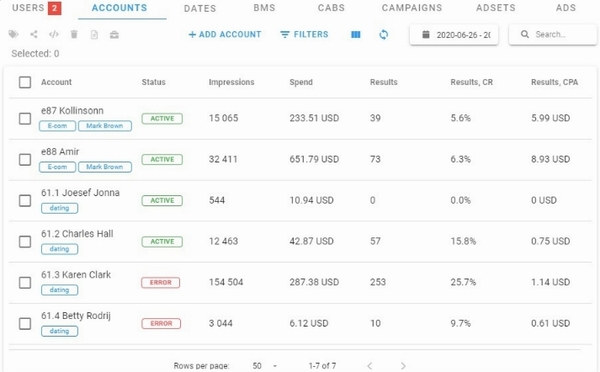 Dolphin provides extensive tools for automating work with FB. In just a few clicks you can create a Fan Page, change billing countries, attach billing cards, create pixels and much more. Moreover, these actions are made in large quantities. The affiliate starts 50 accounts, ticks them off, clicks one button and 50 pixels are ready. And the IDs of these pixels are displayed under the ad account names. The same process occurs with other actions.
By the way, the work with the creation of auto-rules has also been simplified. In Dolphin you can create a template for a set of auto-rules and assign these rules to new cabinets in two clicks. These rules are created by FB and will work as needed.  Also there is no need to create auto-rules in different currencies. For example, you'll create one rule in the currency usd and the service will independently convert this amount to different currency ad accounts.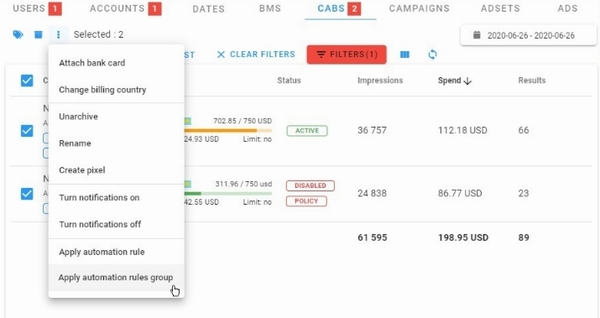 The functionality of Dolphin
The service provides a large number of functions:
Ad management: duplicate, delete, start and stop, change campaign budget.
Bulk adding a saved set of actions to a large number of Facebook ad accounts.
Telegram notifications: if something is banned or rejected, you will quickly find out about it.
Auto-rules: creating auto-rules templates and assigning them to accounts in a few clicks, converting currencies to the cabinet currency.
Team: access distribution, viewing statistics for each team member.
Comments: auto-moderation and manual moderation of comments, filter by stop words and other functions.
Statistics: statistics for all FB accounts, export of data in various formats, information on limits and cards, export of expenses to trackers.
Privacy: Dolphin is installed on the user's server, so others don't have access to data and accounts.
BM: creation of BMs, creation of ad accounts, creation of invite links.
Mobile version: now you can control your expenses anywhere.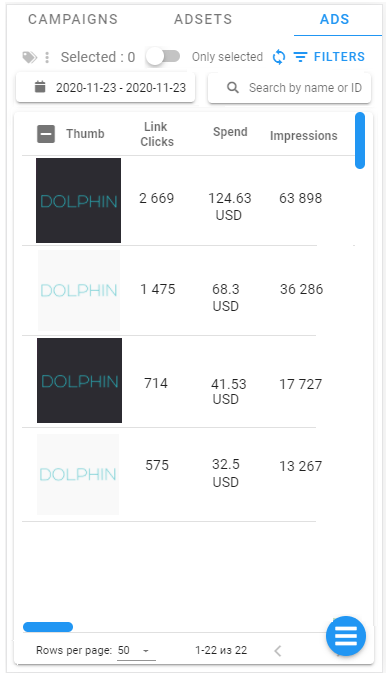 Mass creation of ads
Mass creation of ads is the most requested feature in Dolphin. You can create a saved campaign in the service and then upload it to dozens ad accounts in a few minutes. Dolphin will automatically make all creatives unique for each ad account separately including selected previews. To make the text uniq the Dolphin uses Spintax. Also more than 8 parameters are changed when uniqueizing media files.

What's the price
The service has a trial and two main tariffs: 
Trial - 3 days of access to full functionality (no credit card required)
Base - $29 per month 
Pro - $99 per month (includes Ads Creation Automatisation)
To sum up
Dolphin is a must-have solution for those who constantly work with Facebook ads. The service is very simple and convenient to use. You can easily run all FB advertising campaigns from one window. Additional useful options simplify the work of the affiliate and reduce the operating time, so you can generate more traffic. We recommend Dolphin for solo affiliates as well as for teams of all sizes.