August 16, 2018
Reviews: 0
Due to the growing popularity of Crypto niche, we decided to create the circle of ICO interviews and articles for you. You will find the interview with Crypto Affiliate Network here and the representer will tell you about pros and cons of acting in this market and open some secrets.
Today, Eugene Labun, Head of Sales and Accounting at Biggico will tell us about all secrets of that unpredictable business.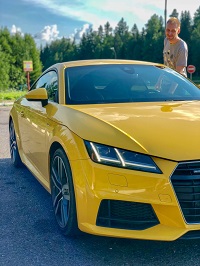 Eugene Labun
Head of Sales and Accounting in Biggico since March 2018; ex-Head of Customer Success in Affise; ex-CEO of medical-UX startup "Bolge".
Frequenter of accelerators, meet-ups and conferences.
Interview
Uliana: Eugene, could you tell us more about Biggico? How did you come up with the idea to create this company? Who is behind it, and why did you establish your office in Belarus?
Eugene Labun: In the beginning, 2017 faced tremendous growth of the cryptoverse. ICOs raised huge funds even without decent landing pages or personal cabinets for investors. By autumn the hype had already started to wear off. Nevertheless, the trend itself is very promising, and we have something to offer to this market.
Biggico is a Belarusian-Latvian company headquartered in Minsk.
СЕО: Dmitry Elin – co-founder and Director of Biggico LLC since 2017, former head of the Internet portal "Lastochka.by" and the SEO agency "Seolect", Director and co-founder of the startup "90live.org".
Eugene Labun: Head of Sales and Accounting since March 2018; ex-Head of Customer Success in Affise.
The company was founded by a team of IT entrepreneurs from Belarus and Latvia aiming to develop effective marketing tools for businesses that accept payments in cryptocurrency, as well as creating an affiliate advertising network based on these tools.
The conditions of running IT business in Belarus have improved substantially, especially on establishing Belarus High Technologies Park and signing much talked-of "Decree on HTP 2.0", attracting such world giants as Google.
That's why the opportunity was clear and we seized it.

Uliana: What kind of platform are you using? Is it meant solely for the cryptocurrency projects, or does it allow tracking other kinds of offers? What are the advantages of creating your own platform?
Eugene Labun: Our key product is Biggico, the first advertising platform for cryptocurrency-fuelled projects. It is based on the Revenue Sharing model (we chose it as the most reliable model in terms of protection against cheating and fraud). The tracking algorithm reposes on decentralized storage of all transactions (the Blockchain technology). Conducting a thorough market demand research and developing basic algorithms for tracking cryptocurrency transaction resulted in the idea of a cross-functional affiliate network for projects that accept any types of cryptocurrency. We plan to attract new clients among ICO projects as well as among a wide range of services, products, and online shops that accept payments in cryptocurrency.

The beta version of Biggico was launched on January 12, 2018. As an HTP resident, we plan to develop a fully functional version of the platform and introduce smart contracts for managing our partners' fees.
We are primarily interested in crypto-related businesses. We are constantly expanding our abilities, and our interests aren't limited by ICOs or Forex trading.
We are also keen to explore gambling, cybersports, wallets, cloud-based mining companies and so on. The key advantage of having our own platform is that we can integrate the Blockchain technology to its fullest, and thus accurately verify clicks, registrations and investments so that advertisers won't be able to shave or scrub leads. Moreover, we can implement any idea we want. We see the final product, perceive those interface options and features that will be most convenient for users and unique to our platform, and we can implement these ideas to provide our customers exactly with what they need.
Uliana: What made you focus your efforts on the crypto business? Where did the idea come from? Why have you preferred single direction to being more diversified like many other affiliate networks out there?
Eugene Labun: Considering such dynamic growth of the crypto market, it was very hard not to get caught up in the enthusiasm, so the idea arose after a careful market research. It is better to be the first in one particular niche than to be number two in everything else. By the way, the number of "classic" companies that accept payments in cryptocurrency is growing.
Uliana: Have you experienced any difficulties or encountered pitfalls?
Eugene Labun: When we first entered the market, it was immediately obvious that our service would meet with high demand. We were bombarded with proposals.
The main difficulty was in sorting out potential partners: the number of scam companies was growing just as fast as the ICO market itself. Besides, the market was significantly volatile. It's like the Wild West or the "dashing nineties". You never get bored.
Uliana: Many people say that the immense popularity of the ICO model will soon oust it from the crypto market to lead a life of its own. What can you say about this? Why is there such a sudden interest in ICOs and crypto market?
Eugene Labun: In its core, the ICO model is much closer to crowdfunding and fundraising than to cryptocurrency, despite of being technically based on it. First, ICOs enable you to quickly earn money and return your investments. Secondly, you can support interesting projects.
Besides, the idea itself is fresh and based on cryptocurrency. Good innovative ideas always find their audience.
Uliana: Are you designing a new cryptocurrency or using the offers that already exist on the market? Do you have your own team of experts with experience in the crypto business?
Eugene Labun: At least at this stage, we are not launching any ICOs or crypto projects. All ICO-related offers are selected by a team of experienced analysts and sales experts. At the same time, some project founders find us of their own accord and then undergo meticulous offer verification process before getting integrated into the system. Sometimes we learn about new projects from specialized news sources, choose those with the greatest potential and contact their founders.
Uliana: What do you think has the greatest potential for the crypto market: Russia and the CIS countries, or the rest of the world?
Eugene Labun: At this stage, Asia is the most promising market, but it is easier to promote projects in Europe. As for projects themselves, the role CIS countries play is just as important. My estimate would be that more than half of projects come from Russia, Ukraine and Belarus. Besides, the crypto market does not require you to be tied to any particular location.
Uliana: What types of traffic do you work with and what are their peculiarities?
Eugene Labun: Our affiliate partners furnish almost all kinds of traffic. We work with webmasters directly, including top cryptocurrency websites, with social media publishers, traffic arbitrage companies and other affiliate networks.
Uliana: What offers are the best at the moment? What geo locations are the best for crypto offers in terms of profitability and productivity?
Eugene Labun: At this stage, those most effective are ICOs, bizOps, moneymaking and Forex-related offers. As for geo locations, the highest conversion rates are in the UK, Russia, and Southeast Asia (China, Hong Kong). High conversion rates in North and South America and Western Europe reflect great interest in cryptocurrency in these countries. Of course, India is also an active market, as well as certain African countries such as Senegal and Nigeria.

Uliana: Have you encountered fraud? Is there a lot of fraud in this niche and how do you withstand it? What platform do you use to determine fraudulent traffic and what parameters do you take into consideration?
Eugene Labun: Without doubt, fraud is very common in this market. However, our business model is based on Revenue Sharing, so we are of no interest to fraudulent projects: if there is a deposit, there is a payout. No deposit – no payout. This model is useless for fraud purposes.
When it comes to non-ICO related CPA offers, our advertisers come to aid here. We constantly monitor our traffic.
Uliana: According to your website, "Biggico offers its customers a completely different way to promote their products — a cost-effective model of using marketing budgets and paying only for results." Could you elaborate on that?
Eugene Labun: In fact, this principle is based on the concept of affiliate marketing. By placing an offer on our platform, the advertiser gets targeted native traffic keen on cryptocurrency, as our network is focused on the crypto market. As I said before, we offer both CPA-based payments and revenue sharing business model, based on feasible marketing results such as deposits, investments or trading operations that our traffic supplies to advertisers.

Obviously, this is the most cost-effective use of advertising budget.
Surprisingly, many ICO projects have never come across affiliate marketing before.
Uliana: How do you provide cryptocurrency transaction tracking to your affiliates?
Eugene Labun: Our platform has a unique tracking mechanism that integrates into blockchain-based platforms. Our affiliate partners can track such details as country, time, IP, conversion rate and deposit amount. They can calculate which banners work best and which attract less traffic and analyze the effectiveness of their website.
Uliana: Before we finish this interview, could you say a few words about your company's plans? Which countries and niches are you going to focus on? What conferences are you attending?
Eugene Labun: We are primarily interested in developing an exclusive strategic partnership with Cointraffic. This partnership has great potential. We are developing very rapidly, and the inflow of information is constantly growing, allowing us to increase the number of verticals, expand the choice of offers and build long-term relationships with our partners.
Most likely, we will visit AWA in Bangkok this December and then will be attending as many conferences as possible. Before that, we plan to focus on developing the platform and mastering it to perfection.
Find Biggico offers on Affbank!