"I don't care what your momma says – Christmas time is nee-ear!"
Even if you've never heard Saturday Night Live's festive, incredibly catchy tune, there's no denying the holiday season is approaching fast. Snow accumulates everywhere, colorful LED lights pop up like crazy and retail stores play Wonderful Christmastime on an infinite loop. There's magic in the air. And for affiliates like you, it's an incredible opportunity to boost your income.
Reverse Santa Claus
It's not rocket science: people spend a lot of money over the holidays. According to the American Research Group, consumers are planning to spend around $1000 on average this holiday season. More interestingly, the planned spending for online purchases hovers around $1,346. This is a 6% rise compared to 2016. Also of note, a majority of shoppers (57%) want to wait for a sale before taking the plunge.
The continued growth of online sales both in America and the rest of the world is nothing short of amazing. This year, instead of distributing gifts left and right, how about filling up your own stocking with money? Luckily enough for you, it doesn't require eight reindeers to get that sled moving!
Choosing the Right Trajectory
Now that you're navigating the starry night, you might be wondering how not to get lost. To help you on this journey, we've prepared a list of things to keep in mind. No one wants to see you crash and burn!
Start sooner than later. It's becoming very clear that holiday spending is fueled by Thanksgiving, Black Friday, and Cyber Monday. Shoppers should be exposed to your brands/offers as early as November.
Mobile is king. It's been long coming, but mobile revenues will overtake desktop revenues. It's important to understand that 57% of users won't recommend a business with a poorly-designed website. Your website interface must be mobile-friendly and fast — two important factors for SEO.
Know your audience. Certain GEOs convert better during Christmas time than others. So if you're hell-bent on that North American user, chances are you're missing out on real opportunities. Did you know that the Asian market is actually the top converting geographic over the holidays?
Take Part in the Christmas Challenge!
With the help of CrakRevenue, you will access a complete package of optimized offers. You will also benefit from a dedicated support team readily available to answer your questions.
Better yet — our Christmas Challenge is open to all affiliates!
New and experienced affiliates alike — there's really something for everyone.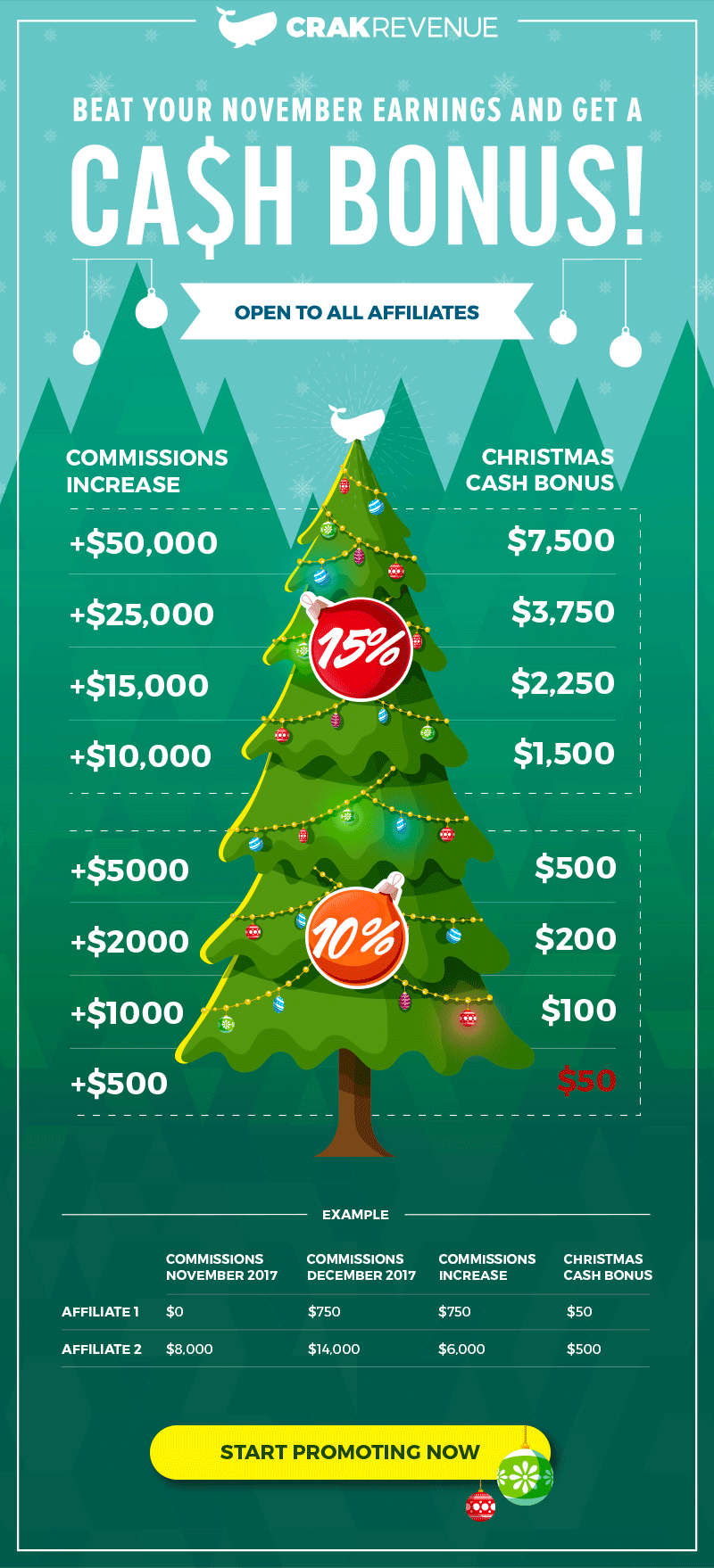 Create an Affbank account in 1 minute for free and earn more with Affbank community!