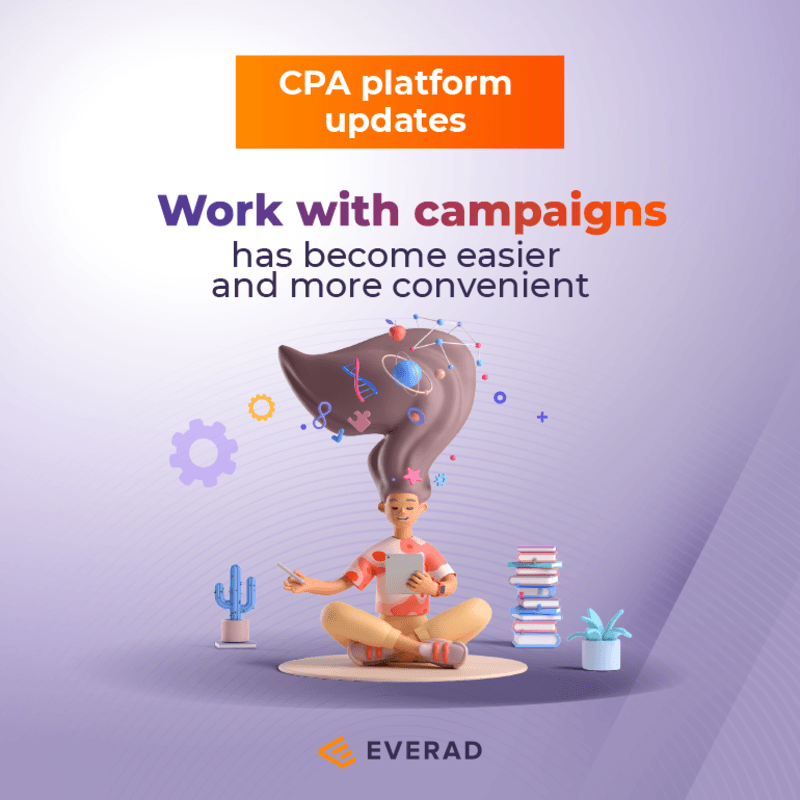 Everad team constantly works to improve the features of the CPA platform. All the betterments are aimed to help you to drive traffic with maximum profit and minimum efforts.
This time we decided to improve our Campaigns tab, as it really needed some work and optimization. We're happy to report that starting from now it will be easier to work with the Offers section. Moreover, you will always have access to new and fresh domains and combinations.
How it was
After some time an impressive amount of campaigns could be accumulated in your account but they would not bring the leads. In such campaigns, the combination or domain may become obsolete. If you drive traffic repeatedly to this campaign, the conversion could be lower, as data is outdated.
How is it now
We activated a new mechanism. How does it work? If after 3 months there are no leads in your campaign, you will get a notification in the Campaigns tab. Notification will include the list of all the inactive campaigns. We recommend you update or archive all of them.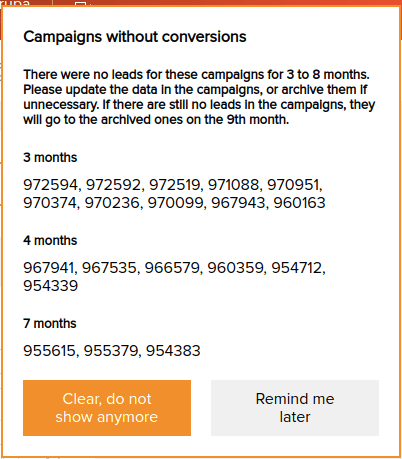 If you press "Clear, do not show anymore" – notifications on the specific campaigns will appear later.
If you choose the "Remind me later" option, you will find all the campaigns when you log in or in the "Campaigns" tab.
Additionally, each such campaign will be noted with the triangle sign which includes an exclamation mark. By holding the mouse over the icon you may see how much time is left till the automatic archiving and the number of months without leads.

Changes in the section of archived campaigns
Please pay attention that we do not accept traffic from such campaigns. We additionally highlight this with the color and message "Campaigns are not active, traffic is not accepted". Just in case.

As we have already mentioned if an offer was stopped the campaign would be archived. You may check the statistics of such campaigns. The statistics include whole information as for usual campaigns: the time, all the landing and transit pages, etc. There will be no possibility to clone or edit this campaign, as you stopped to work with an offer.
If you archived the campaign but the offer is still working, there are more options. You may edit the offer, look through the statistics and clone it. The campaign created while cloning goes to the active campaigns.

If you enter the editing mode of the archived campaign on active offer, you may find all the necessary information. The only difference is that instead of the "Save" or "Create a campaign" button there will be a "Clone campaign" button.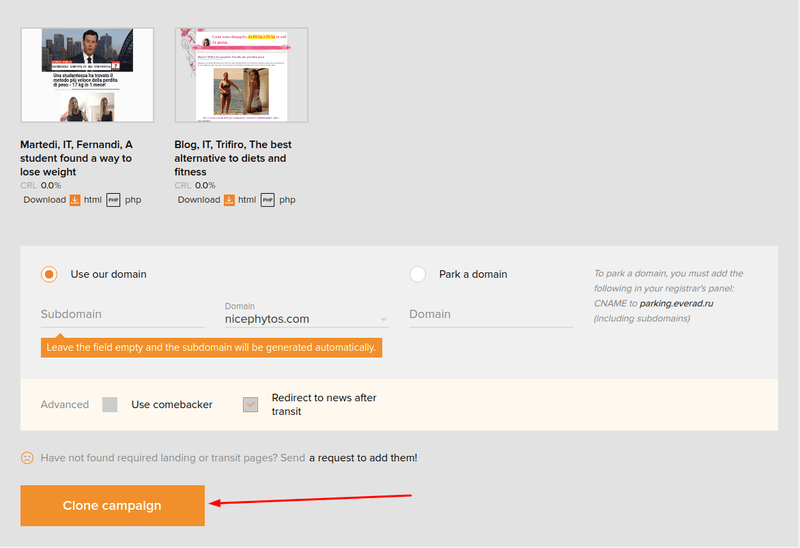 We hope that this function will be useful for you. If you have any additional ideas on how to improve the function, please, contact your personal manager.
Drive traffic with comfort!