Meet Maddie, the main character of this story. Maddie has been running a mobile application in which she places coupons to well-known fast-food chains. In the last 12 days, she managed to earn USD 103.6. All because of one simple tool. 

Would you like to learn something more about it? Take a look at the case study and see how to grab the money. 
What allowed Maddie to get some additional money was Mobile Rewards. Wondering what this is? Let me shortly explain. Mobile Rewards is a tool dedicated to people who want to monetize their mobile applications. 

How does it actually work?
All you have to do is provide your users with a list of offers. They will then earn extra points for completing the task from that list. An example of a task can be downloading another application or completing a promotional form.
Why is this tool so useful?
Mobile Rewards is already operating worldwide. Surely you can remember the applications that you have been using for a long time that use this tool or any other similar one. Mobile Rewards allows developers to set the prizes themselves. But most importantly, from the point of view of the app user, it is a great alternative to annoying advertisements.
If you want to learn more about this tool or are wondering how to configure it, go to MyLead blog and read about configuring Mobile Rewards.

If you prefer the audiovisual version, there's a video on the MyLead YouTube channel where you will find many useful tutorials about earning with the affiliate network, including setting up Mobile Rewards. Watch a video and learn how to configure all the necessary parameters of this tool.

Let's go back to Maddie's story. Using two of the guides mentioned above, Maddie configured Mobile Rewards and implemented the tool in her application. From now on, to unlock one of the coupons available in Maddie's application, the user has to complete an action from the list. Take a look at the example: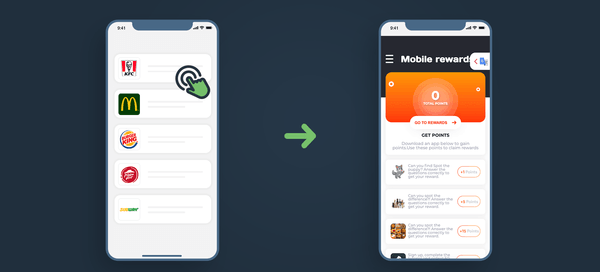 The user selects an option from the list and then goes directly to the task. It can be as simple as downloading an app and playing a game of finding different details in adjacent pictures. Look: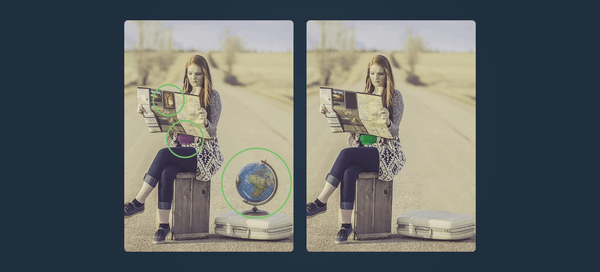 The points are automatically added to the user's balance as soon as the user meets the requirements. It simply means completing the previously selected task (or, depending on the selected settings, several tasks)  Remember that here have to be at least one and no more than four of them.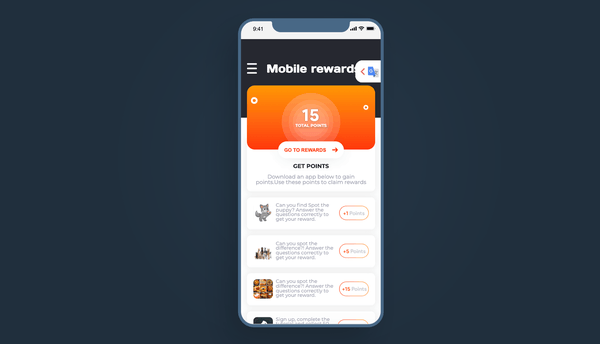 The more points, the more interesting rewards offered in the application of course. The owner of the application receives money for each task completed by the user. And what about the user? Well, it depends. And it depends mainly on what the application offers. Considering the analyzed case, it may be additional coupons, temporary unblocking of certain functionalities, or receiving an additional discount and switching off ads. Each of these options will work great. Again, we are limited only by our ideas and, of course, the possibilities of application. If Maddie offered its users a reward in the form of "extra life", it wouldn't make any sense. So make sure your users can take advantage of the rewards and enjoy receiving them.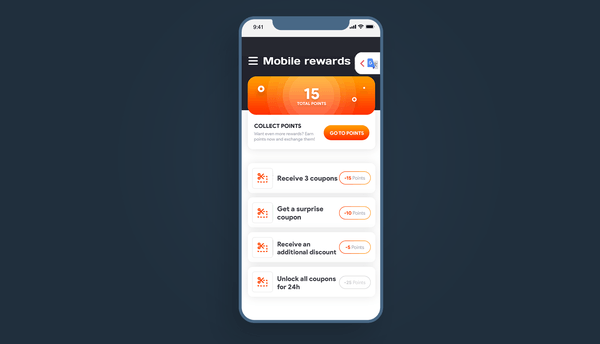 But what does Maddie do during this time? She's certainly wondering how to multiply the money she has earned. Let's look at the statistics for a second.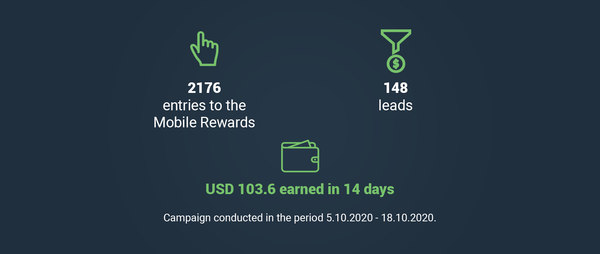 During these 15 days, Maddie managed to generate nearly 2200 entries to the Mobile Rewards, and almost 150 people decided to complete the task, which gives a conversion rate of 6.8%. On each conversion, Maddie earned about USD 0.70, which gave a total of USD 103.6. Not bad, huh?

This is one of the examples of making money on applications using Mobile Rewards. Of course, there are many more. Everything depends on the nature of the application (whether it's a game or not), its possibilities, ways of using it, as well as on the supporting actions taken. Remember that additional marketing activities, such as using all possible ways of the promotion, will make your achievements even more impressive.
If you also want to start your adventure with Mobile Rewards, or maybe you are looking for information about other Content Lockers, take a look at the MyLead subpage entirely focused on this topic. You will find there all the necessary knowledge needed to earn money effectively.

A few golden tips:
Create a user-friendly application - make sure that your application attracts potential customers. This way, you will gain more!

Offer prizes that may actually be interesting for your customers - make sure that your rewards have measurable benefits to the users and do not require an unreachable amount of points.

Make it easy, don't make it difficult - for the user, Mobile Rewards are intended to be an alternative to annoying ads. Propose tasks that won't be ignored.

Pay attention to details - before sharing, make sure everything looks as planned.

If you don't know - ask - the MyLead team is available 24/7 and will be happy to help you choose the right products and answer any questions.

Use knowledge - find out more about affiliate marketing; you can find a lot of information on the MyLead blog.