WHAT IS IT? 
AnyBill is a service for mass issuing virtual cards suitable for payment on Facebook, Tik-Tok, Google and other ad platforms. It can help you manage and control all your business expenses in one place, distribute team roles and make as many as 100 cards just in 1 click. 
Minimum top up amount — $3000 with Wire or $50 with USDT 
Top Up options — SWIFT, SEPA, USDT
Private BINs 
Quick registration without KYC 
24/7 support team
No commissions for opening and closing cards 
Detailed spendings reports 
Customised settings for team owners and media-buyers 
Referral program — 5% 
REGISTRATION 
Registration process is as easy as it can be. You need to fill in the info about you, your company, and your monthly spendings. After that your account needs to be approved by AnyBill manager, but don't worry, in our experience, this takes just a couple of hours. Once you get the confirmation email you can set up a new password (make sure it is a secure one!) and then you're ready to go.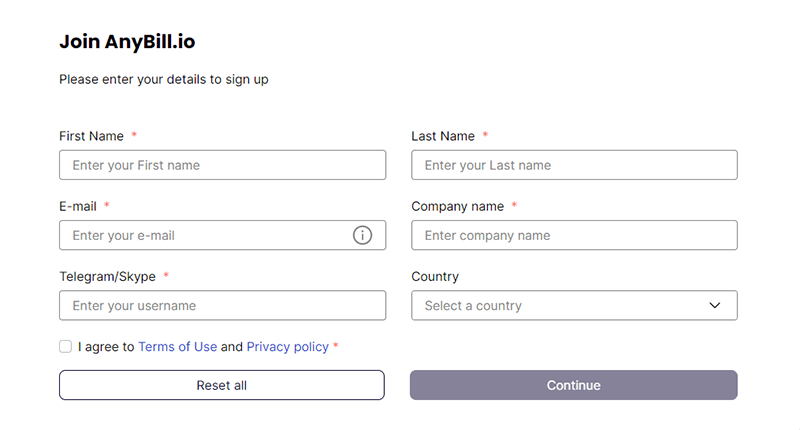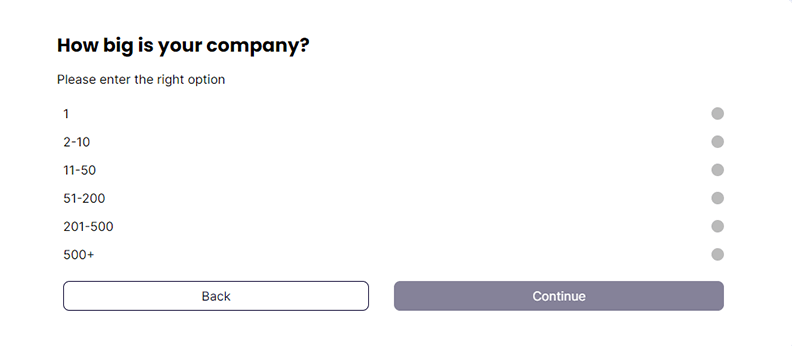 HOW TO USE 
On the dashboard panel you can see all the necessary statistics on your cards, spendings, and users. You can filter this data by date or time period. Graphical representation of the same info is useful for visual assessments of daily spendings. There are Top Up and Withdrawal buttons on the main page for easy and quick funds management.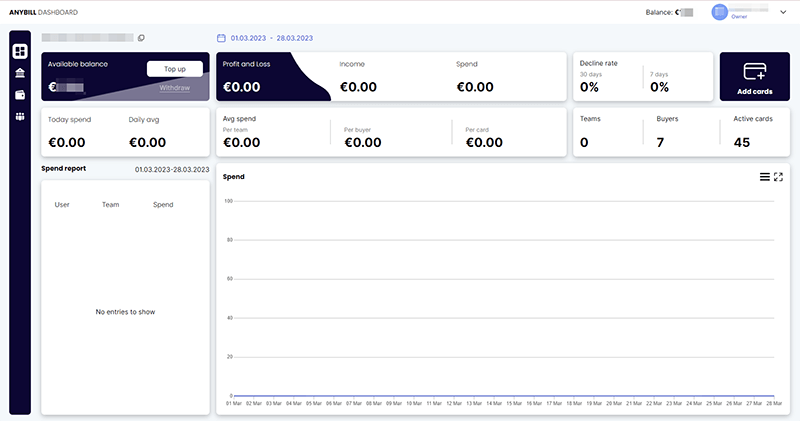 Bank tab shows everything you need to know about your account according to every card and every member of the team. Many filters allow viewing this info ordered by any category necessary. It is also possible to download the Excel file and work it into any report you make.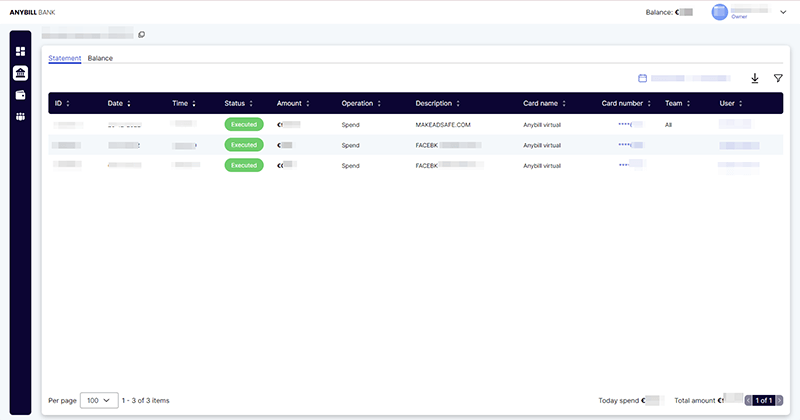 Balance tab shows all the total amounts defined by time period.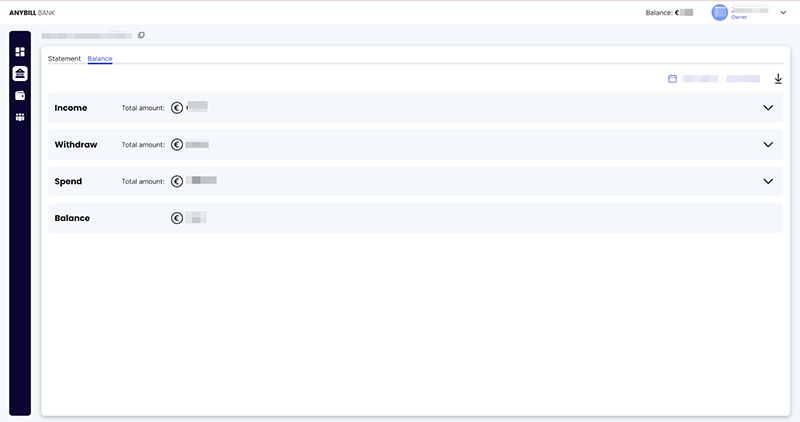 Wallet tab contains cards and their balances, statuses, and limits. You can switch between My Cards and All Cards if your team role allows it.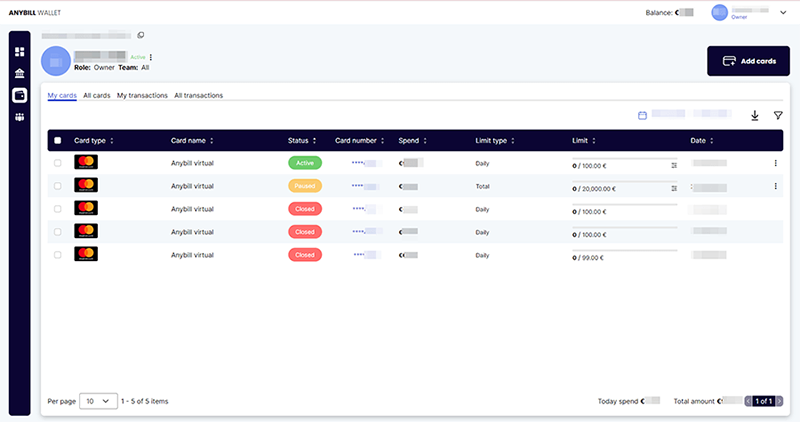 The same goes to My Transactions and All Transactions. There you find all the transactions, their amounts and statuses.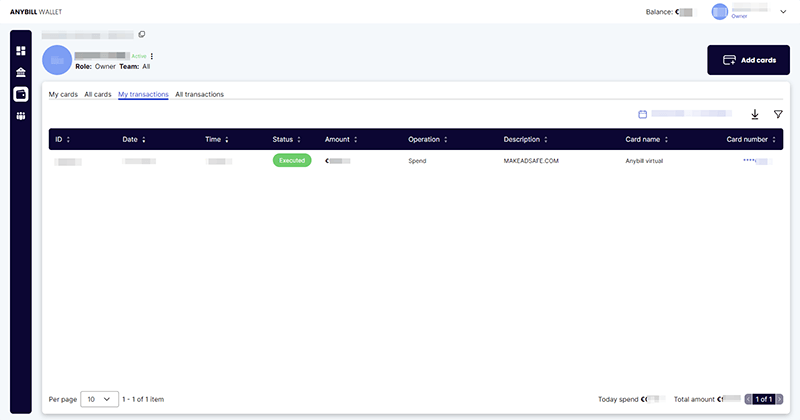 Cards are created by Add Card button. Here you can pick Card Type (Visa, MasterCard, Union Pay), cards name, and assign time and money limits. Number of cards field is used for adding as many as 100 cards just in one click. It is a perfect time-saving solution for teams that work with a big budget and many campaigns.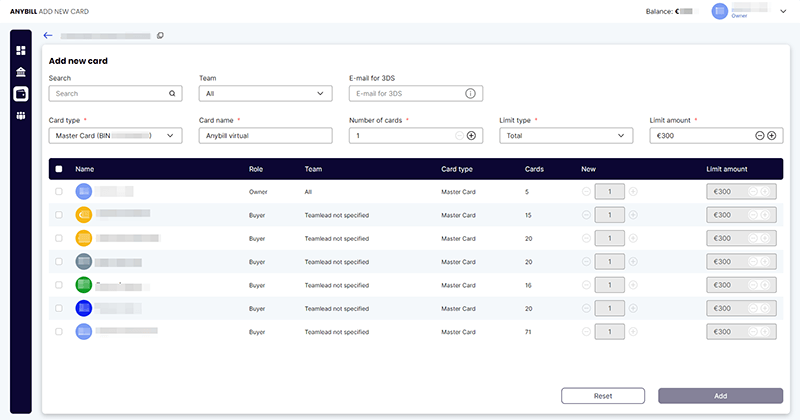 Team tab helps managing team roles and their respective restrictions, Team Owner is the highest role with unlimited access to all tabs and info, who is also able to add new members and allocate new roles. Team Lead sees only their team info, Buyer is restricted to only their cards and transactions.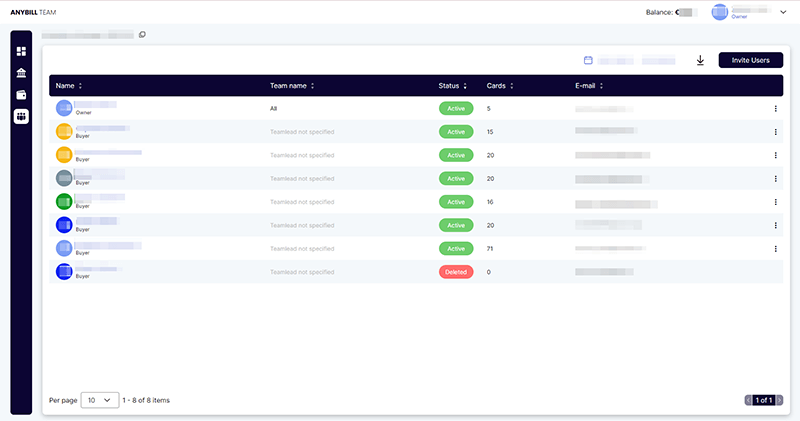 New team members are easily added by Invite Users button.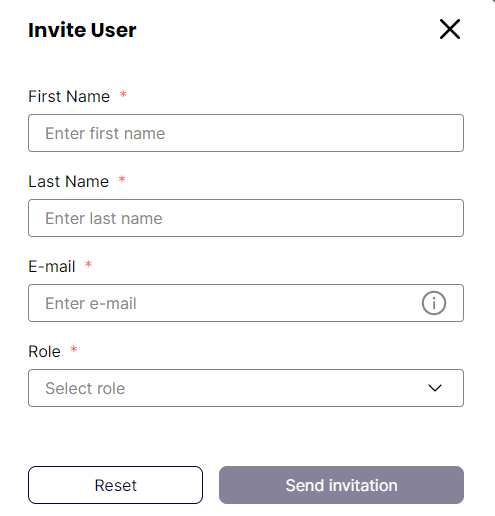 COMMISION RATES 
You can open and close cards without commission, also there are no charges for any operations. However, you have to pay commission for replenishing the balance: from 3% to 4.5% depending on your monthly top up. 
There is also commission for each declined operation. The fee depends on your decline rate and can be easily checked on the dashboard. AnyBill uses a graduated scale, so anything that fits 3% threshold doesn't subject to commission but if the decline rate is higher than that, then there's the following scale: 
3 - 5% — €0.2
5 - 7% —  €0.3
7 - 10% — €0.4
10 -15% — €0.5
From 15% —  €0.6 
Note that the commission goes for each and every declined transaction. 
BENEFITS OF WORKING WITH ANYBILL 
AnyBill provides the most effortless integration with no KYC needed. The security is guaranteed by private BINs. There are small fees only for balance refill and declined transactions, so you don't overpay for card issuing.
Don't forget, it's possible to create 100 cards just clicking once — saves not only money but time as well. Cards can be used for any advertising platform, if MCC transaction code is related to advertising and marketing. On the request AnyBill will issue a card for the individual needs. 
AnyBill is perfect for team-work. You can create a corporate account, invite members of the team and allocate their roles respectively, so all the sensitive information can be seen only by the people whom you give access to. 
In addition to that, all Affbank users get a special offer from the AnyBill team to make the setup even nicer. The first 50 people to use the promo code "affbank" will receive 3 first balance refills for free. If you're not fast enough don't worry, you can still use the same promocode and get one free deposit for sums up to $3000. 
FUTURE FEATURES 
AnyBill doesn't plan to stop here.There are new tools in the making to facilitate your work process. For example, integration with any tracker of your choice enables easier ROI calculating since it will be based on the actual advertising spend. 
Moreover, AnyBill will help scale your business by allowing payments to be made between accounts both inside and outside AnyBill.