Campaign period: 60 days (1 October – 30 November 2019)
Offer: Mackeeper (utility for Mac users)
Affiliate Network: TORO Advertising
GEO: United Arab Emirates
Traffic: Push
Investment: $371.26
Total income: $1387.20
Net profit: $ 1015.94
Conversions: 289
ROI: 273%
Concept
I have always liked TORO Advertising because it has exclusive CPI offers for Desktop traffic, the great advantage of these types of offers is that they offer valuable content to the customer, they are a quick conversion and can be scaled up to obtain more volume while the offer is trending. Additionally, there are not many installation offers focused on Mac devices, which meant I could bid lower and still achieve a high ROI.
Strategy
I chose the United Arab Emirates as the GEO to run my offer because I know from experience that this country has a large volume of Mac device users. For the offer I decided to send traffic with a direct link since from my experience this type of offer does not work very well when it is placed before a landing page that is not the product owner's.
Testing stage
For the testing phase I decided to launch the offer using several sources of Push traffic. Based on my strategy, I selected the following targeting:
● Device – Mac users that were using the last three versions of the Mac OS
● Browser – Safari
● Language – English
Optimisation stage
After testing three sources of Push traffic, I chose to finally go with one of the sources because it gave me a cheaper CPM and the CR was higher than the other two.
After investing about 90 USD in testing, I began to notice that 7 specific sub-lists converted very well so I launched two whitelist campaigns with these.
Results
Here you can see the screenshot from TORO Advertising's platform: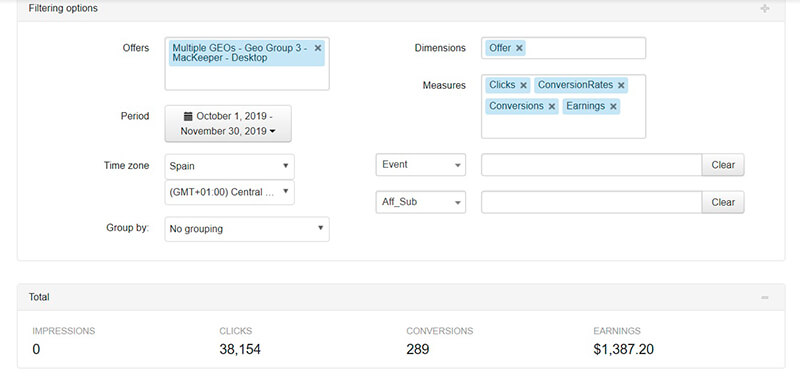 And from Voluum's tracking software:

Conclusion
Building scale is key to boosting your ROI, I was able to achieve this because I know the United Arab Emirates has a high number of Mac users for me to target with this specific offer.