Campaign period: 12 days (27 September – 8 October 2019)
Offer: Free Doc To PDF (Chrome)
Affiliate Network: TORO Advertising
GEO: USA
Traffic: Pops and display
Investment: $613.58
Total income: $1,459.20
Net profit: $ 845.62
Conversions: 912
ROI: 137%
Launch stage
TORO Advertising has a wide range of low value offers for multiple GEOs. I always decide to start with these types of offers which are easier to convert and an interesting volume of conversions can be generated in a short time and also a fast cash flow.
For this reason I decided to try offers in the CPI vertical where the conversion occurs when a user simply installs the product. These types of offers tend to be for desktop traffic and for specific browsers, so before launching the campaign I filtered out all browsers but Chrome and eliminated mobile traffic, which saved me a lot of investment in the testing budget.
In the test phase I decided to launch the offer on multiple pop traffic sites and also some display traffic platforms across multiple sites. For both types of traffic (pop and display) I decided to send traffic via a direct link, because from previous experience I find that these types of offers don't convert when you use a landing page – which also saves design resources. Right away I saw great potential with this offer and initial testing on the first day already generated conversions and profit. The investment in testing to accumulate data was $100 and my bids were with the minimum required value. Now I moved on to the second phase: optimization.
Optimization stage
After testing 5 sources of pop traffic and 2 sources of display I decided to go with 2 of the pop sources and 1 display source where the offer had converted really well.
During the optimization I evaluated the the purchased traffic and discovered that the offer converted better with users using Windows OS versions 7 and upwards. I also took into account the regions where the offer got more conversions with a positive ROI.
With all of that information I created a new campaign for both display and pop traffic using only the variables that had brought about conversions. This created my White List.
In the case of pop traffic and to improve its quality by eliminating possible Bots I used software from www.ipqualityscore.com to ensure the traffic had a fraud score of less than 10.
Results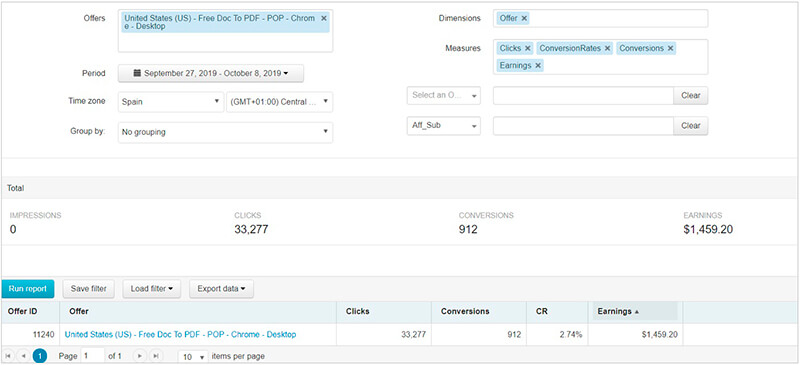 Results on TORO Advertising platform

Tracking platform results. Please note: There was a small variation of 2 conversions which is normal generally in tracking systems.
Tips
TORO Advertising offers an excellent weekly report presenting the best converting and best EPC offers. I always look at this report and analyze each of the offers listed there with multiple tools, so that I can evaluate the ranking of the offer and its potential.
It's also important to have a good relationship with your account manager and ask about the potential of the weekly reports offers and see if it is a good time to send them traffic.
The time of the year and market trends are also vital to the success of a campaign as well as the angle used to promote them. I try to find at least 3 possible angles and traffic sources to scale offers
Conclusions
The metrics and indicators of this campaign were created and then first adapted through tests with minimum investments by advertising on multiple sites that work for this type of vertical. There is no way of knowing if an offer will be a winner unless it is tested first.
For the analysis of all the data obtained I used the tracking system BeMob, which is very good and also offers multiple optimization variables.