Introduce yourself
My name is Patryk Hoffmann, and I am the CEO of MyLead.global. We are an affiliate network from Poland, and we operate worldwide. At present, we have almost 100 thousand publishers from over 154 countries. 
You may know us from winning the Affbank vote in 2019 when we were awarded the title of "The best crypto affiliate network".
Top-3 changes in numbers during the last year
In 2020, we record an increase in all statistics compared to 2019 - the number of leads, visits, new users each month, conversions and all other values. Among the most interesting ones are the following: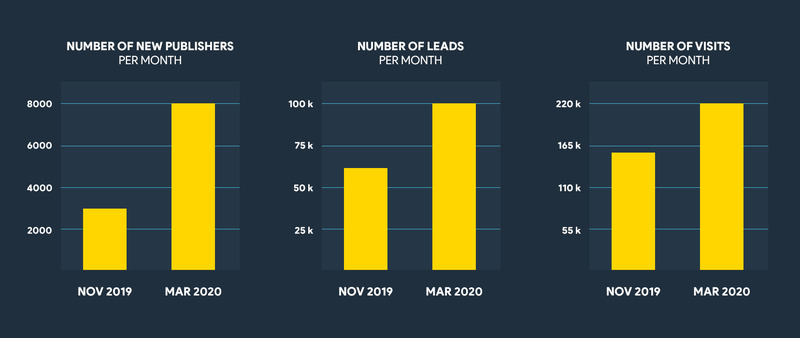 How do you manage coronavirus crisis? 
At MyLead, many things have changed due to the coronavirus, yet when it comes to results, it had a very positive effect on them. First of all, even before the official freezing of the economy and the declaration of the worldwide pandemic, we introduced remote working for all employees. We provided them with all the equipment necessary to perform their duties. Also, we decided to hold all training and meetings using videoconferencing or postpone some of them. Our employees can take leave at any time in the event of health concerns.
Usually, the warmer seasons are worse for affiliate marketing. A large number of customers prefer to spend their free time actively or outdoors rather than in front of a computer. This year, however, March turned out to be one of the best months in the history of MyLead.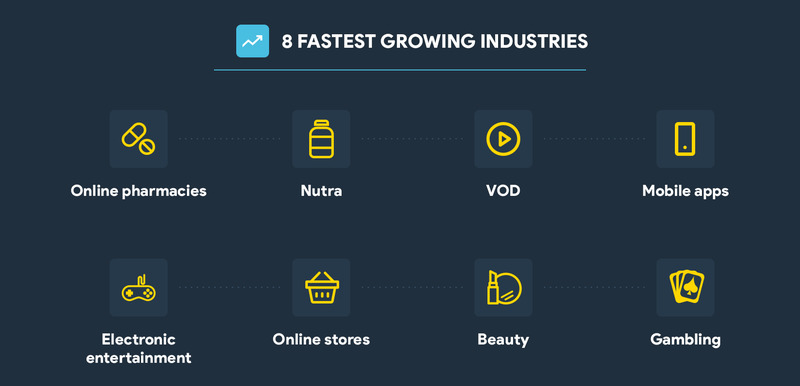 This is due to the fact that many industries have started to grow dynamically, precisely because of the COVID-19. There are many examples:
Online pharmacies and dietary supplements - achieved a 211% increase in orders in March 2020 compared to December 2019,
VOD – 53% of users decide to use video on demand more often, Netflix recorded an increase of 20.5% in March compared to February,
Mobile applications – achieved a 24% increase in interests and 38% of users say that they use them more frequently,
Electronic entertainment – 36% of users declare to play video games more,
Online stores – 62% of Internet users spend more time browsing the net and the products they would like to buy,
Both in the world and Poland, the cosmetics industry recorded increases above 100%.
On MyLead, we have all categories of partner programs from those listed above. Thanks to growths in these industries, interest in affiliate programs in these categories also increased.
Of course, there have been some difficulties. Some of the advertisers decided to reduce their advertising budgets, however considering all aspects, the period of isolation had a good impact on MyLead's results.
The biggest challenges you will face this year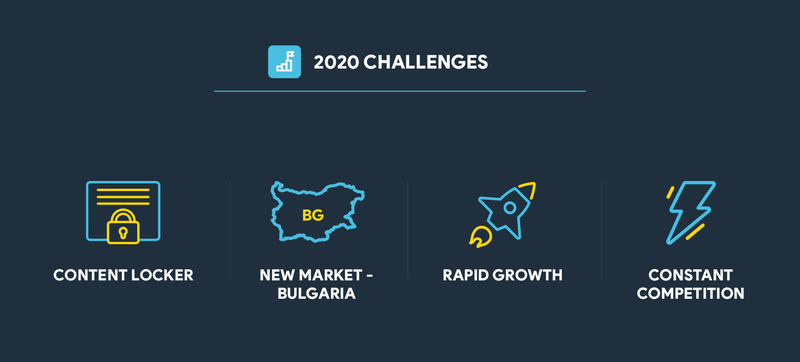 Affiliate marketing is a very competitive industry. According to a Rakuten study, 94% of publishers earn in more than one affiliate network. It makes every day a challenge to encourage people to make money on MyLead. 
This year we are launching a very large project - our own Content Locker systems. With this project, we want to threaten affiliate networks that specialize in this type of monetization methods, although it won't be easy. We hope that our systems will meet publishers' expectations and allow them to make money effectively, as we have spent a lot of time creating them from scratch. We want to improve them on an ongoing basis. Also, we are introducing other solutions such as ready-made landing pages - comparison sites of dating and gambling portals. We create a lot of solutions, but getting publishers interested in them is a much harder part of the job.
Another market, Bulgaria, will also be a huge challenge. It is the fifth market we are entering, and we need to reach out to new publishers, let them know us, and convince them to make money on MyLead. Therefore, the biggest challenges for 2020 are still ahead of us.
What are the trends for this summer in your opinion?
Due to the rapidly changing situation, it is difficult to state which industries are worth promoting. During the warm seasons, the excursion and holiday industry usually grew, but that will not happen this year. It seems that although the situation is beginning to calm down, fear and uncertainty will remain within us for some time. Hence the industry will continue to have major problems, and this also applies to luxury goods or sports betting. 

What is worth considering? 
Dating - we need a conversation with another person (and sometimes to flirt) even during isolation - using dating portals does not necessarily mean that we want to meet someone in person,
Nutra - dietary supplements are growing and will continue to grow - especially now they are a way to take care of ourselves,
E-commerce - ordering via the Internet will remain popular; shops have already introduced a policy of safe delivery,
Gambling - online gambling will grow in strength - it does not require you to leave your home, and it is also an alternative to sports betting,
Entertainment - VOD, mobile applications, computer games - I have mentioned them before - they are growing and their growth will be continued.
On MyLead.global we have all of these affiliate program categories.
If you could give affiliates from all over the world one advice what would that advice be?
Keep analyzing and checking - we often forget about this issue. We tend to enjoy what we already have. And that's great - enjoy your results, but don't stop at them. You should keep doing A/B tests, keep checking new possibilities, new affiliate programs, compare results, expand and try new traffic sources. Only this can guarantee a steady profit, which can only grow.