September 10, 2018
Reviews: 0
As you may know, it's completely possible to earn your daily bread on the Internet. Nowadays the world of web-design can provide you with a bunch of various opportunities to make a living. When it comes to getting money in the sphere of web-design, the first thing that can cross your mind is an affiliate program.
In general, there is a great number of affiliate programs that you can join. Yet you can become easily lost among them while choosing the most beneficial one. In this article, we want to compare the most popular affiliate programs provided by MOJO Marketplace, ThemeForest, TemplateMonster, Creative Market, ElegantThemes, and Wix.
To start with, we will give you the opportunity to get familiar with some general information about these very affiliate programs. We want to make it easier for you to select a proper one and therefore, we chose the most important aspects that you need to pay attention to:
a variety of products presented on the website;
the commision rate;
an average paycheck and earning per sale;
a minimum payout;
payment methods;
cookie duration;
affiliate tools;
bonuses that you can get thanks to an affiliate program.
Here's a marvelous infographic that will provide you with all essential information about presented affiliate programs in brief.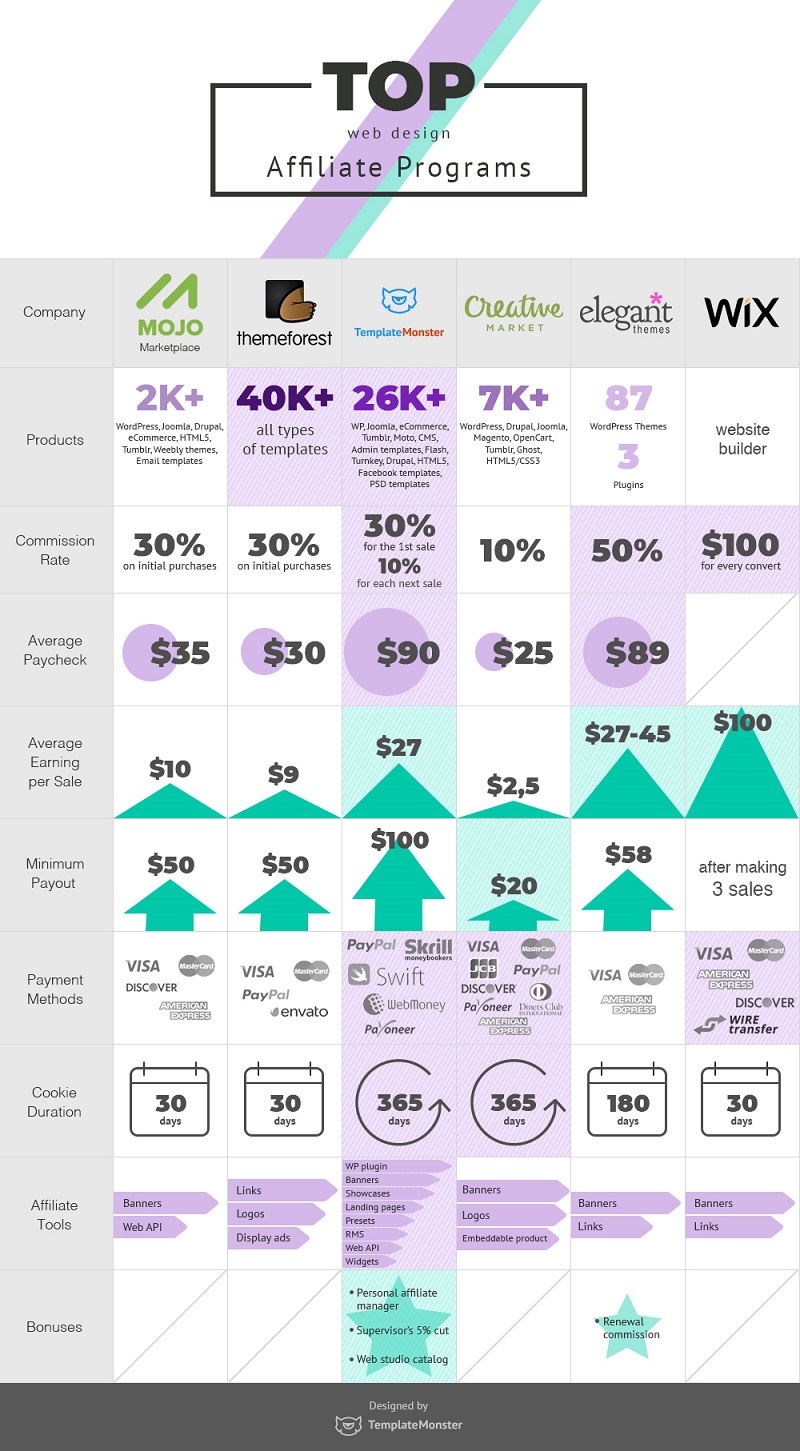 MOJO Marketplace is a huge inventory of ready-made solutions designed for such popular platforms as Wordpress, Joomla, Tumblr, and eCommerce with a total number of products abt 2,000.
In order to join an affiliate program of Mojo Marketplace, you don't need to make a lot of efforts. Each person, who has an account on the website, turns out to be their affiliate immediately. Your affiliate ID that you will choose in your referral links is your username. If someone purchases a product using your very affiliate link, you will get 30% on initial purchases.
Speaking about an average paycheck on Mojo Marketplace, it's somewhere about $35. This means that an average earning for every successful sale will be $10. In your account, you will get all possible information about your earning at the end of each month. Keep in mind that the duration of cookies is 30 days and your minimum payout is $50. If you don't manage to reach this sum, unfortunately, you will have to wait to get your money the next month.
In order to make your affiliate campaign much more better, MOJO Marketplace gives you a wonderful chance to make use of banners and logos.
It will be completely fair to say that ThemeForest provides its users with one of the biggest collections of ready-made templates on the Internet. It's important to mention that ThemeForest is a part of the huge Envato Marketplace. This means that this very affiliate program can provide you with more opportunities to earn money. For the reason that you will get a commision from each sale of products from Envato.
What do you need to become an affiliate on ThemeForest? First of all, you should create your Envato account. After this, you will get an approval that will allow you to generate your referral link. If we were to talk about commision, you will get 30% on initial purchases.
Ready-made solutions presented on ThemeForest have various prices. For example, one can get his or her for about $10 and $30 (meanwhile, some eCommerce themes can be bought at the price of $79). As you can understand, an average paycheck is about $30 and average earning for a sale is $9. A minimum payout is the same like on Mojo Marketplace - $50.
In addition to this, ThemeForest gives you the opportunity to take advantage of banners and logos in order to get more sales thanks to your referral link.
TemplateMonster is a pretty competitive affiliate program that provides its members with various benefits. In general, the offer a vast array of digital products made for different purposes.
Each person can join TemplateMonster's affiliate program. You don't need to get any approval in order to start earning money. The only thing that you need to do is to enter your email address. In such a way, you will be able to get 30% commission for the first sale made on your affiliate referral link. Then you can get 10% commission on further purchases.
The most crucial thing about TemplateMonster's affiliate program is the fact that you will be paid for every sale. An average paycheck costs about $90 which means that you can get $28 a sale. A minimum payout is $100 but it will take you nothing to get this sum of money. Furthermore, a company supports a bunch of payment methods that are considered to be an extremely user-friendly thing for all the affiliates.
TemplateMonster also has a wide variety of tools that will assist you in making a successful affiliate campaign. Of course, you can pay your attention to eye-catching banners but it's not all. You can also make use of showcases, landing pages, ready-made shops, Wordpress plugins, presets, widgets, and so on and so forth. It doesn't matter what kind of online-project you have because you will always find the most suitable tool for it. Keep in mind that it's also possible to get in touch with your personal affiliate manager who is always ready to help you if you have some questions.
We won't make a special focus on Creative Market, ElegantThemes, and Wix. All necessary details that you need to know about their very affiliate programs you can find below.
In general, we want to say that there is a great number of possibilities to earn money thanks to different affiliate programs. Yet it's completely possible to choose a wrong one. In order to prevent you from making this mistake, we want you to take a glance at the following aspects that you need to take into your consideration:
a range of payment methods supported by a company;
the benefits of the provided tools that should make your affiliate campaign more effective;
a minimum payout and your possibility to get an essential sum of money;
a commision rate and flexibility of the chosen commision plan.
Without a doubt, every company, which has something to do with web-design, tries to turn your attention to all the advantages of its affiliate program. Yet you should always think about details and select your proper affiliate program with all your eyes. In such a way, it will be possible to get as many benefits as possible from being a member of the particular affiliate program.
Thanks for reading!