Landernow - LP Generator reviews
ThriveTracker is the ultimate mobile and web campaign management solut...
Tracker
OctoTracker is Russian professional tracking system for media buyers a...
Tracker
Take your performance marketing to the next level. Create, kickstart a...
Track Platform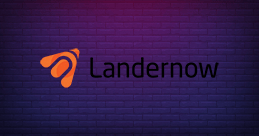 With ReklamStore's new app, Landernow, you can create your landing pages easily & quickly with ready to go templates. Choose from prepared designed templates divided into different verticals and goals. Landernow allows you to make changes in any element of your landing page to make it suitable for your needs. You can also add dynamic macros to your campaigns and easily integrate with your tracking solution.

Landernow Advantages
-Totally free of charges.
-Fully integrated with ReklamStore's DSP and Affiliate Network.
-Free hosting.
-Tens of templates for popular verticals like, mobile install, nutra, dating, gaming etc.
-Allows you to export your landing pages and host anywhere.
-Supports ready to use macros.
-No need to be a technical or design expertise.

Just select your template according to your needs and edit the content & images as you wish and start using your landing page without any hosting requirement.