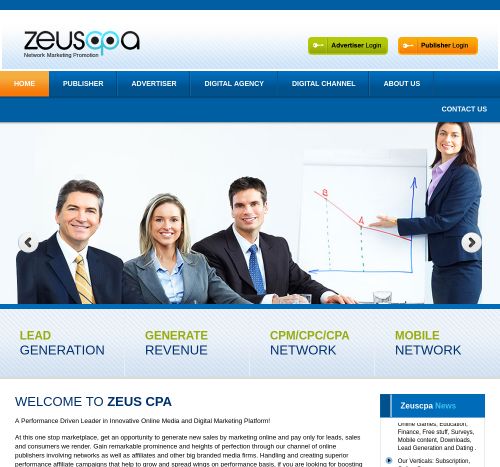 Network details
Payment Method
Wire, Paypal
Ad Format
Video, Text, Mobile, Native, Banner
Pay In System
Wire, Paypal
Pricing Model
CPM, CPA, CPC, CPV
Optimization details
Description
ZEUS CPA is a performance driven leader in Online Media and Digital Marketing. They are working together with sponsors and advertisers, in order to reach their clients' goals by using CPM/CPC/CPA Network.
For Advertisers, ZEUS CPA provides generated sales and continuous online leads through proficient calls.
For Publishers, with ZEUS CPA you get to generate revenue from your potential visitors.
For Agencies, you can become a devoted and essential component of this digital agency network.
If you want to register and join the ZEUS CPA Network, click on - Join Now!
For additional information before registering on the ZEUS CPA platform, see the Information section to find out what Pricing Models they offer, which are their Targeting Options and Advertising Formats.
Network Manager
TrafficJunky gives you access to the most adult impressions of any network. I find their interface and campaign creation to be a bit tedious and the banner sizes aren't always standard so that creates work for me. It's super easy to blow your budget until you know how the bidding system works and what geos to target so start slow and very specific. Their support can be good or bad just depends on who you talk to and they now offer 24/7 support thats nice. They accept a variety of payment options. I'm not a fan of their stats and have never figured out their s2s postback tracking but they are still worth using.
Read more
I've used exoclick both as publisher and buyer and it's got great features and support on both sides. As publisher they have TONS of options to monetize your traffic and add new tools as they become popular like Pre-Roll ads currently. As a buyer exoclick has access to many of the big adult porn sites and comprehensive targetting options. It's very easy to spend your budget quickly if you don't keep a close eye on your campaigns and remove unproductive sources. They have some mainstream traffic too, mostly streaming/hosting but it's worth testing if you have offers for that traffic type. As with most bigger companies support can become complicated if you deal with multiple people but it is 24/7 and they respond very quickly including approving campaigns and ads. They take a number of payment options but do cap some of them per month so that can be a problem for some buyers. Overall one of my favorite networks for fast traffic.
Read more