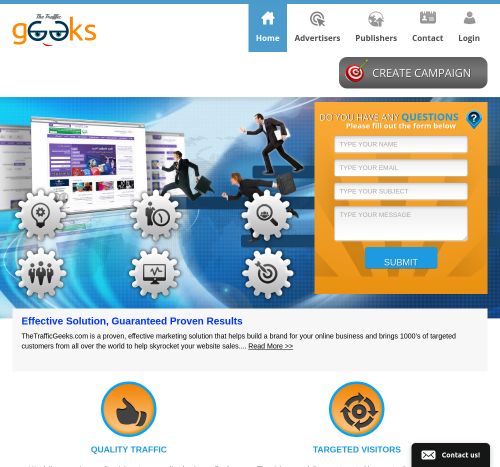 Network details
Optimization details
Description
The Traffic Geeks is a marketing solution that offers effective solutions and guarantees immediate results. Working with The Traffic Geeks Network promises to bring 1000 prospects looking at your website and to increase your business' success.
The advantages of working with The Traffic Geeks are
100% unique visitors

All campaigns are easily to set up and deliver a fast response

The option to manipulate the campaign at any time (Start/Pause/Resume it)

There are absolutely no hidden fees

You get a Full Refund if you are not satisfied with their services
Once you create an account, you will get connected with an experienced Manager who will do the best to help you in setting up your campaign. If you have any other questions before signing up with The Traffic Geeks, please use the contacts above.
For registration in The Traffic Geeks - click on Join Now!
Network Manager
Pros: Multi-level targeting Lucrative referral program 100% fill-rate You can monetize even 404 pagesCons: Payment on a monthly basis First minimum payout $100 and for WIRE it is always $500 Adult traffic is NOT accepted
Read more
TrafficJunky gives you access to the most adult impressions of any network. I find their interface and campaign creation to be a bit tedious and the banner sizes aren't always standard so that creates work for me. It's super easy to blow your budget until you know how the bidding system works and what geos to target so start slow and very specific. Their support can be good or bad just depends on who you talk to and they now offer 24/7 support thats nice. They accept a variety of payment options. I'm not a fan of their stats and have never figured out their s2s postback tracking but they are still worth using.
Read more