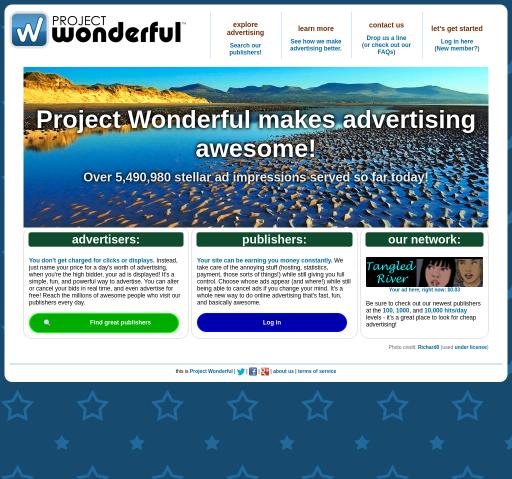 Network details
Impressions per month
80 million
Optimization details
Description
Project Wonderful is an advertising platform created by programmers in order to offer a different view in the advertising experience. They are focusing on offering full control to the Advertisers and Publishers in order to choose what happens next with the ads and what sorts of ads appear on their websites.
With multiple ad formats available for all screen sizes, Project Wonderful has also strengthened their security system in order to avoid fraud and fake viewers. Their fraud detection tools are the best available on market and constantly improving.
Check the reviews on Affbank about Project Wonderful and for any details regarding their Target Audience, Pricing Models and Advertising Formats, reach the Information section.
If you choose to join the Project Wonderful Network, you can do that by clicking on - Join Now!
Network Manager
Yo trabajo con ellos tanto por CPC como por CPM con 2 páginas web. En CPC yo recibo pagos cada 2 o 3 semanas, Para CPM yo usaba taboola, ellos pagan después de 3 meses, Adnow siempre me paga por CPM por adelantado :)
Read more
Anastasiia_Affbank
2016-06-15
Bons site de pub et avec de très bons GAINS.
Read more