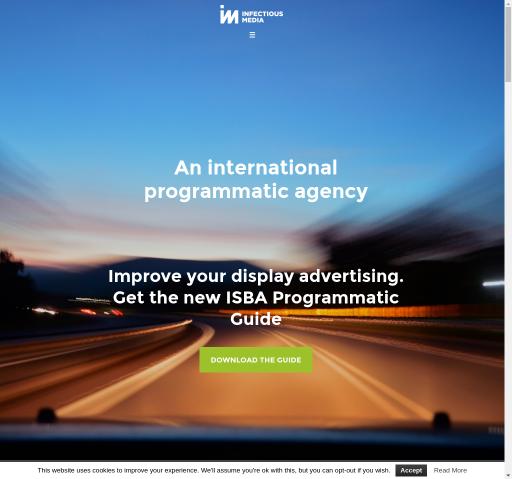 Network details
Ad Format
Video, Mobile, Banner
Optimization details
Description
Infectious Media is an online platform specialized in intelligent online display that provides a full service with analytics and targeting optimization tools. Their website is based on Programmatic Advertising and their work directly with their customers, without using any sort of mediators.
Infectious Media provides full control over the advertising campaign and you get to see real-time stats and analytics at any moment. Their main advantage is the focus on technology which is designed so they can achieve their clients' goals and develop the goals until reaching perfection.
If you want to join the Infectious Media, click on - Join Now!
Check the reviews of Infectious Media on Affbank and the Information section to find out what Pricing Models they have, their Advertising Formats and Targeting Options. Don't forget to get back on Affbank in order to leave your review about Sponsorads.de.
Network Manager
Yo trabajo con ellos tanto por CPC como por CPM con 2 páginas web. En CPC yo recibo pagos cada 2 o 3 semanas, Para CPM yo usaba taboola, ellos pagan después de 3 meses, Adnow siempre me paga por CPM por adelantado :)
Read more
Anastasiia_Affbank
2016-06-15
Bons site de pub et avec de très bons GAINS.
Read more