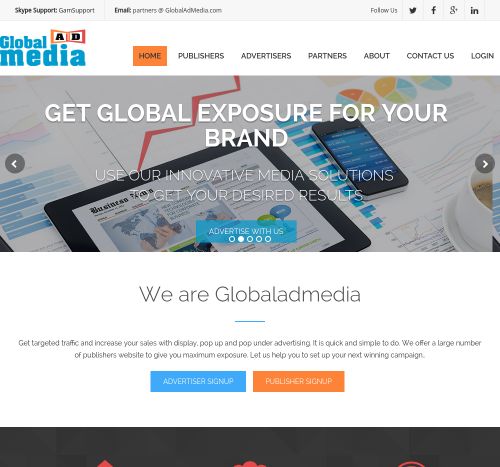 Network details
Optimization details
Description
Global AD Media helps you to get a targeted audience, popularize your website and increase your sales by using display, pop-ups and pop-under ads. The registration on their website is easy and quick, and you don't need to perform multiple steps in order to be part of this Network.
Global AD Media offers the possibility to become an Advertiser or a Publisher and have multiple benefits such as high performance for the campaigns, 100% quality with some of the best advertising brands and a large coverage, 24/7 support if you encounter any issues.
For Advertisers, Global AD Media targets the right customers to achieve the best audience. For Publishers, Global AD Media focuses on maximizing the earning potential.
If you have any other questions before sign up with Global AD Media, please use the contacts above to contact the Global AD Media.
For registration in Global AD Media Network - click on Join Now!
Network Manager
Yo trabajo con ellos tanto por CPC como por CPM con 2 páginas web. En CPC yo recibo pagos cada 2 o 3 semanas, Para CPM yo usaba taboola, ellos pagan después de 3 meses, Adnow siempre me paga por CPM por adelantado :)
Read more
Anastasiia_Affbank
2016-06-15
Bons site de pub et avec de très bons GAINS.
Read more