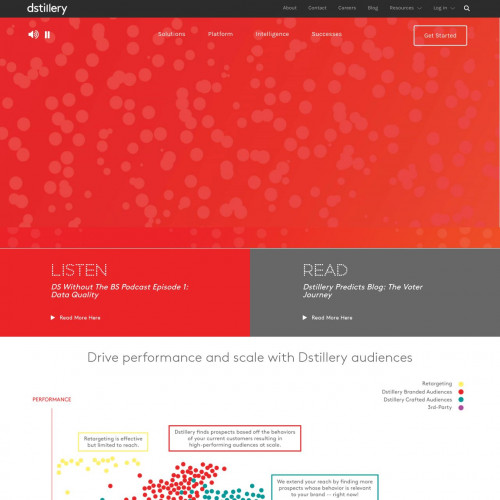 Dstillery (formerly Media6Degrees)
Network details
Ad Format
Video, Mobile, Banner
Optimization details
Description
.Dstillery was founded in 2008 with the mission of raising industry standards for data quality and scientific rigour. Since its founding, Dstillery has provided data-driven marketing solutions that are cross-channel, brand-specific, and tuned to perform to thousands of clients. Dstillery platform uses intelligence machine to combine 1st-party data with both real-world and digital consumer behaviors then connect you with quality audiences. The platform works on all devices and across all channels to deliver your message either on mobile, video, or desktop, whenever and wherever it works best. Try the platform and let it find your next customers.
You can check Dstillery reviews on Affbank and ask Dstillery Team any question by using the contacts above, especially about how to earn money!

For registration in Dstillery Network - click on Join Now!
Pros: Multi-level targeting Lucrative referral program 100% fill-rate You can monetize even 404 pagesCons: Payment on a monthly basis First minimum payout $100 and for WIRE it is always $500 Adult traffic is NOT accepted
Read more
TrafficJunky gives you access to the most adult impressions of any network. I find their interface and campaign creation to be a bit tedious and the banner sizes aren't always standard so that creates work for me. It's super easy to blow your budget until you know how the bidding system works and what geos to target so start slow and very specific. Their support can be good or bad just depends on who you talk to and they now offer 24/7 support thats nice. They accept a variety of payment options. I'm not a fan of their stats and have never figured out their s2s postback tracking but they are still worth using.
Read more