April 01, 2019
Reviews: 2
Hey guys,
I'll start today's review with some flashbacks from 2018, let me explain why. Previous year has been a fairly productive for all of us. The brave new world of push-traffic and scores of ad networks appearing every few months have become dearer to us than croissants to the French, Messi to Barcelona or weed to Elon Musk.
When the hype around push-notifications began, everyone prophesized an early end to the craze. Despite all the skepticism (which by the way I never shared), push-notifications are developing, new ad networks appear and compete for a place under the sun.
Today I'll talk about EvaDav, a relatively new player on the affiliate market. Who are they and how they work, their platform interface, pros and cons – everything you need to know both inside and out.
EvaDav - an advertising network based on push-notifications is a new product focused on monetizing websites and providing push-notification service. With a wide range of landing pages, EvaDav offers webmasters a personal approach, developing custom landing pages tailored to webmaster`s individual needs.
Pay-outs: weekly
Minimal payment: 25$
Payment methods: Webmoney, Payoneer, ePayments, Paxum, Skrill, Wire, PayPal
Models: Revshare, CPA (private arrangement)
Referral program: yes
Geos: all
Verticals: all
Interface.
When you register, whether you're a publisher or advertiser, your account will have both a campaign setup interface, which enables you to do advertising, and a traffic monetization interface.
By clicking on the menu, you will find the full range of functions for both formats of work.

So, let's have a closer look at the interfaces:
Publisher.
The publisher platform enables website owners to take advantage of global ad exchange with world-leading advertisers. Whether a user is a frequent visitor to your website or has stumbled across it by accident, as soon as he\she subscribe to you push-notification system, user will be connected to your profile and will generate constant income.
Take a look at detailed campaign setup guide here: http://bit.ly/2CNUqLr 
To generate traffic from push-notifications, you need to register in a quick and simple process, after which your account will be assigned a manager: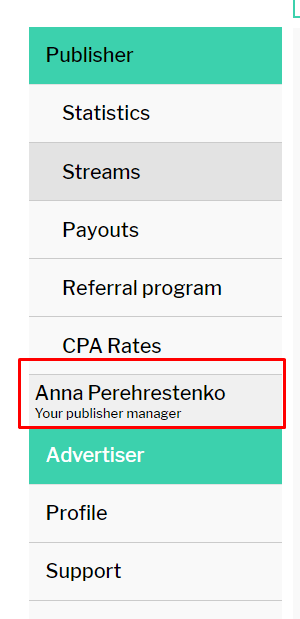 After that, go to 'Streams' to connect your site to the platform.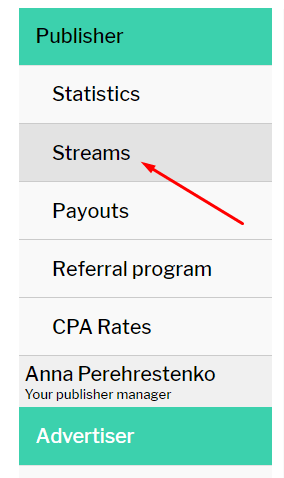 EvaDav offers two main ways of sending push-notifications:
Native – these appear in a familiar format in the top right-hand corner of the screen, a non-aggressive suggestion to subscribe to push-notifications.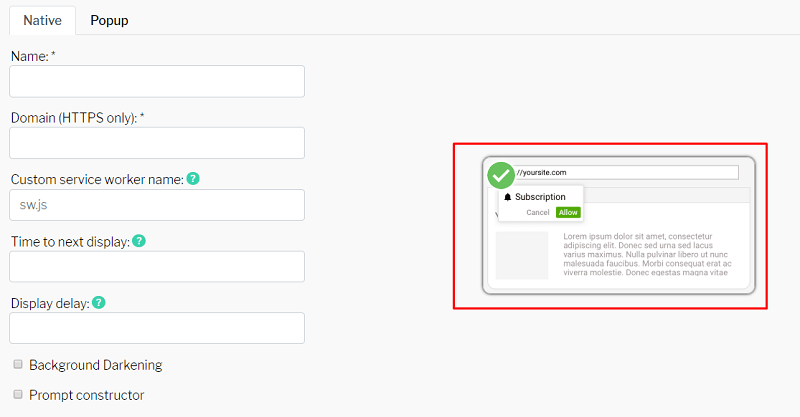 Popup – the subscription comes up as a pop-up window, a more aggressive way to encourage subscription to push-notifications.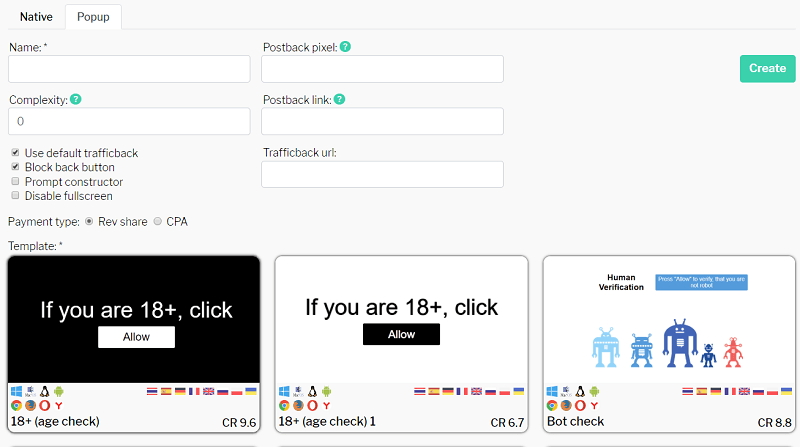 There are over 20 pop-up windows to choose from, and you can pick the format to suit your website.
This notification format allows you to choose between two ways of generating income: revshare and cpa, whereas when you choose Native, your only option is revshare.
Adjust your traffic and receive the income.
Advertiser.
For advertisers, EvaDav has created a comfortable working environment and great terms of service:
- Registration takes 5 minutes;
- You can make payments using the following payment methods: Webmoney, Payoneer, ePayments, Paxum, Skrill, Wire, PayPal
- Campaign moderation takes less than 30 minutes;
- You can create your own audience;
- Referral program;
The easy and user-friendly interface, with simple campaign adjustment options, make this ad network a great solution not only for experts in traffic arbitrage, but also for those who are just getting started.
Campaign stats are shown in a detailed breakdown by:
Date
Country
Campaign
OS
Browser
Source
You can also download your stats in cvs and excel formats, which makes things much easier if you're processing vast quantities of data.

The profile will display your financial information:

You can view the balance on all of your accounts as well as the total you have in hold.
Referral program.
If you'd like to save some money, you have an excellent opportunity to subscribe your account to a referral program and get 5% from every referred partner.
So, what do you have to do? It's easy:
- Click 'Referral program' in the sidebar
- Copy the link with your unique ID
- Share the link with your partners
- Follow the stats in your account

In conclusion, despite the great competition in the push-notifications niche, we are happy to see new companies emerge that could compete with established networks.
EvaDav is one of these companies, and it meets its clients halfway by offering the best terms of service, from discussing the model of cooperation (revshare\cpa) to creating personal landing pages, giving clients a great advantage over their competitors.
It's time to work with the right partners!