April 02, 2019
Reviews: 0
Weight loss products have always been hot in the black hat category, whether it is for oral administration or external use, the ads are easy to have a good performance when the designed creative content are using food, medicine, science, obese women and comparison chart.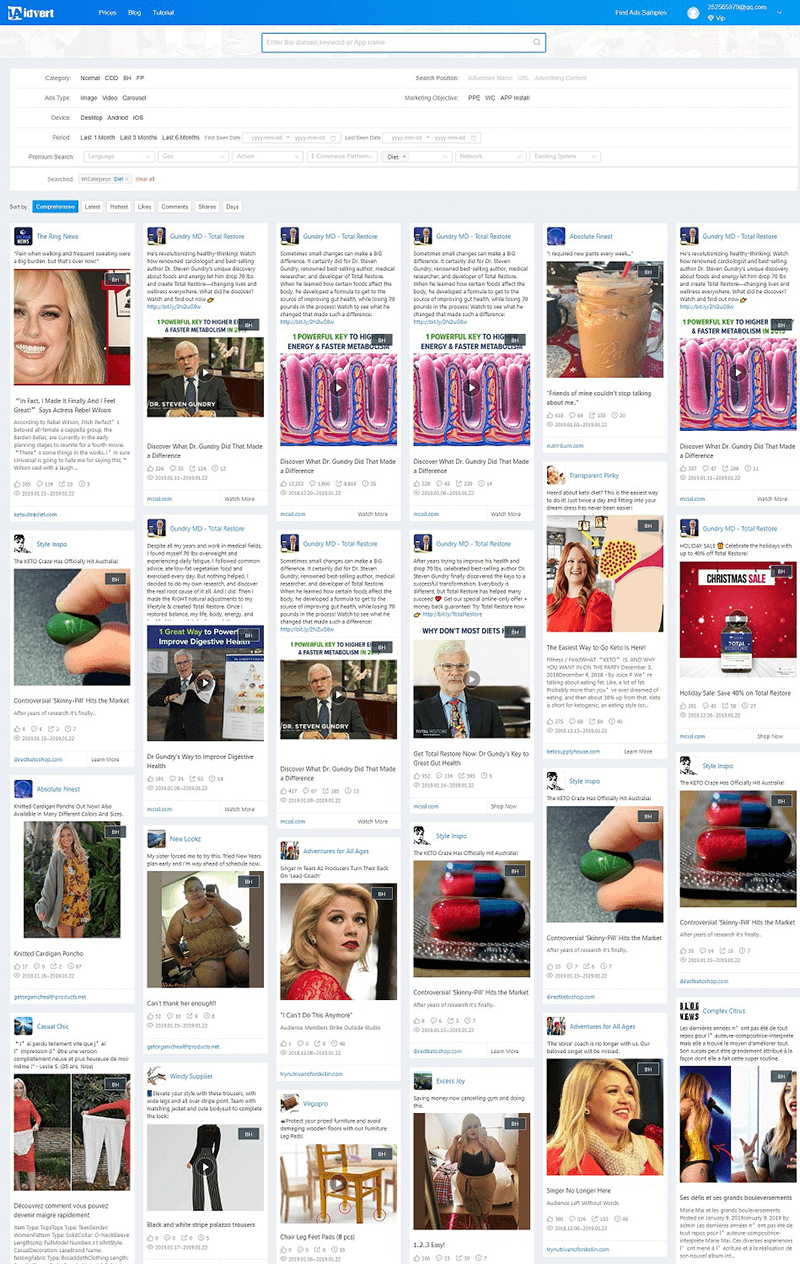 In this case study, we picked a popular weight loss creative found in Idvert, hoping to discover the secret of success in weight loss advertising.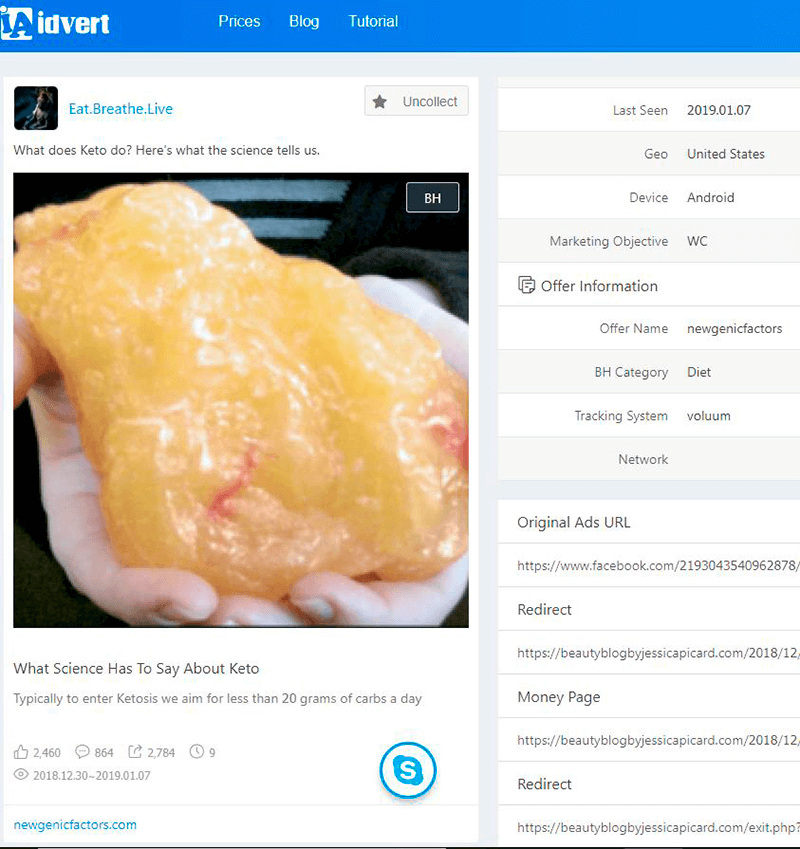 The first looking at this creative, it looks like a piece of fat thing with a simple question as the copywriting: What does Keto do? But without answering it directly, it just says "Science" has told us all about it. "Science" is an academic journal published by the American Association for the Advancement of Science. It is one of the most authoritative academic journals in the world. The publication on "Science" is the dream of scientists all over the world. This shows its status. In that, this advertisement associates Science with Keto. Does that mean Keto is also scientifically authoritative?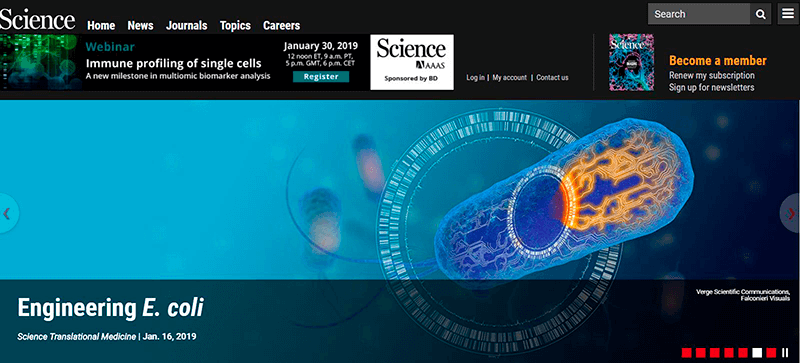 The copy below says that Keto can reduce the intake of 20 grams of carbohydrates a day. If you are familiar with the weight loss industry, you should know that Keto is a relatively hot weight losing diet recipe. Those customers who have weight loss ideas should have a visual impact seeing this fat, plus the endorsement of Science on the side, people who have been on the road of losing weight will inevitably to click in. This is a typical scientific theme creative.
Let's take a look at the performance of this creative. In just 9 days of display, it got 2,000+ likes, 800+ comments and 2,000+ forwards. We can say it is quite eye-catching. So, the does Keto in the copywriting means scientific weight loss?
After easily opening the money page downloaded via Idvert, we see this picture.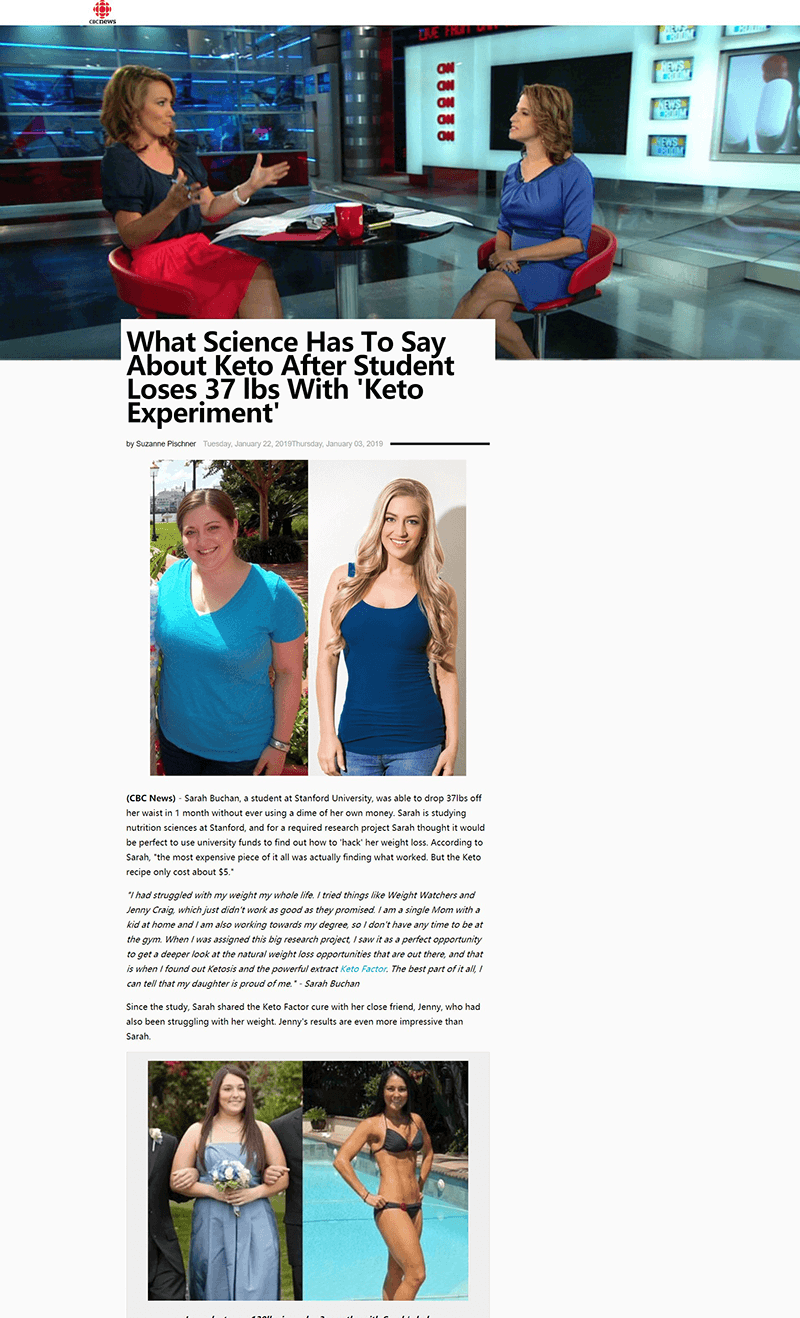 Idvert's Interpretation
Obviously, this is an interface that looks like a news report. The media uses CBC. The head map is a picture of two women under interview.
Look at the title again, citing the ad copy to continue the topic, and in the mean time brings out a more important information - what does "Science" say? after a student lost 37 pounds with the help of Keto? Coupled with a fat and thin contrast chart, it is clear here that Keto is used to lose weight, and it can be judged by Science that it seems to be a scientifically based product.
It is also very clever to use students as a case. College students generally have a wealth of theoretical knowledge and will not be easily deceived in this respect. Moreover, this is a college student majoring in nutrition science at Stanford University. Even professional college students try it. It seems that the product is very reliable. We also know that students do not have too much income, in that, there is a special emphasis on Sarah's own weight loss as a subject research, because of limited budget, she selected this product as the research target, which is very cheap, only five dollars, fully affordable.

1. Emotional Resonance
Weight loss is probably the most repetitive thing for human beings. Many people are moving back and force on the road of losing weight. So here Sarah also tells everyone through the self-report that she has been working hard to lose weight and has tried some other brands of weight loss products but have not achieved the promised effect. Meanwhile, she also needs to take care of the children and doesn't have time to go to the gym, until Keto's appearance solved her problem perfectly. She also shared this product with friends who also need to lose weight, and friends achieved better results than herself.
Trying to lose weight all the time but has no effect on using many products; having no time to exercise or do not want to exercise, etc. are all points to resonate the weight losing audience. Therefore, the success of Sarah and her friends makes the audience to believe that they can do it as well.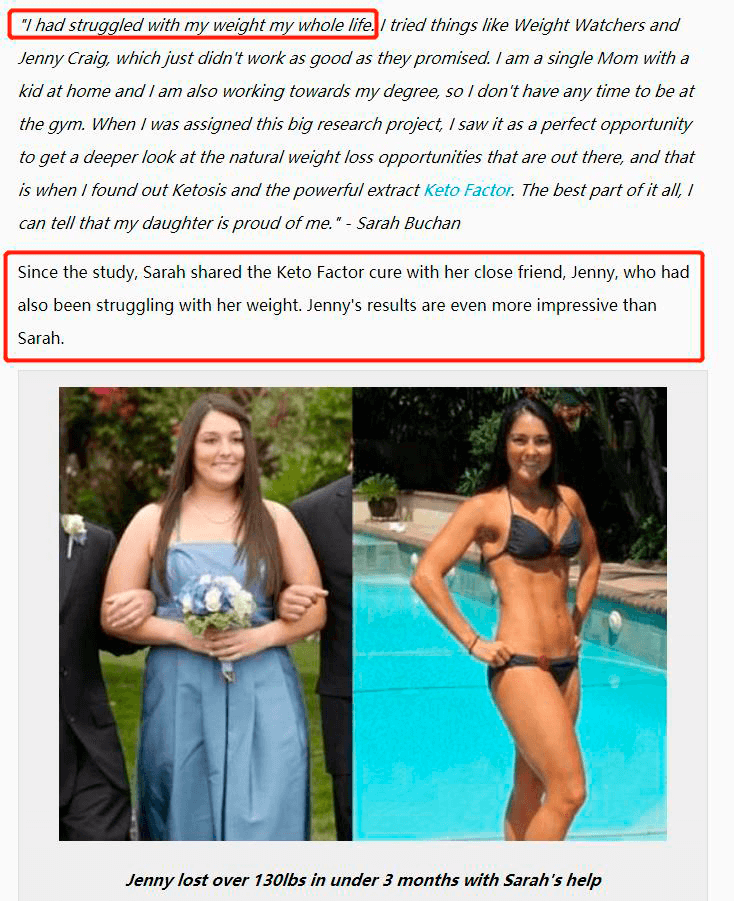 2. Star Endorsement
Through a question and answer from CBC and Sarah, we can know that Sarah learned Keto through her favorite female star Melissa McCarthy (a famous American actress who was named the third highest paid actress in the world by Forbes in 2015). Melissa McCarthy attributed her slimming to Keto, who is using and effective products even for the wealthy stars. Who wouldn't want to try it?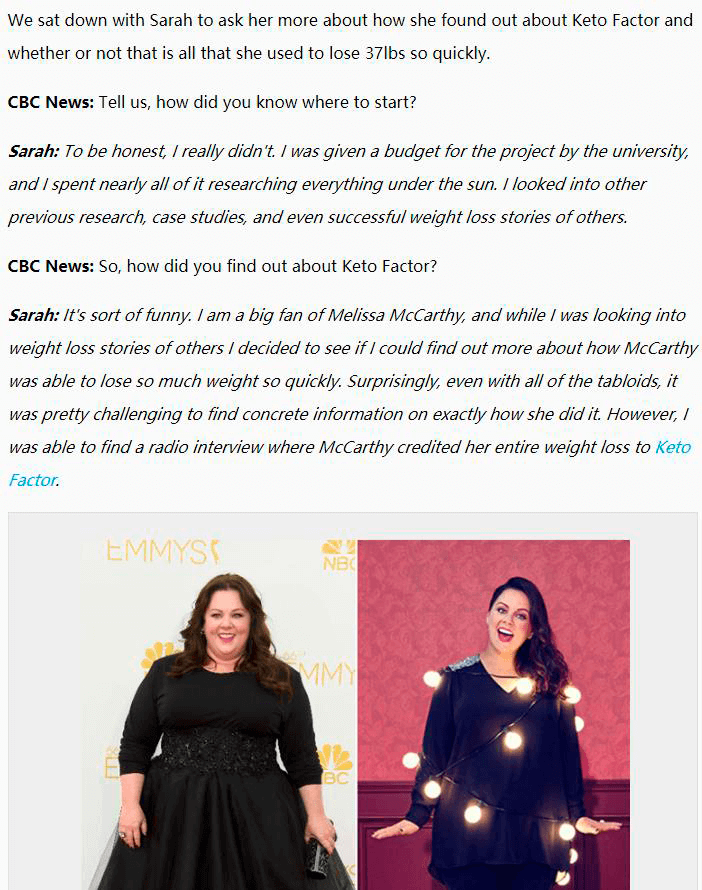 3. Price Advantage and Product Convenience
Even the best products will block some of the audience if the price has no advantage, so it is mentioned here that Sarah only gets a month's free usage for only five dollars shipping cost, and this single month help her to lose 37 pounds, such products have also helped more ordinary people to lose weight. As an ordinary person, seeing this, you may also want to make a small money to get the desired result.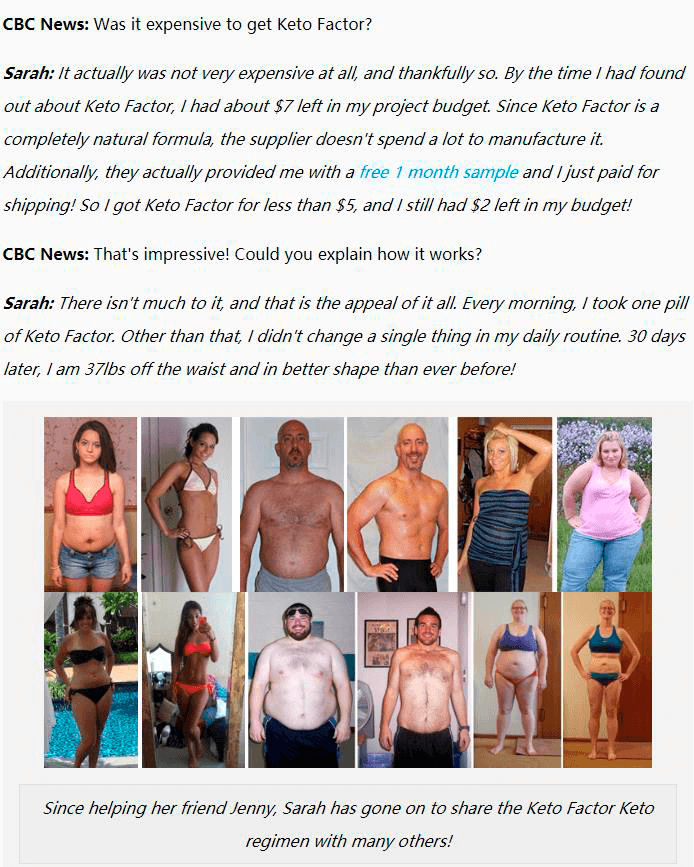 4. Scientific Basis
However, any product related to human body will be more convincing with scientific basis. After all, it is no longer an era of ignorance. Here it helped the audience to raise the doubt: Why is Keto so effective? Then use scientific basis for explanation, and there is clinical proof that people can use it with no doubt.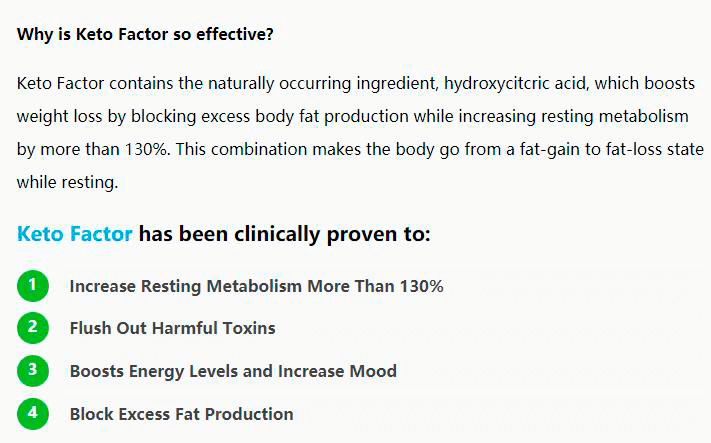 5. Scenario Circumstance
In order to let the readers learn more about Sarah's slimming process, here is a demonstration of her weekly product experience and effects. The audience seems to be able to use her experience to imagine the effects of themselves after taking it. It also provides the readers with a link to receive a free trial for one month.
A small picture here is also very interesting. It is probably about that with Keto, you can lose weight even by eating bacon and butter. This is a gospel for those who want to lose weight and can't control their mouths. And we know that most people who lose weight are not able to control their mouths.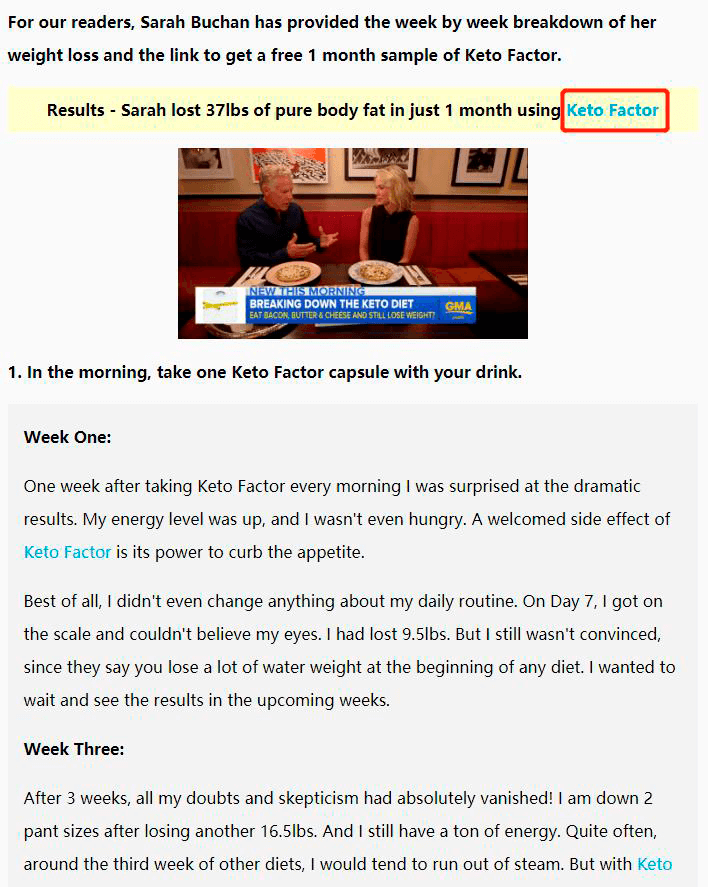 6. Limited Free
Undertake the previous article, the free trial interface comes once again, an EDITOR'S NOTE is bolded to remind everyone that it is free for a limited time, and the final time setting generally ends at the day when you see this article. So, you may not have enough time for hesitation, after all, time and amount are both limited.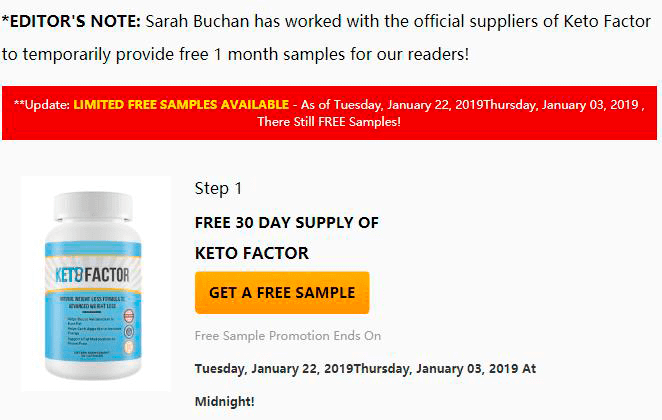 The comments below further give you the confidence to try, the Facebook-style comment interface, making you feel that you are still in the security environment of Facebook, which is easy to unalert the readers.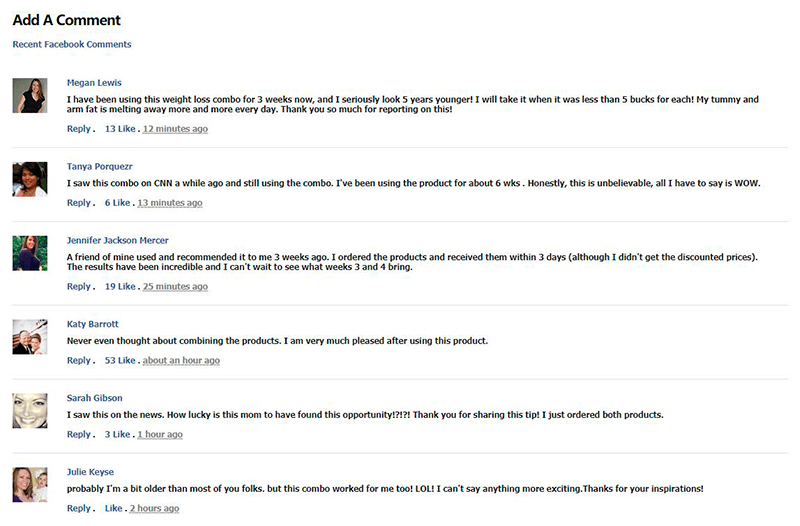 We clicked the free trial button to see the offer page. The security logo in the upper left corner gave the audience a sense of security and warnings, rush, etc. give the audience an urgent sense of oppression, which is easier to generate purchases. The magnified "no need for dieting and exercise" in the copy again pokes its pain points, and the three professional certification marks increase the authority of the product.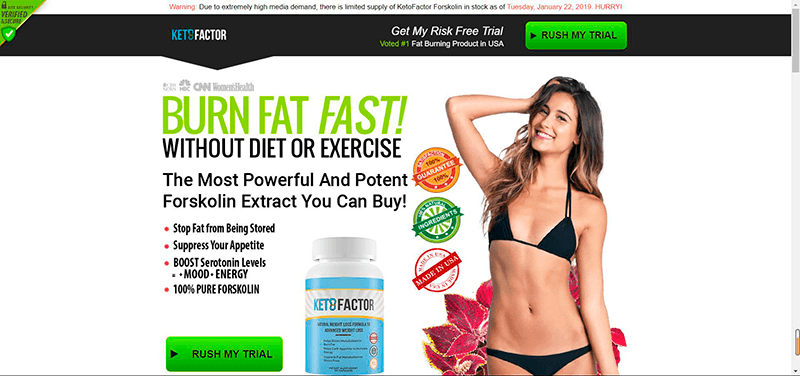 Take advantage of the free trial, "APPROVED" makes people feel that your order seems to pass the audit, and at the high possibility of selling out soon, making you believe that this product is blue-chip. Seeing the price is even cheaper than Five dollars, the impatient user might place an order immediately. In fact, you can find out that the trial period has changed from one month to 14 days, and a large section of the small words in the bottom also means that you can end it without paying the money. As to how to make it happen, here I won't go into the details.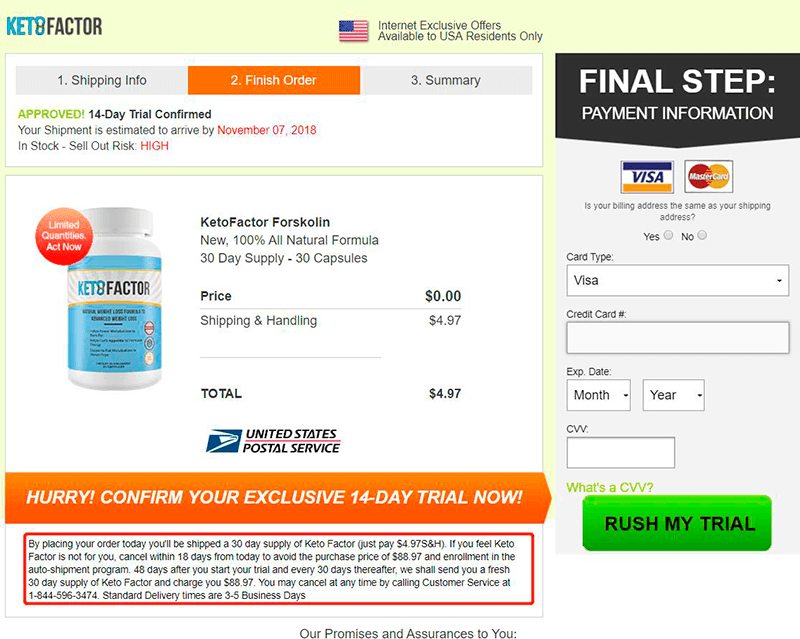 Someone may ask: How to quickly find this hot creative in Idvert? See the animation below. Select the Diet category in the BH category, then select Hottest, you can get the hottest offer sort in the Black Five Diet category. 
If you want to see more creative ideas and get money pages, check out Idvert now.