September 25, 2019
by OlgaIkn
Reviews: 0
According to Chatbots Magazine, 67% of millennials in the Vietnam say they are able to buy products and services from brands using chatbots. But, what if you own a chatbot that doesn't get much attention?
In fact, brands will realize the full benefits of chatbots if they make customers feel comfortable talking to a robot. There are a few simple ways to get people to visit your website and start a conversation on your site.
Developing chatbot as a "digital assistant"
Chatbots seem to be very limited, just like the bot basically rotates with canned answers. Therefore, users often do not bother to interact with your chatbot if they think this tool can only answer frequently asked questions and can not answer all questions. So if you want to increase the chatbot engagement, you need to promote it like a digital assistant.
A digital assistant will not only answer simple questions like chatbot. Instead, it improves the overall customer experience. A digital assistant can help users get started and know how to use the product (onboarding process), giving useful buying tips. This type of chatbot experience may seem complicated and costly to provide, but it doesn't really rely entirely on AI.
There are several AI-powered chatbots on the market that are capable of interpreting complex language, understanding the context of a conversation, predicting user behavior, and responding naturally. When users know that they can do more with your chatbot, they will be more likely to use it.
Create a "human face" for your chatbot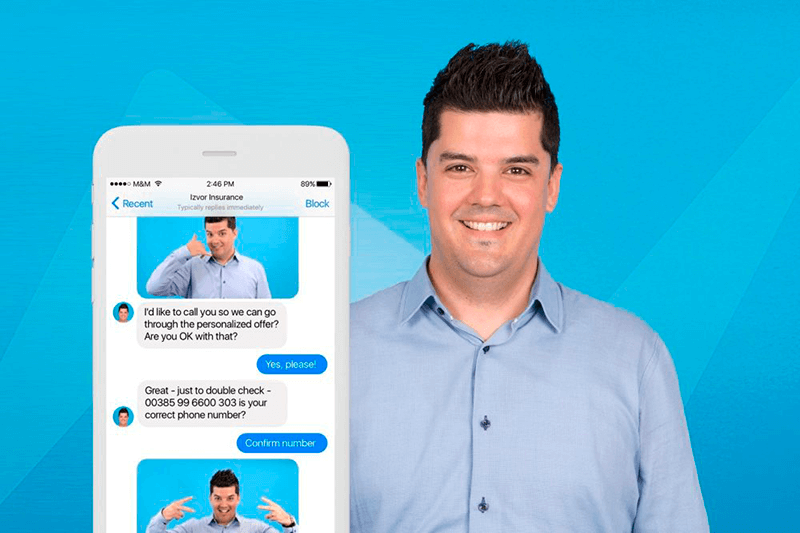 Most customers prefer to be consulted by a real employee. According to the vote survey, 7 out of 10 respondents in the Vietnam said that, even as technology is growing, they still want to interact with a "flesh-skinned" person. To meet customer needs, you can make your virtual assistant a bit more human.
Create an avatar with a human face, give a name and even create a chatbot's personality to suit your brand. This will help customers better connect with the company's products and feel like they are talking to a real person.
Personalize customer experience
Personalized experiences are a marketing trend in 2019. Customers always want their experience to be personalized because they feel more valuable and important. According to RetailDive, 63% of consumers care about personalized recommendations and experiences. However, most traditional and online stores do not meet that demand. Therefore, you should provide a personal experience with your chatbot that makes them more likely to return to your site many times.
Chatbot conversations should begin by greeting customers by name. You can make it more personal by referring to their location. For example "Hello Gary, hope you have a great day in Houston." In addition, there are many ways to personalize the experience through user data, their order history to provide tailored service. well suited.
For example, for a pizza ordering brand. Chatbots can look at the cakes users order most often and offer to automatically reorder them. In addition to fast-repeat orders, you can use user data to make more personalized product recommendations as well as give advice based on previous customer support issues. there.
Use push notifications
While many customers still find your chatbot at the corner of the site, some people are still likely to miss it - unless you use push notifications.
The content of push notifications can include: a welcome message with sound effects, a new message icon, a notification when someone is typing text or a chatbot popup window - like receiving a message. A message from a friend will catch the attention of your guests and bring them to your chatbot.
In addition, chatbots can be used to provide news about the company and product updates such as blogs, videos, offers, surveys, voting ... Gradually, users will get used to interacting with Chatbot as a way to communicate with your company.
A chatbot only really works if the user cares and uses it. If your brand is looking to promote e-commerce, use some of the above experience to help encourage customers to interact with chatbots. As people get used to the virtual assistant and are satisfied with online customer service, the chatbot tool will undoubtedly become the brand's most popular communication channel.
Our team use chatbot with FB advertising for 7 months. So, we have increased our approve rate for 15%. Not bad result. There are many tips, you can use with chatbot. Just adapt it for your offer and collect Leads.
To Glory!